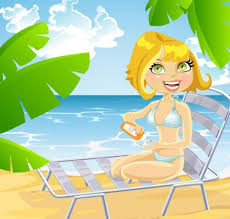 Hosted Accommodations
I'm just going to be totally honest here.
I'm a little prejudiced about Sandestin Golf and Beach Resort.
I realize travel writers should be impartial and we should totally write about the negatives along with the positives when we review a location so you can make an unbiased judgment but when there are no negatives what can you do?
It's just.
I love Sandestin.
I was there for the first time back in 2011 and began my infatuation phase which normally fades with time but, in this case, has deepened into a long and lasting love affair.
When I had a chance to return again in 2013, I fairly leaped at the chance. And then my most recent visit in February was just as fabulous at the other times. Maybe more so because there was a dog parade.
Yes. That's what I said.
But let me back up.
Once again, I was heading out on a beach adventure with two of my favorite travel partners, my sister and SIL who love the beach just as much as I do. Along with seafood, shopping, and the ability to spend an entire day doing virtually nothing and calling it a good day. We were actually on our way to Sarasota where I would be writing some articles about the area but since we could easily make a stop in Destin and since Sandestin was right on the way…well, of course we had to stop.
The folks at Sandestin were, as usual, lovely and obliging about working with a travel writer dragging along two other women on a girlfriends getaway and offered us a stay at the gorgeous Luau complex overlooking the fabulous white sand beaches and aquamarine waters of the Gulf of Mexico.
Opened in 2006, Luau is the newest of Sandestin's luxury beach rental properties and is right across the street from the Elephant Walk Restaurant and just a short walk to the beach. Luau offers a number of different sized condos from a studio with a kitchenette to a three bedroom condo with a full kitchen. They kindly gave us each a bedroom with the three bedroom condo which is technically a two bedroom condo with a studio adjoining it. It was roomy and lovely and quite, quite fabulous. The living room was beautifully furnished with really nice leather furniture, a flat screen television, and an amazing view from the large balcony.
We even had a wonderful dining room, also with an amazing view.
We had a really nice kitchen that was furnished with everything we could ever need.
 And I even had my own little kitchenette in my studio which would be great for a couple or small family.
We even had a washer and dryer! There is a sunset observation deck on the roof where you have a sweeping view of almost the entire resort, a fitness center, Wi-Fi, a beautiful lagoon style, 4,000 square foot saltwater filtered swimming pool with a swim-behind waterfall, a hot tub, and a children's pool.
When we managed to tear ourselves away from our fabulous condo, we headed across the street to the very nice Elephant Walk Restaurant which is right on the beach. It is absolutely the perfect place to have lunch – with an amazing view! I have to add here how nice everyone was at this restaurant. I'm talking above expectations nice. We had a cooler with us that we wanted to take to the beach and we needed some ice to pour over the drinks in it. I asked for some extra ice, planning to just pour a couple of glasses of ice into the cooler. But no. When our waitress saw what we needed, she took the cooler and filled it completely with ice for us. So nice.
We spent a perfectly lovely day on the beach, relaxing, reading, enjoying the sun, and talking cattily about all the other people on the beach. Oh, like we would do that.
Of course we would.
Finally, talk about dinner began to make its way into our conversations because all our trips basically revolve around food (what, yours don't??) so we brushed off the sand, spiffed up, and headed to the Village at Baytowne Wharf which is absolutely one of my favorite places.
Pedestrian friendly with paths and bridges, the Village has lots of little shops and great restaurants. We had a wonderful, delicious meal at Grin-Gos Tex-Mex Cantina that was perfect after a day at the beach. Casual and small, Grin-Gos provides authentic Tex-Mex food that is fresh and truly wonderful. We started with chips and sauces and couldn't believe the variety of the sauces and how fresh they were. Everything is made fresh at this place and you can really tell.
 I really wanted to try everything on the menu but had to draw the line somewhere so they kindly made me my own small enchilada to start, even though it was technically part of a combo platter.
Then I finished with some fish tacos which were some of the best I have ever had.
All in all, a very satisfactory day. The next day, I needed to burn off a few of the many, many calories I had consumed so while my partners in crime spent a lazy morning, I biked around the resort which is one of my favorite things to do there. Sandestin is the perfect place for biking because you get two complimentary bikes with every rental and you can rent even more very inexpensively. They also have miles of beautiful bike paths everywhere.
I rode over to the Fitness Center where they have plenty of fitness equipment and classes available. The fitness center is free for guests at Sandestin but there is a small charge for the classes. I took a fabulous Yoga class but they also offer Pilates, Zumba, and lots of other classes.
We were really fortunate during our stay because Sandestin was having the Mardi Gras Dog Parade.
Yeah.
We were at a loss as well. But it turned out to be so much fun. Apparently, this is a huge deal and everyone in the area who has a dog attends and dresses up their dogs. Everyone who does not have a dog attends anyway because how can you not? Dogs dressed up for Mardi Gras? This we had to see.
You. All.
It was crazy.
There were dogs and people everywhere. Beads were thrown, dogs were barking and cavorting, it was a beautiful, sunny day and we enjoyed every single minute.
We even got into the act when someone offered to take our picture with one of the dogs. As you do.
So, once again I have had a totally and completely fabulous time at Sandestin.
Now can you see why I love it?
 Full disclosure: Our stay was provided by Sandestin Golf and Beach Resort but as always, we will share my honest opinions about any travel experiences we have.
Pin It