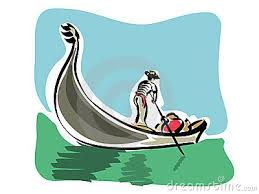 Our gondolier, dressed in the traditional striped shirt and flat, straw hat, smiled at us as he paddled the gondola away from the dock.
If this image conjures up a gondola trip on one of the ubiquitous canals in Italy, you would be completely wrong.
We were enjoying our lovely gondola experience on the Providence River in Providence, Rhode Island.
Yep. Rhode Island.
La Gondola, although located in the most unlikely place for a gondola tour, provides a wonderful introduction to the city as you  are paddled along the lovely Providence River.
In the morning, ready for our unique adventure, we trekked down to the river and the La Gondola dock.
Pin It