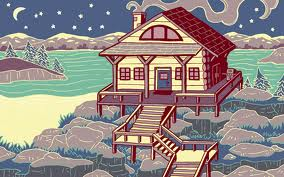 Hosted Accommodations
Whenever anyone describes  location as very nice but "not really fancy", I am immediately not interested.
I like the fancy.
In fact, I love the fancy.
Bring on the fancy!
This is absolutely not a problem with the completely fabulous Carson Ridge Luxury Cabins as they have all the fancy you could possibly want.
And then some.
You might think the words luxury and cabin do not go together but at this location they do.
Believe me, they absolutely do.
When we planned our Legacy cruise with Un-Cruise Adventures on the Columbia River in October, we decided to take some extra time to see some of the Oregon area, which we had never visited. Since I am the beach lover, we included the coast but since Tom is the mountain lover, I looked for an interesting mountain location, preferably a stay in a mountain cabin. Lucky for us, I happened upon the web site for Carson Ridge Luxury Cabins and they were kind enough to work with us and arrange a stay in their perfectly exquisite Mt. Adams cabin.
I was pretty happy with our arrangements as the location online looked absolutely lovely but when we actually arrived, we realized it was going to surpass everything we had imagined. From our stay on the coast, we drove past Portland which was the embarkation point for our cruise and into Washington State through some stunningly gorgeous scenery in the Columbia River Gorge to tiny Carson, Washington. Only 45 miles east of Portland, Oregon and Vancouver, Washington and close to incredible hiking trails, waterfalls, wine tasting, fishing, and whitewater rafting, Carson Ridge Luxury Cabins is truly in an idyllic location.
We managed to drive right past the location first as the sign is a little difficult to see but we found it on our next drive by.
Pin It
Categories:

Accommodations, Bed and Breakfasts, Carson, Cities, Countries, Cruises, Un-Cruise Adventures, United States, Washington
Tags:

Cabins, Carson Accommodations, Carson Ridge Luxury Cabins, Jan Ross travel blog, Jan Ross travel writer, Luxury Cabins, Tom Ross Photographer, Tom Ross Travel Photographer, Washingto Accommodations, Washington Bed and Breakfasts, Washington Cabins
Leave a comment