The first searching for snow article is HERE, the second is HERE, and the third is HERE.
And the adventure continues.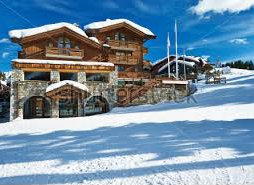 Hosted Accommodations
By the time we arrived at The Homestead Resort in Glen Arbor, Michigan, the last of our four fabulous snow destinations, you might think we would be getting a little tired of snow.
You would be so wrong.
And a good thing too as The Homestead might possibly have had more snow than any place we had been so far. It was fabulous in every way. A smaller ski resort than some of the others we visited, it's the perfect place for a family getaway or anyone learning to ski for the first time, although they do have more challenging runs as well. Because they are so close to Lake Michigan – and have some amazing views of the lake – and to Sleeping Bear Dunes National Lakeshore, they get tons of snow every year. Here – this will give you an idea of what it's like.
We checked in were given directions to our suite in Little Belle, one of the many lodging options at the resort.
We arrived at Little Belle, which is actually a small village with shops, restaurants, a salon, a general store and ski lift with plenty of very nice suites, both plaza level and loft level. We had a loft level suit with a small, cozy living room and fireplace, flat screen television, great view of the village and ski lift, a very nice bedroom with a huge Jacuzzi tub, a cathedral ceiling, and a fridge. Each suite is unique as they have different colors, furnishings, fabrics and accessories including antiques and original art by Leelanau County artists.
We loved our cozy and beautiful suite once we got in to it, but our first challenge was to get to it! With fresh, deep snow covering the paths leading to our suite, we couldn't imagine how we were going to get our suitcases though. But one quick call to reception and they had someone shoveling a path for us and we trekked our way through with all our stuff.
Although the snow-covered paths challenged us at first, we are lovers of The Snow and the more the better as far as we were concerned!
After settling into our suite, we headed out to meet Jamie Jewell for a tour of the property. The Homestead consists of a number of different neighborhoods which provide a variety of accommodations. Some are perfect for couples, some for families, and some for larger groups. Some of the properties are located right near the beautiful beaches on the lake. Four unique hotels and over 150 condominiums and homes are spread throughout the resort, offering lake and river front, or lake, river and forest views from five distinct neighborhoods.There are shops, restaurants, recreational facilities, a spa, salon, golf courses, swimming pools, and beautiful beaches on the lake. In the winter, you can ski on 15 different runs, snowboard, snowshoe through the gorgeous, deep snow, or just relax in front of a fire.
Since the resort is a four season location, visitors enjoy the location all year round especially in the summer. Though it spreads out over 500 gorgeous acres, the resort is easy to navigate although some of the snow-covered signs made our visit a bit of a challenge!
The resort is surrounded by beautiful sandy beaches which make it a very popular summer destination.  Because the resort is located in Leelanau County right beside the lake, they get plenty of snow so winter is pretty popular as well. Leelanau County is a gorgeous travel destination for anyone wanting unmatched natural beauty with lovely beaches that run for miles, massive dunes, wooded ridges, and quiet farms, all surrounded by the clear, blue water of Lake Michigan. Actually a peninsula, Leelanau was selected by ABC's Good Morning America viewers as the Most Beautiful Place in America.  Leelanau means "Land of Delight" in Ojibway and it really is.
After settling into our lovely suite and enjoying the fireplace to warm our toes, we headed over to Nonna's Ristorante for dinner. I have just one thing to say about Nonna's – don't miss eating there when you visit. The food was truly some of the best we had on our entire trip. Not only was the food absolutely amazing, the restaurant was just a few hundred yards from our suite and the interior was cozy with a roaring wood fireplace.
I am pretty particular about crab cakes so I ordered the crab cake appetizer with trepidation but it was delicious. Not too much breading, plenty of crab – perfection.
 After the crab cake, I thought my entrée could not possibly be any better but I was so, so wrong. It was the most tender and delicious beef tenderloin I have ever had. You must order it!
Speaking of food – as I often do – we noticed in Michigan that everything seemed to have cherries in it. Since cherries are one of their prime exports and cherries are grown everywhere, this is not surprising. We found several cherry items in Cavanaugh's, the general store in Little Belle where we stopped for snacks. The cherry orchards in Leelanaua  have produced the nation's largest crops of sweet and tart cherries and they are absolutely delicious.
The next day, we decided to check out Sleeping Bear Dunes National Park which is a short drive from the resort. This would be a wonderful beach destination in the summer, but we loved it in the winter, covered with deep snow.
 On the way there and back, as we drove through Glen Arbor, we saw dozens of people ice fishing on Glen Lake. Tom said he would love to try it sometime; I'll be waiting for him back by the fireplace.
After day in the snow, we were quite ready for our scheduled spa appointments for a relaxing massage. Spa Amira is an intimate, small but quite lovely location. Situated on the top of a mountain, it has a outdoor pool with an amazing view of the Sleeping Bear Dunes and Lake Michigan. They offer massages, body treatments, and facial, hand and foot care services in a serene and cozy environment. We both relaxed completely during our fabulous massages, then Tom headed back to the suite and I continued my quite wonderful afternoon of decadence with a manicure and pedicure at the Lilyjade salon. Recently opened, the beautiful little salon has big windows overlooking a series of creeks, waterfalls, and ponds. The pond was frozen over and served as an ice skating rink so I enjoyed watching the ice skaters while I was being sublimely pampered.
In the evening, we picked up some (cherry chicken salad) sandwiches at Cavanaugh's and enjoyed them in front of our fireplace, already feeling a little sad that we had to leave the next day.
We are very curious to see what the area looks like in the summer – guess we will planning our next trip soon!
Full disclosure: Our stay was provided by The Homestead Resort but as always, we will share my honest opinions about any travel experiences we have.
Pin It