The first "Searching for Snow" article is HERE and the second is HERE. And our adventure continues.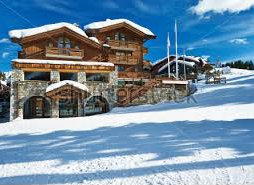 There were things we adored about every single one of the destinations we visited on our snow trip but the accommodations at the lovely Crystal Mountain are at the very top of the list.
Although just about every place we visited offered skiing, Crystal Mountain was the only true ski resort that we visited and we loved the deep snow everywhere at this gorgeous place. And, even though we are not skiers, we loved watching the skiers flying down the slopes and just soaking up the whole we-are-at-a-ski-resort atmosphere.
You can ski on 48 downhill slopes, cross-country ski on 40+ kilometers of groomed trails and snowshoe over 80 acres of wooded hills and valleys.
Yes, all of that was wonderful and we had every snow experience imaginable but our cottage. Our cottage.
We loved it.
After a drive along quiet country roads with more snow lined up along the shoulder than we had seen on our entire trip, we pulled into the perfectly charming resort grounds and checked in. We were directed to the White Tail cottage, one of the Cottages at Waters Edge which were just about half a block from where we were. We pulled up in front of our absolutely darling two bedroom cottage and one of us squealed with delight. Tom has a tendency to get excited.
Oh, I kid. I'm the one who was the most excited about our cottage although once we trekked through the snow to check it out, we were both thrilled. This little neighborhood of two and three bedroom cottages is apparently surrounded by flowing streams and waterscaping which I am sure is just lovely in the summer but was covered in deep snow during our visit. That was fine – we were both excited about the deep snow. The cottage had a full kitchen, roomy living room with a cozy gas fireplace, a washer and dryer, a screened porch and sun deck (which would also be nice in the summer) and one bedroom downstairs and one up, each with two full baths, one with a huge tub which I always appreciate.
Our deck was not technically usable when we were there.
We didn't move our truck until we left and then had to deal with the accumulated snow – something we are definitely not used to in Kentucky!
We unloaded the truck, then Tom pulled around back to park and we walked over to meet Rex O'Connor who was taking us on a tour of the resort. One thing that really impressed us on this trip to Michigan was the fact that every single person we met was just so wonderful, friendly, nice and genuinely seemed to love the jobs. Crystal Mountain was no exception and was actually one of our favorites as we met and ate with several different members of the staff, all of whom were just lovely.
Rex spent a good portion of the afternoon showing us around the resort and his obvious pride in the place made us like it even more, if that was possible. Crystal Mountain is an all-season resort and, even though they offer a ton of winter sports and there were plenty of people enjoying them, it really stays busy in the summer. There is an amazing variety of accommodations and you can even ski in and out of some of them right onto the slopes, like the Mountaintop Condos where we had a twinge of jealousy, wishing we were staying there.
But once we spent some time at the resort, we realized they had placed us in the Cottages at Waters Edge for a reason; we were able to easily walk to everything we wanted to do except snowshoeing and there was a convenient trolley for that. We spent a great afternoon with Rex, then relaxed in our cottage for a while before walking over to the Thistle Pub & Grille for dinner. Located in Kinlochen which also has fabulous condos upstairs with a Scottish castle theme, and a ski shop, The Kinlochen Pro Shop, as well as a very comfy lobby and fireplace area where we warmed our toes in front of the fire.
We had dinner and lunch the next day at the Thistle Pub & Grille and thoroughly enjoyed both. I may have become just a trifle obsessed with one of the appetizers, a Mini Pork Taco, that was crispy and delicious and quite, quite fabulous. I had it for dinner and lunch the next day and would have eaten it cheerfully again, given the opportunity.
I also had a delicious chicken dinner that was excellent but did not compare to the tacos. YUM.
I have to add that Tom had another crushing disappointment re: microbrews at the Thistle Pub & Grille. We had visited the North Peak Brewing Company in Traverse City and they suggested he try one of their brews but the restaurant was out of it. Our waiter suggested another popular local choice so he was somewhat satisfied.
We also had breakfast at the Wild Tomato Restaurant and Bar both mornings and grabbed sandwiches for dinner one night from The Little Betsie Bistro and Grocery where they have pizza, chicken wings and salad and a small shop that sells a variety of grocery items including beer and wine. Our breakfasts were wonderful, especially the hot chocolate. I guess a ski resort with cold skiers knows how to make good hot chocolate but this was amazing. Each morning, they asked if I wanted whipped cream or marshmallows or both. I chose whipped cream but now I think I should have tried it with both!
 I also had waffles for breakfast which were hot, fresh, and yummy. That bowl in the back? Full of whipped cream for my waffles! Fabulous.
And now I have used up almost 1,000 words telling you about where we stayed and what we ate and haven't told you anything about what we did, which was basically everything! So that will have to wait for another post. If you are making plans to visit a resort in Michigan either this winter or really any season, we absolutely recommend Crystal Mountain. We are thinking about heading back there in the fall to see the leaves change color, which I'm sure is spectacular.
And just think.
I can have more Mini Pork Tacos. Truly a dream come true.
Full disclosure: Our stay was provided by Crystal Mountain but as always, we will share my honest opinions about any travel experiences we have.
Pin It