The first "Searching for Snow" article is HERE. And our journey continues.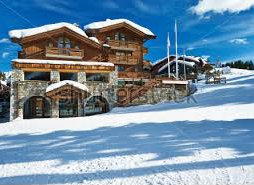 Our first sight of The Grand Traverse Resort was a soaring, glass tower in the distance sparkling in the afternoon sun as we drove along a road through Michigan, near Traverse City which was lined with deep snow on both sides.
We both noticed it but never dreamed it was part of the resort we were visiting. It wasn't until we got closer that we realized that it was indeed a major part of the resort.
We were in a rush when we checked in as the drive had taken a little longer than planned, so we basically tossed our luggage at the obliging bellman who kindly put it in our room for us and dashed to the spa where we had massage appointments.  The spa at the resort is located near the fitness center and an indoor pool but once you enter the quiet and lovely smelling spa area, all you think about is relaxation. There are fitness classes available as well as a dry sauna and a relaxation room with comfortable furniture where we sat to catch our breath after we changed into the spa robe and slippers. The 7,000 square foot area occupies two floors and includes treatments rooms, a salon, and a small boutique. I recommend you take a lot more time than we did to enjoy it! Be sure to try the cherry-infused massage as the fabulous sweet cherry smell really adds to the experience.
After we were completely relaxed, we dressed and headed up to our room in the tower. The resort has a variety of accommodations available from rooms in the newly built tower to those in the original hotel and condos as well. In fact, they have over 600 guest rooms and condos in total.
After relaxing in our room and enjoying the view, it was time to get dressed and make our way to dinner at the Aerie Restaurant and Lounge on the 16th floor of the tower. We really had no expectations of the restaurant as we have learned that hotel restaurants can be a crap shoot; we have had some absolutely incredible meals and some that were just mediocre.
Luckily, Aerie falls strongly into the former category. It was truly some of the best food we had on our entire trip. Not only is the food incredible, the restaurant is absolutely amazing with huge windows that show off the view. We didn't fully appreciate the view as it was dark but when we took a tour the next day, we were astonished. Don't miss the view! We ordered our meals, then our waiter reappeared with a darling amuse bouche from the chef. An amuse bouche is almost always delicious and this was no exception. We could have cheerfully eaten a whole plate of this deliciousness.
Then I had this thick, creamy, wonderful potato soup.
My filet mignon was so tender, I really didn't hardly need a knife. It melted in my mouth.
We were so stuffed, we really didn't need dessert but of course we got it and took it back to our room. I wish I had taken a picture instead of just scarfing it down because I ordered the baked apple tart and they had carefully packaged up each individual item so I could put it together myself. All I can say is you must order this entire meal. You will not be sorry.
But we were not at the resort to simply consume our weight in marvelous food although I freely admit that is a huge part of any or our trips and I did have the most amazing cornflake crusted French toast for breakfast at the Sweetwater American Bistro. Mmmmm.
Honestly, we did a few other things in addition to stuffing our faces during our visit. We met Michael D'Agostino, the Public Relations Manager of the resort, and he kindly took us on a tour of the whole area. We were astonished at the size of the resort – in fact, here's a map of the huge and gorgeous 900 acre resort to give you an idea how much is actually there.
The Grand Traverse Resort stretches all the way to the sandy shores of Lake Michigan's Grand Traverse Bay and includes the tower, the original hotel, condos, five restaurants and lounges, a darling gallery of shops, three championship golf courses, a private beach club, four indoor/outdoor pool, a small indoor water playground, a 10,000 square foot health club with five indoor tennis courts, and The Dogs Dream Inn, a dog retreat for guests who want to bring their furry companions! The resort also includes the nearby Turtle Creek Casino and Hotel and is completely owned and beautifully maintained by the Grand Traverse Band of Ottawa and Chippewa Indians.
Well, here – check out all the cool things you can do here in the winter.
After a tour of the amazing tower, which includes the spa, shopping, and restaurants as well as meeting space, Mike took us on a driving tour of the rest of the property. We loved our tower room as it was extremely convenient for everything we had planned, but I might like to return on a girlfriends getaway at stay at one of the many condos on the property and enjoy the private Beach Club, outdoor pool, and beach.
After our tour, it was time for our first experience with cross-country skiing. We both knew we were not interested in downhill skiing although that is available nearby, but we were open to trying cross-country skiing. Whether it was the fact that the snow had a thin layer of ice from a recent icy rain or the fact that geez those skis are narrow neither one of use was a big fan. However, it's very easy to rent equipment at the resort so you can try it as well.
The other big adventure we tried during our stay that was much more successful was dog sledding. Second Chance Mushers is a Siberian husky and Alaskan malamute rescue group which puts some of the dogs up for adoption and trains the other, very willing, canines to pull a dog sled. After years of reading Jack London books and dreaming of riding in a sled pulled by Buck, I could not have been more excited. Although Tom had no idea who Jack London was and didn't fully appreciate my knowledge of "gee" and "haw",  he was excited as well. However, neither of us was as excited as the dogs. They were jumping with excitement and throwing back their heads to howl.
The girls harnessed up the dogs and got them ready to pull.
And it was time for our run. It met every expectation I ever had. We both loved it!
We loved every single thing about our stay at The Grand Traverse Resort and one of the best things we did was spend an afternoon with Mike Norton with Traverse City tourism who not only took the time to show us around but, when he found out Tom loved lighthouses and microbreweries, managed to locate both for us. But that afternoon and evening deserves its very own post, so I'll share that later.
If you are headed to Michigan and looking for the ideal resort for any season, check out The Grand Traverse Resort. We may see you there, because we will definitely be back!
Full disclosure: Our stay was provided by The Grand Traverse Resort but as always, we will share my honest opinions about any travel experiences we have.
Pin It