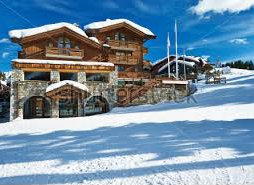 Hosted Activity
So I have already told you about the lovely people, the fabulous food, and the amazingly cozy cottage we stayed in during our visit to Crystal Mountain.
Now I want to tell you how we spent our time.
Which was by cramming it with as many activities as we possibly could in the short time we had.
Well, look. Here's just a sample of everything you can do at this quite fabulous place.
First, we went dog sledding. We had been dog sledding for the very first time at The Grand Traverse Resort just a couple of days before and adored it so we couldn't believe it when Crystal Mountain also offered us an opportunity to dog sled.
Sled Dog Express provided the dog sledding adventures at Crystal Mountain and, like Second Chance Mushers, they use rescue dogs. Unlike Second Chance though, they don't use only huskys and malamutes but pretty much any good size dog that has a willingness to pull. The sled dog rides are offered through a gorgeous area of the resort with thick snow and trees so you begin to think you really are in the middle of the Alaskan Klondike.
When it was Tom's turn to ride, he decided he wanted to take the camera along and get some shots from the rider's point of view.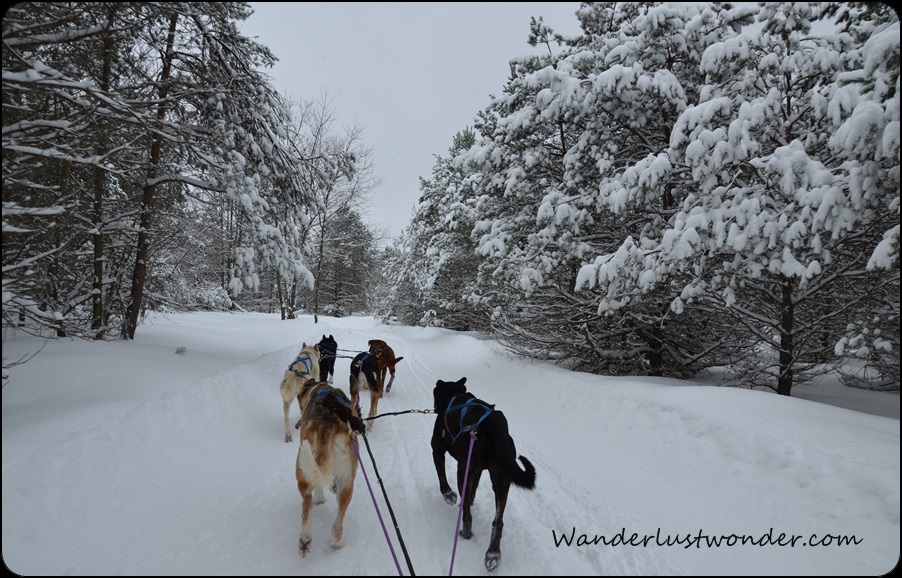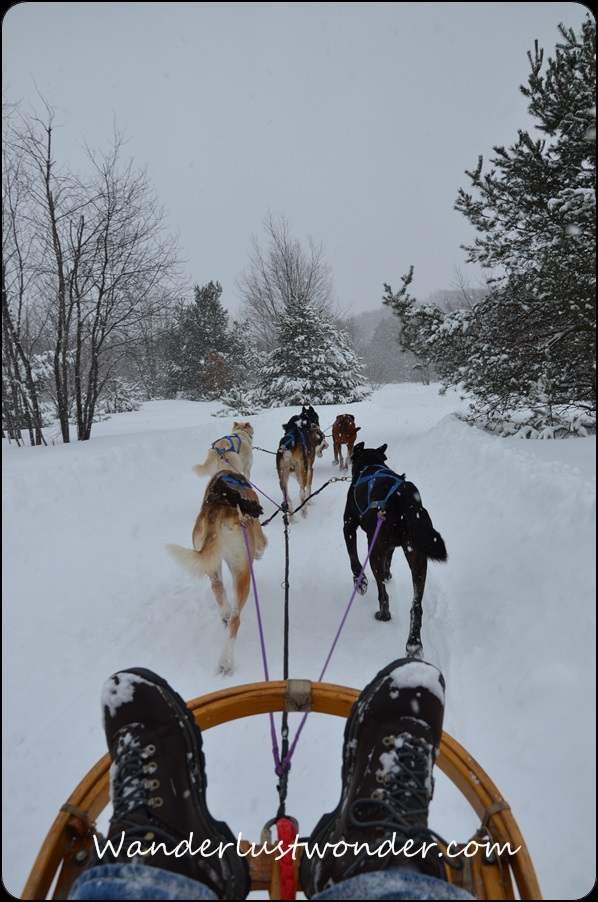 It was amazing and we loved every second of this experience. It was truly one of the best things we did during our entire snow getaway.
Next, just for a change of pace, we biked. Now your first reaction, much like ours, is probably bikes? In the winter? In the snow? Whatwhatwhat? Yeah.
Well, these are special bikes with these really fat tires. Guess what they are called. You will never guess.
Oh.
You guessed.
Yep. Fat Tire Bikes.
We are big fans of biking and have recently discovered that it's true – you never forget how to ride a bike. Although when you get on a bike for the first time in a very long time, you might forget for just a very short time which makes you feel like you are approximately 421 years old and then you remember and you are like oh yeah, I can ride a bike. So we might possibly have been just a tiny bit cocky about fat tire biking. Which you should not be because it's quite a bit different from riding a regular bike.
We did not realize this when we made plans to go fat tire biking. Crystal Mountain offers the bikes for rent at the Park at Water's Edge, which was, like pretty much everything else we did, just a short walk from our cottage. They are only $10 an hour which really surprised us as it seems very reasonable. There is actually a fat tire bike trail which is almost 6 miles long and will take you about 30-45 minutes to complete in your dreams.
Maybe someone who has been riding bikes much longer than us, is much younger and more agile than us, and possibly if there is not a few inches of new snow on the ground, you might be able to do that trail in 30-45 minutes. It would have taken us roughly three days to complete. Luckily, we only rode until we could not ride anymore and our kind, young guide told us that riding fat tire bikes is approximately twice as hard as riding a regular bike.
In all honesty, I think these bikes would be much easier to ride on hard packed snow or another hard surface but because we were sinking in several inches as we rode, it was just not very easy. In fact, they say the best conditions for fat tire biking are hard packed trails with a 4″ base.
However. It was fun and a great workout.
Our next activity was a little more our speed, especially in the fresh, new snow that had fallen. We had snowshoed before in Door County, Wisconsin and we knew that we loved it. Although it can be strenuous – this is when we learned not to wear a lot of clothes during winter activities – it's easy for beginners and you can really experience the beauty of the snow and the outdoors. Crystal Mountain was kind enough to arrange an escorted tour of the Michigan Legacy Art Park, an outdoor sculpture park on the grounds of the resort which depicts the history of Michigan. Crystal Mountain supports the park by leasing them the land for a pittance and it's a great place to snowshoe especially when you are the first people there and the snow is absolutely pristine.
 The scenery was absolutely stunning and, although most of the sculptures were covered with snow, we could still get an idea of what the park is like in other seasons.
You might think we had a pretty full day at this point and you would be absolutely correct. Somewhere in there we had lunch and admired the skiers.
But we were so, so glad after all our activities that Crystal Mountain was kind enough to provide us with spa experiences as it was the perfect way to end the day. The Crystal Spa was right across the street from our cottage and is a beautiful, 18,500 square foot building with heated floors, steam rooms, infrared saunas and an outdoor hot tub which made us regret we had not brought bathing suits. They offer every treatment you can imagine from massages to body wraps, facials, manicures and pedicures. They also have one of the nicest relaxation lounges we have ever seen with plenty of comfy furniture, a fireplace, snacks and drinks, and a lovely view of the hot tub area outside. We were so relaxed, we almost didn't want to head to our treatments but we are so glad we did as they were the perfect way to relax after our full day of winter sports.
After our spa experiences, we strolled languidly over to the Little Betsie Bistro, got a couple of sandwiches to go, and spent the evening relaxing in front of our fireplace and feeling so, so sad that we had to leave in the morning.
It had truly been one of the best days of our trip.
Full disclosure: Our stay and all of our experiences was provided by Crystal Mountain but as always, we will share my honest opinions about any travel experiences we have.
Pin It