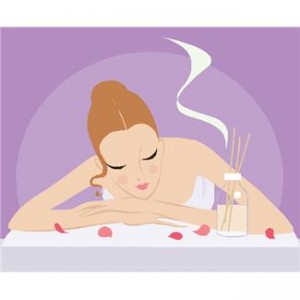 I told you all about my intense and passionate love affair with the Westin Kierland Resort and Spa and now I'm going to tell you another of the many, many reasons why I fell in love with this place and could easily spend a few more days there.
Or a year.
I am a huge, huge fan of the fabulousness that is the spa. Pretty much any spa. Big or small, fancy or plain, I am all about the spa. Massages, facials, mani/pedis, wraps, reflexology, if it involves some sort of pampering of the body, I am there.
So I was thrilled to find that the Westin Kierland had a spa, that it was a large and lovely spa and that they were going to treat me to a day there. Could life get any better?
Honestly. Then I found that why, yes indeed, life could get better because not only were they treating me to some pampering, I was also going to a yoga class and a seasonal eating class.
I adore yoga. I have been going to yoga classes for several years now and I'm constantly amazed at how much more flexible I have become, how toned I am and how I hardly ever fall down now when I am in a balance pose. And, although this may truly amaze you based on how often I write about consuming fabulous food, I also am seriously interested in healthy eating so I was excited about that class as well. One of my favorite things about summer is going to the local farmer's market for fresh fruits and veggies.
So I sent Tom off to do pretty much anything that meant I didn't have to think about anything but the spa experience I was about to enjoy and set out for the Agave Spa.
I was going to start the day with my yoga class, which is really the perfect way to start a day. When you walk into the spa, there is a small room on the left where they offer a variety of classes, including yoga. There are also exercise machines outside the spa, which just shows the wonderful weather you can find in Arizona – where else would you see exercise machines outside?
Westin Workout is also available, which has state of the art equipment, a sauna, steam room, whirlpool, relaxation area and lockers and is available to all resort guests who get a 50 minute spa service. I did not utilize any of the exercise machines. I lolled by the pool all afternoon in my private cabana after my spa morning. You heard me. Private cabana. A perfectly acceptable way to spend the afternoon, in my opinion.
My yoga class was absolutely wonderful and surprisingly full of people who were at varying levels of yoga experience which the instructor easily addressed, suggesting easier or more difficult moves, based on your experience. If you have never taken a yoga class, you might think it is just a series of graceful and easy movements that even a child could do but I am here to tell you that this is so not the case. I know this because I thought exactly the same thing until I went to my first class. And limped out out of there with a great deal more respect for yoga.
I was completely relaxed and open to learning all about healthy, seasonal eating as I watched them set up tables and bring in interesting pots and bags of fresh looking vegetables. They set up in the same classroom where we had our yoga class and it was interesting to see how quickly and easily they transformed the space into a little restaurant. The seasonal eating class is described as "In this live cooking demonstration, learn how to maximize the health benefits of seasonal food by preparing meals that are packed with nutrients as well as flavor." I actually assumed they were going to fix some local, fresh vegetables and maybe serve us a salad. This could not have been further from the truth. Our expert chef, Michelle Rusinko, who is is also the Fitness/Personal Trainer and Nutritionist for the Westin Kierland, brought in not only lots of delicious-looking ingredients but also a blender, hot plate and other assorted cooking items.
She talked to our small group about eating fresh food seasonally as she diced, sliced and mixed. First, she mixed up some black beans and other ingredients, blended them and served us a black bean hummus and crackers which we cheerfully consumed as she prepared the rest of the meal. She whipped up a delicious salad and then put together a wonderful smelling vegetable soup as we ate our salads. One of the most interesting things was that she just used olive oil and a flavored vinegar on our salads. She didn't even mix them, just dribbled them on the salads, tossed them, and served them to us. I couldn't imagine this would be enough but it was light and wonderful and I immediately went home and bought some pear-flavored vinegar which I have used with olive oil on my salads since then. So much healthier than those heavy, creamy dressings. By the time, we had polished our salad plates, the soup was ready. I was surprised it cooked so quickly and, when I tasted it I realized why – the veggies were still rather crisp. I wasn't sure how I would like soup with still-crisp veggies but it was acceptable. Not my favorite item of the meal, but acceptable. I really recommend the yoga class and the seasonal eating class; both were interesting and definitely worth your time.
Now that I was all healthy, it was time to be a little hedonistic and have someone pamper me so I headed into the spa where I changed into the requisite spa robe and slippers. I don't know about you but when I put on the spa robe and slippers, I immediately slip into a zen-like state which doesn't dissipate until I leave the spa. I had a massage that was fabulous in every way except for the fact that, just like always, something happened to the clock and an hour long massage felt like it lasted about fifteen minutes, even though she did indeed give me the full time. Why doesn't that happen at the dentist when you are getting your teeth cleaned? I wouldn't mind an hour going by that fast for that experience.
After the fabulous massage, I slipped on my bathing suit in the locker room and headed out to the adult pool. The Westin Kierland actually has two pool options which makes it very nice for both families and adults who are looking for a quiet refuge. There is an entire Adventure Water Park with a 900- foot lazy river, a 110-foot waterslide and a children's play area and shallow pool that would be great for families. Then there is the Aguamiel pool which is right near the Agave Spa and is reserved for adults only. It's open 24 hours – very unusual, in my experience – and is heated in the cooler months. There is also a jacuzzi and private cabanas. The kind folks at the Westin Kierland had reserved a private cabana for me and can I just say that this just capped off a perfect spa day.
My private cabana – which I did condescend to share with Tom – had a table and chairs, a cushioned lounging chair and a ceiling fan. Is that the ultimate or what? Well, no, no it's not the ultimate because I had no sooner settled down than a waiter came and asked if he could bring me something.
Could he bring me something?
Please.
Of course I had just recently eaten a super-healthy lunch as well as a lovely breakfast but do you think that stopped me from ordering a drink and a chicken quesadilla?
If you think it did, then it's like you don't know me at all.
I basically spent the rest of the afternoon lounging in that chair you see in the photo above with the only breaks being those I took to adjourn to the bathroom or take a dip in the heated pool. I bestirred myself enough to consume the chicken quesadilla then went back to lolling. I finally managed to rouse myself only because I knew I had to get back to the room and make myself presentable because we were going to Deseo for dinner and God forbid I should miss a meal even though I had already technically consumed three that day.
I have heard that it's a rule when you are traveling that you can eat as many meals as you want on any given day. I certainly hope this is true because that's precisely what I did when we had an absolutely incredible dining experience that night at Deseo. And you know the food is good when you can call it a "dining experience" and not just "dinner".
Huge difference there.
You'll find out all about just that in my next post.
Full disclosure: Our stay was provided by The Westin Kierland Resort and Spa, but as always, I will share my honest opinion about any travel experiences I have.
Pin It