I lounged back on the comfy loveseat and popped a chocolate brownie in my mouth. I was lazily relaxed with a sumptuous spread of food on the table before me and someone was strolling around taking drink orders. I could not be more comfortable.
This is the way to travel. On a train.
No tiny airline seats with someone smushed up against you. No eensy aisles to maneuver, careful not to bang into anyone's elbow or protruding foot. No dried up peanuts eaten while hunched over a tray that might any moment be jammed into your stomach as the person in front of you reclines their seat.
No. This is the only way to travel.
Not only was this First Class railroad car itself completely comfortable and relaxing during our journey on the Verde Canyon Railroad, the scenery for the entire trip was absolutely spectacular.
A trip on the Canyon Verde railroad was one of the first things I arranged on our trip to Arizona when I realized it was only about a half an hour from the Junipine Resort in Sedona because a train trip? How fabulous is that?
Pretty darn fabulous, as it turned out.
From Lake Havasu City, we headed to the Verde Canyon Railroad which is tucked away in the tiny and quiet town of Clarkdale, Arizona. When I say tucked, I mean it is tucked into a canyon surrounded by absolutely magnificent mountains.
We did not actually realize this.
So, when we left from Lake Havasu where we had lounged by the lake in our shorts and the temperature gauge in our rental car began falling and falling and then falling some more and then we began to see snow by the side of the road, we were glad we had checked the weather in Clarkdale and knew it was going to be pretty cool. Driving from spring temperatures to winter temperatures, then to back to pleasant and cool spring temperatures in Clarkdale was pretty surreal. Well, look. Here's a topographical map of Arizona. It's easy to visualize our journey from Lake Havasu to the Sedona area.
Once we arrived at the Verde Canyon Railroad, we realized what a popular destination it was. The parking lot was full and people were streaming into the depot to buy tickets. Luckily, because the marketing people with the Verde Canyon Railroad are so kind and generous, we had tickets waiting for us. When the woman asked if we had Coach or First Class tickets, I had no idea. She checked and then handed us our two First Class tickets. I didn't know anything about rail travel but I knew that First Class was probably a good place to be.
I could not have been more correct.
The only thing better might be the Caboose, where you have the entire car to yourself. Maybe next time.
We browsed in the gift shop and had lunch in the depot cafe which was perfectly lovely, fresh and hot, but we came to regret eating when we found out there was a sumptuous spread offered to us in First Class. We stepped into our railroad car and were instantly amazed at how luxurious it was. Soft and comfortable love seats with a low coffee table in front of them or cushioned seats with a higher table were the two seating choices. We made an immediate beeline for the loveseats and settled in. Bowls of potato chips and bottled water was already set neatly on our table along with napkins and silverware.
When I spotted the silverware, I figured there was going to be more food and I was right. One of the first announcements was that there would be a food spread once we got going. We were annoyed with ourselves that we had just eaten, but somehow we still managed to pack away samples of the fresh veggies and dip, cheese and crackers, chicken drumsticks and brownies. Drinks were available to purchase – there was actually a full bar on the car – and they had bottles of local wine available, which some people purchased and drank as we tooled along, then took home the remainder.
The train took off smoothly and Tom immediately went outside to our private viewing car so he could get some pictures. I, on the other hand, went to get more brownies.
I, as you know, have my priorities set.
The canyon we were traversing was virtually devoid of human occupants. We saw a couple of dwellings but I guess it's just too far from everything to make it a comfortable place to live. The ruins of Perkinsville are a sad reminder of how difficult life can be in this area. This means that the windswept desert and towering mountains are clean, unspoiled and quite, quite lovely. We saw beautiful mountain streams and rivers, meandering through deserted landscapes. The only sound was the quiet noise of the train as it passed through.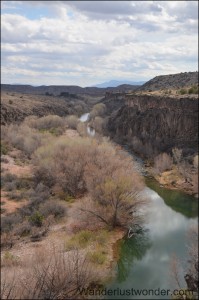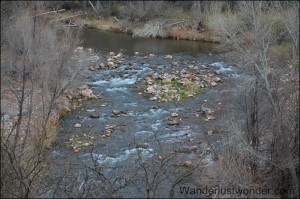 Of course, I saw these views through the window, curled up on my comfy loveseat. But I did occasionally go out on the viewing car where Tom perched almost the entire trip, taking picture after picture. This is precisely one of the reasons why I bring him along.
The train chugged quietly along, through tunnels and over bridges, each vista more incredible than the last.
The train runs from Clarkdale to Perkinsville on a trip that lasts about four hours total. On the way back, we both relaxed inside as it began to sprinkle. We watched through the window as the train reversed and took us back through the beautiful countryside again, back to the depot where we rather sadly disembarked.
This was truly one of the best things we did the entire time we were in Arizona. It would be absolutely wonderful for a family, especially for ones with train-loving kids. And who doesn't love trains? The train runs all year long and the lovely scenery would be different during each season.
If you are visiting Arizona, you should check out the Verde Canyon Railroad. You will be so glad you did.
I leave you with a video to help you make up your mind.

Full disclosure: Our tickets were provide by the Verde Canyon Railroad, but as always, I will share my honest opinion about any travel experiences I have.
Pin It