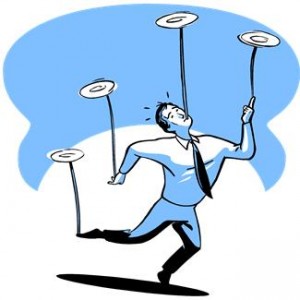 I feel like a juggler, balancing all those plates in the air – and then he starts adding items until he is just a whirl of motion keeping everything going.
I also understand now why Gary Arndt has an assistant because planning a two-week trip with innumerable stays, tours, and restaurant visits to a place that is relatively unknown to you is hard, y'all.
I say relatively unknown because we have technically been to Arizona before – twice. The first time was our visit to the Grand Canyon when we flew over the Canyon in a helicopter which had to be one of the coolest things we have ever done in our lives and the other time was when we walked across Hoover Dam and stood in Arizona for, like two minutes. Not the most productive visit.
This one will be much more interesting. I was approached a couple of months ago by one of my PR buddies about the possibility of reviewing a resort in Sedona, Arizona. She was actually a little confused about where I live because we had previously worked together on a press visit to Las Vegas so she wanted to know how far away I was from Sedona. I'm sure she thought we might want to just hop over there for the weekend. Um. No. I live in Lexington, Kentucky. There would be no hopping over to Sedona.
Except.
The more I thought about Arizona and the more my husband Tom and I talked about it, the more we wanted to go there. So the trip planning began. Ironically, because February is Arizona's big tourist month – who knew? – and there is a big film festival in Sedona the exact time we were planning to be there, working with my PR friend did not happen but, by that time, I was already all about Arizona and had bought our plane tickets.
So I started making plans and contacting people and creating spreadsheets and I have a folder in my email named Arizona and it has over 100 emails in it. We started with a stay in Sedona but then we though why stop there we should totally see ALL of Arizona so we are now going to Phoenix, Tucson, Sedona, and Lake Havasu City. Because I found out they have this supremely cool Pocket Cruisers Convention in Lake Havasu City and how can you go to Arizona and not see these fabulous tiny sailboats? I know I can't. The only place I drew the line was at Flagstaff even though we would love to go there because it just got too complicated with snow boots and coats and shall we just pay for another suitcase?
Everyone in Arizona has been kinder than kind and we just can't wait to get there. We fly into Phoenix and, after picking up our rental car, drive up the mountain to the Inn at Eagle Mountain.  My only regrets about this place are that 1.) We won't get to the see the incredible view until the next day because we will arrive after dark and 2.) We only get to enjoy it for two days because we have places to go and people to see and only two weeks to do it in. We'll have one of their 43 wonderful suites with a fireplace, whirlpool tub, fridge, private balcony or patio with the aforementioned view and Tom may have a hard time getting me to leave.
But we must because next we head to Lake Havasu City for the teeny sailboats and also to see the London Bridge because did you know they moved it there? Oh, yes they did. We are staying at the Quality Inn and Suites there which is an easy walk from the bridge and also includes breakfast. What more could you ask?
Next, we make our way to Sedona and can you believe we are going to stay in something called a Creekhouse at the fabulous resort of Junipine? The creekhouses are basically fabulous houses in the mountains with another incredible view and we will have our very own kitchen and fireplace and, yet again, we may never leave.
One of the best things about our stay in Sedona aside from our completely wonderful accommodations is that we are also going to take a trip on the Verde Canyon Railway and will once again work with our friends at Pink Jeep Tours for a tour of the area and the famous red rocks of Sedona. I'm also trying to work in some time at Sedona's New Day Spa even though our schedule is pretty full but I will make this happen. Because my life philosophy is that there is always time for a massage or to buy a new pair of shoes.
From Sedona, we are going to loop back to Scottsdale because we just had not spent quite enough time there and we have two fabulous places we want to visit. The first is a kitschy, fascinating and chic hotel in downtown Scottsdale called the Hotel Valley Ho. Envision a place that Darrin Stephens (either one) might have gone on a business trip and you have a picture of the Hotel Valley Ho. It's right in the middle of old Scottsdale which is perfect because we are going on another of our favorite things – a foodie tour. A taste of Old Town Scottsdale includes samples of wine, olive oil, and wonderful food – we can't wait.
Like popular girls going through sorority rush, we have to split our time in Scottsdale because we also want to spend time at the Westin Kierland Resort and Spa. A beautiful and luxurious resort, this location has incredible views and will meet every need, with pools, a golf course, dining venues, shopping and luxurious guest rooms. I'm working on scheduling a spa visit with them and also with Willow Stream Spa. What's that you say? That's a lot of spa visits?
Precisely.
From Scottsdale, we head to our last Arizona city – Tucson – and our only Bed and Breakfast location. I couldn't be more excited about staying at the Inns at El Rancho Merlita because what a lot of history! This was cosmetic queen Merle Norman's desert getaway in the 1950's. We are staying in the Spanish Colonial Room and I can't wait to check out the Inn and taste the fabulous breakfasts.
Then. Then we go home.
Whew. Just writing all that made me a little tired so I'm sure by the time we end up at the Phoenix airport, ready to head home, we will be worn out. Maybe not, though. With all the fabulously comfy places we are staying, we will probably sleep great every night.
Plus.
All those spa visits will totally help me relax.
Maybe I need to add just a few more.
Full disclosure: Accommodations, tours and spa visits have been provided by various locations,  but as always, I will share my honest opinion about any travel experiences I have.
Pin It