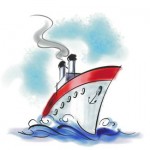 I had to make my own bed this morning.
No room steward came in and efficiently and quickly whipped the covers up and smoothed them in that incomparable way they do. I also had to make my own breakfast and, at some point, today I need to vacuum my entire house and clean the bathrooms.
Sigh.
Cruise withdrawal is a real pain.
At least I have my memories. And lovely, lovely memories they are. So lovely that I will definitely plan to cruise with Norwegian Cruise Lines again.
I'll be writing more about our ports and some of the wonderful experiences we had and the lovely people we met. Although the leaf peeping was a total bust as hardly any trees had turned yet damn you global warming, the cruise itself was wonderful and we visited places we had never heard of and saw things we had never seen like a lighthouse on a rocky coast in Halifax and a river meeting the sea creating massive and slightly terrifying whirlpools in the Bay of Fundy in Saint John, New Brunswick.
But one of the nicest things about the entire cruise was our experiences on the Norwegian Jewel. We have been on a lot of cruises and this was definitely one of the best. Let me tell you why.
1. The Food. We are big fans of the food which is probably evident in everything I write, from a foodie tour in San Francisco to our introduction to lobster mac and cheese, so you can imagine that we were truly hoping for great food on this cruise. I have to be completely honest and tell you that our food experiences were uneven with absolutely wonderful meals being balanced by some mediocre experiences with buffets, but that's only to be expected when you are serving literally thousands of meals a day.  The wonderful culinary experiences far outweighed the mediocre ones and we quickly learned where to go and what to order – and that it was quick, easy and completely accepted to send back something we did not like and try something else. There are 16 dining choices on the Jewel from the buffet at the Garden Cafe to steaks, Italian food, Japanese – you name it, you can find it. Here's a list of the restaurants, some of which have an extra cover charge in addition to your cruise fare.
Breakfast: My suggestion for breakfast is to either go to one of the restaurants where you can order a hot and fresh meal or get an omelet from the omelet bar at the Garden Cafe. Others seemed perfectly happy with the breakfast buffet in the Garden Cafe and you might be as well; we are just not fans of the buffet. There was plenty of scrambled eggs, bacon, sausage, pancakes – you name it. And the fresh fruit, danish, cereal, yogurt, etc. is all wonderful and makes a great, light breakfast when you are planning a big lunch.
Lunch: Balance some lunches on the ship with lunches in the ports for variety and to sample the local food. It may not be easy to go back onboard for lunch when you are in the middle of touring and it's a good idea to eat locally anyway. We had some great seafood this way. If you are eating lunch onboard, you can again go to one of the restaurants and order lunch or choose the buffet route. Lunch is quite excellent in the Garden Cafe since they have fresh pizza, a sandwich bar, interesting choices like Indian food, and so many more choices that I can't even remember all of them. We enjoyed lunch at Cagney's a couple of times since we had a VIP status but anyone can eat at the premium restaurants; you just have to pay for it and it's worth it if you are in the mood for sit-down, menu-style dining.
Dinner: Because we are basically tightwads, we decided before we left that we would only dine in the restaurants that were included in our cruise fare but we lucked out and were invited to one dinner at Cagney's, the steakhouse restaurant onboard. It was wonderful and I absolutely recommend it – especially the dark chocolate ice cream that we could only find there and the crab cakes which are to die for. My biggest disappointment all week was going back to Cagney's for crab cakes only to find they were not offering them that day.
The cover charges for the restaurants are actually very reasonable – from $10 to $25 – and it's a really nice option if you are in the mood for a certain type of food or want a little fancier experience that the other restaurants included in your fare. We had no problem eating at the Tsar's Palace every single night, except when we tried Azura and then went right back to the Tsar's Palace mainly because we liked the decor and ambiance. They both serve the same menu, which has some of the same choices every night, along with new items to choose from. The freestyle dining concept means you can eat whenever you want and you can basically wear whatever you want, although we didn't see anyone dressed very casual. Jeans are acceptable or you can dress up as much as you want. Try the mushroom quesadilla appetizer, the mashed potatoes with pretty much any meal and the apple pie for dessert in either the Tsar's Palace or Azura. All are excellent.
One of the nicest amenities on the Jewel, if you are thinking about making reservations, is that they have electronic signs throughout the ship telling you which restaurants are getting booked up.
2. Room Service. Honestly, we only used Room Service one time when we had, perhaps, a 15 minute gap in our eating schedule and were craving some cookies. They were delivered amazingly fast and were freshly baked and delicious. The Room Service menu was not very extensive – you certainly can't get everything that is offered in the restaurants- so we made the huge decision each night to actually put on some clothes instead of pajama pants and make our way to one of the restaurants. However, if you were truly exhausted or not feeling well, there were some perfectly acceptable choices on the menu such as sandwiches, salads, etc. And the cookies are very, very good.
3. The Service. We have been on cruises where our room steward spent the entire week confused about our dinner plans, even though we ate at the same time every night, where our room was never cleaned to our satisfaction, where we could never get ice even though we begged for it, where we never saw our room steward. Ever. This was not the case on the Jewel, where our room steward, Felipe, was wonderful in every way. Our room was kept completely immaculate, our ice bucket was full, our bed was made in the morning and turned down at night and we had the requisite towel animals perched on the bed to greet us every night. Which, because we are jaded travelers who have seen all the towel animals known to man, we probably didn't appreciate nearly as much as we should have. Sorry, Felipe.
4. And other service. We agree that we have never been on a ship with a friendlier crew. Every single person we met every single day greeted us with a smile and a friendly greeting. Everyone seemed to be very pleased to be working on the Jewel and very happy that we were onboard. Everything we asked for was delivered with cheerful goodwill and, in the restaurants, we received wonderful service and serious concern that we enjoy everything we were served. If not, it was whisked away and replace with something else. No problem. Nothing was a problem. It was seriously wonderful to be treated so well and really enriched our cruise experience.
5. The Stateroom. If you have read about our wonderful one-bedroom suite on the Disney Wonder and how the noise completely ruined our cruise, you will understand that we entered our lovely forward balcony stateroom on the Jewel with some trepidation. We had learned our lesson about stateroom location and will always, always carefully study the deck plans before we book a cruise in the future – and you should as well. It makes a huge difference in how much you enjoy your cruise.
We were very, very happy with our stateroom. It was very roomy with plenty of storage space. We had just stayed in a hotel room in New York with no room for clothes – no dresser at all. I stood in the hotel room and was astonished that there was quite literally no place to put our clothes except two skinny drawers under the bed. We lived out of suitcases for three days, so it was nice to unpack and settle into our lovely stateroom. There was room under the bed for our suitcases and room in the bathroom for all our toiletries although we did have to adjust to the miniscule shower and I missed hot bubble baths all week! We truly enjoyed our verandah and sat out there often, overlooking the various ports, harbors and the open sea as we cruised along. It was quiet and we slept peacefully every night in our comfortable bed, lulled by the gentle movement of the huge ship.
6. The rest of the ship. Honestly, we are not people who spend time in the casino, the bars or pretty much any other area of the ship except the restaurants and our stateroom. We did visit all those different areas enough to determine that they were lovely and you would enjoy them. Lots and lots of other people seemed to be enjoying them. We did have drinks one night man the ship lost money on us as drinkers in the Spinnaker Lounge.
And I spent one afternoon in the library when I was looking for a comfy spot to read. Something the ship designers could work on because those chairs? Not comfy.
7. Decor. The very first thing we noticed when we boarded the Norwegian Jewel was how absolutely beautifully she has been decorated. Royal purple and a beautiful deep turquoise were the predominant colors and they were used effectively all over the ship. Luxurious turquoise couches and gorgeous purple carpets were everywhere and everything was not only beautifully designed but absolutely pristine. The entire ship was kept immaculate the entire week and we never saw a scrap of paper stay on the floor for more than a minute before it was scooped up. Everyone seems to take a great deal of pride in the fact that the ship is so beautiful and they are determined to keep it that way.
8. The Spa. One of my very favorite areas on any cruise ship is the spa and the Jewel is no exception. Normally, I wait until they offer an extra-special package deal later in the week and then take advantage of that. I got a great massage, facial and several other treatments for a little over $100, which is a great deal at any spa. The spa area is beautifully decorated and you begin to relax as you soon as you enter the area and smell that distinctive and lovely spa smell. There is also a complete gym and fitness area with classes and plenty of exercise equipment, which we never entered once. That's not to say that we didn't get any exercise – we walked miles and miles while on this cruise. Probably why I didn't gain a pound, even with all the mashed potatoes and chocolate cake I inhaled.
9. The Stardust Theatre. We are not people who spend every single night at the theatre on a ship because we are just not huge fans of comedians, magicians, etc. although there were hundreds of people who attended those performances and we heard they were wonderful. However, we usually really enjoy the big musical numbers and the Jewel definitely provided that at least one night, which is when we made it. The theatre is beautiful, the seats are very comfortable and the talent of the singers, dancers and musicians is quite incredible. The nice thing about freestyle dining is that is quite easy to plan your dinner around the show in the theatre that night – or to plan just how fast you can get back to your room, put on your pajamas and watch a movie on the TV or computer. Which is what we did most nights. Why, yes. Yes, we are wild and crazy individuals. Why do you ask?
10. TV. On most cruises, we turn on the TV just to confirm that yes, there is nothing on at all worth watching. That was not the case on the Jewel. There were actually recent movies that we wanted to watch. We never managed to find any sort of TV guide, although there is a menu on one of the channels that tells you what each channel is, just not what is on that channel that day. A list of the movies in the daily paper would have been nice and it might be possible to get something like that at Guest Services. But we were usually in our pajamas by the time we realized that might be nice and that was way too much work. So we usually just turned to the two movie channels to find our our choices each night and actually watched a few movies that way.
These were our experiences on the ship and, of course, since you are talking about a huge ship with hundreds of passengers, everyone had different experiences. And that's precisely what is so great about a cruise. You can do your own thing, no matter what that might be. You can choose to be just as active or as sedentary as you want. You can choose to be just as social or antisocial as you want. You can drink or not drink, gamble or not gamble, shop or not shop, relax and read or run on the deck.
That's why I think you would like it.
You should give it a try.
Let me know what you think.
Full disclosure: Norwegian Cruise Lines provided us with a media rate for the cruise,  but as always, I will share my honest opinion about any travel experiences I have.