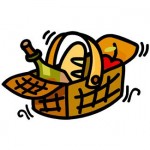 We had coconut shrimp for the first time in Key West. In Mazatlan, we gorged on plates full of barbecued, fried and spicy shrimp. In Puerto Vallarta, we had a scallop appetizer that we still talk about – and fresh coconut ice cream. In Ireland we had freshly baked scones studded with juicy raisins. In Hawaii, I learned to love fresh pineapple. We ate our way through Vegas, sampling one delicious restaurant after another.
Our travel experiences often revolve around food. Sweet and savory, tart and creamy, hot and cold, delicious and even more delicious. We have been known to plan our next meal while we are consuming the present one. Our plans and tours are made based on which restaurant we have breakfast, lunch or dinner in and hotels are weighed on the merits of room service or no room service, restaurant with good reviews or bad reviews.
So, when I learned that there were actual culinary tours of San Francisco with Local Tastes of the City Tours, this became the first item on our travel agenda. All other plans revolved around the culinary tour.
In the morning on our second day in San Francisco, we headed to the North Beach area of the city, also known as "Little Italy" to begin our tour. We were to meet our tour guide in front of a cigar store right by Washington Square Park. We were a little concerned that we might have difficulty finding the tour but there was a whole group of people milling around the sidewalk, waiting for the tour. Apparently, other travelers are just as fond of food as we are!
We began the tour with our voluble and informative tour guide leading us up a street that was so obviously San Francisco it could have been on a postcard and then across Washington Square Park, which was truly a lovely little oasis in the middle of this big city.
The park was full of families and dogs playing and running around in the middle of some sort of festival with arts and crafts and artwork for sale.
I spent the rest of the afternoon not only stuffing completely fabulous food in my mouth – each item more delicious than the last – but marveling at the fact that these people lived just a few steps from these wonderful bakeries, chocolate shops and restaurants. They could run and get a freshly baked loaf of bread for dinner as dinner heated up in the stove. It seemed very European and very, very lovely. I was quite jealous.
After strolling through the park and visiting a local church, we headed to our first food stop on the tour – Liguria Bakery.  Now, up to this point, I had been visualizing that we would get some little, tiny samples at each of the places we visited. Let me just tell you that is not the case. Do not eat before you go on this tour or you will be so, so sorry.
We waited out on the sidewalk since the bakery is very small and our tour guide went in to get our first tour treat. Liguria Bakery only makes one thing – foccaccia bread. They open at about 7 or 8 in the morning and sell foccaccia bread until it is gone. Then they close. Apparently, they sell out every day and when you taste this bread, you will know why. Our guide came out of the bakery with some large, paper-wrapped bundles and proceeded to hand everyone huge chunks of foccaccia bread. Some had tomato sauce, some had mushrooms, and all were completely delicious. We ate until it was all gone and he kept urging more warm, fresh hunks of bread on us.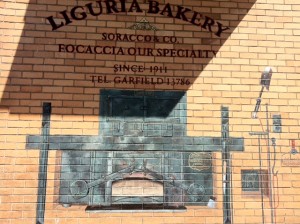 From Liguria Bakery, we headed to Caffe Roma, a cafe that specializes in roasting their own coffee beans and pressing them to create a truly superlative cup of coffe. You'll have to take my husband's word on this since I am not a coffee drinker and had some freshly squeezed orange juice that was also delicious.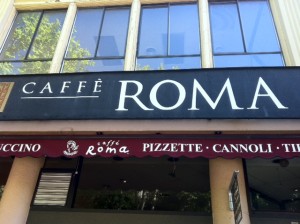 The most interesting thing about the entire tour was that the neighborhood residents were just living their lives all around us – lining up for fresh bread or a cup of coffee, walking the dog through the neighborhood or playing in the park. Our next stop was one of my favorites – Z. Cioccolato. This was a candy store, but that's just not enough of a definition for this place. They were in the process of making fudge so we got to sample a creamy hunk of freshly made fudge and OMG that was the best fudge EVAH. They make all their own fudge and have some truly incredible flavors, like the most popular – Black Panther. With 5 layers of fudge consisting of Milk and Dark Chocolate, Fleur De Sel Sea-Salt Caramel, and fresh Peanut Butter, this might very well be the most interesting and most delicious fudge you have ever tasted.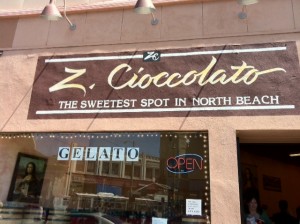 Then, they told us we could take some free samples of the taffy. This was a little intimidating, since they had every flavor of taffy ever dreamed up. You can order all of their candy online and I strongly suggest you do so. Because it is good.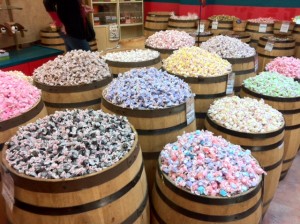 With bags stuffed full of fudge and taffy to take home (or to be brutally honest – to the ship where we could scarf it all down before it ever made it home), we headed to our next stop.  The smell of fresh bread filling the street was our first clue that we were nearing North Beach Bakery.  With 130-year old brick ovens in the back of the store, this bakery has been baking delicious bread for the residents of San Francisco for a very long time. Chewing on hunks of the freshly-made bread, we made our way down to the street to another bakery. Victoria Pastry first opened its doors doors in 1914, when two brothers traveled from Sicily to San Francisco and opened a bakery named after one of their daughters. The recipes used are still reminiscent of Sicily and are baked in the huge brick oven, which is almost 100 years old.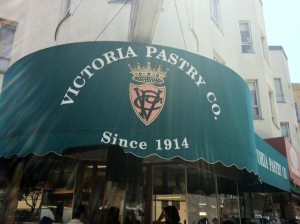 We spent some time inhaling the delicious fragrances and drooling over the cases full of luscious goodies.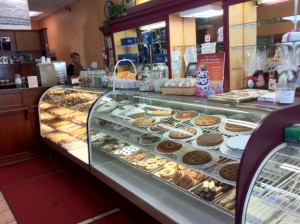 Then our tour guide almost broke our greedy little hearts when he got a bunch of scrumptious eclairs to go and said we could not have them until after lunch. At first, we were dismayed, then we actually took in what he had said. Lunch? We were getting a real lunch, in addition to all the goodies we had already scarfed down? All right!
We headed down the block in this wonderful neighborhood and ended up at a little Italian restaurant called Cinecetta. Unfortunately, they don't have a web page because you need to go here if you are in San Francisco. No, really. You need to go here. They are located on Union Street – get the address from the Google Machine and plan to go there.
The pizzas here are absolutely nothing like those pale imitations we have been eating for years. The owner has her cheese, tomato sauce and olive oil all imported from Italy and the pizzas are baked in a wood-fired oven. The first bite of these delicious and decadent delicacies really capped of our day of culinary delights.
But then.
Then our tour guide brought out the eclairs.
And even though we had sat and chatted and scarfed down every single bit of pizza on top of all the other food we had inhaled, we still enjoyed those eclairs. Because they were delicious.
Absolutely delicious.
Just like everything else we ate all day.
Full disclosure: Local Tastes of the City Tours provided us with a tour,  but as always, I will share my honest opinion about any travel experiences I have.