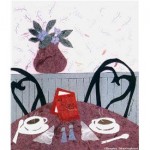 I poked the appetizer gingerly with my fork. Lobster spring rolls had sounded delicious when I ordered them but these were a little odd looking with the lobster tails poking up out of the spring rolls.
And then I took a bite.
And if lobster spring rolls with the tail poking out are wrong, I don't want to be right. Because they were delicious.
We were dining out at Bistro Bijoux during our heavenly stay at the Sandestin Resort in Destin, Florida which I wrote about here and here. In reality, I could probably devote an entire blog to the resort, it is just that fabulous. And one of the reasons is the wonderful restaurants that you can find at the Village of Baytowne Wharf. From casual cheeseburgers at a sidewalk cafe to a very fancy meal here at Bistro Bijoux, you can find it all in this pedestrian mall lined with shops, restaurants and entertainment venues.
But we were here for the food. And Bistro Bijoux did not disappoint.
In a luxurious, quiet, fine dining atmosphere with linen table cloth covered tables, extremely efficient waiters and waitresses catered to our every desire. The decor was reminiscent of a French bistro with dark wood furniture and earth tone colored walls and decorations. Known for their fresh, local Gulf seafood and melt-in-your mouth steaks, you can also find lamb, veal and chicken that has been sauced and garnished until it's so fancy you can't believe it can possibly taste as good as it looks.
But I am here to tell you that it does.
After our delicious appetizer, we each ordered the Tomato, Crab and Basil salad and that was so fresh and wonderful with shredded, fresh crab on top that we almost could have gone without an entree. But of course that was not going to happen.
I had seen shrimp or chicken with grits advertised on several menus lately, in Savannah, Memphis and now in Destin, so I decided it was time to give one of these delicacies a try. I ordered the Shrimp and Grits which is described as Sautéed Gulf shrimp and fried cheese grits with a chorizo and white bean stew, tomato confit.
Honestly, I'm not exactly sure what chorizo or confit even means because I am an eater, not a cooker, but they were delicious. The shrimp was tender and tasty and the grits, beans and tomatoes combined in a sublime way to create a fabulous meal. The cheese grits were actually fixed in a way I had never seen – rolled into little, crispy, sublime balls of deliciousness similar to a hush puppy.
By this time, I had devoured everything I ordered, relished every single bite and had no business ordering a dessert. However. I take my restaurant reviews seriously, y'all. And I think you deserve to know if the desserts at Bistro Bijoux are as tasty as the rest of the food.
Why, yes. Yes, they are.
It was a difficult choice but when chocolate is on the menu, it invariably wins out with me. So, as a sacrifice to you, gentle reader, I ordered the Chocolate Brownie Cake. "Chocolate ganache, coconut and pecan topping, berry coulis"
Oh, yeah.
A dense, dark chocolate cake with a topping similar to a German chocolate cake, this dessert topped off the perfect meal.
So, if you find yourself at the Sandestin Resort at the Village of Baytowne Wharf, stop by Bistro Bijoux.
You will be so glad you did.
Full disclosure: Bistro Bijoux provided us with dinner,  but as always, I will share my honest opinion about any travel experiences I have.