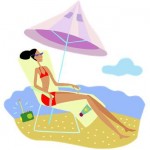 I used to think my idea of heaven on earth was staying at a fabulous resort located on a gorgeous beach where someone made my bed and left chocolates for me every night.
I was wrong.
My idea of heaven on earth is staying at a fabulous resort located on a gorgeous beach where someone makes my bed and leaves chocolates for me every night and there is an outlet mall a mile away.
An outlet mall where you can easily spend an entire day and not make it to every single store.
Because believe you me, we tried.
But even after spending the better part of a day on a fabulous shopping experience, it was a relief to head back to our beautiful condo at what I like to refer to as heaven on earth or the Sandestin Golf and Beach Resort. Our two-bedroom condo located near the bay in The Village of Baytowne Wharf was perfect for us – the condo was fabulous and luxurious and the location could not have been better.
But if you want a bigger place or you want to be right at the beach, it's easy to find those accommodations as well. This is the perfect place for a girlfriends getaway, a romantic honeymoon (or second honeymoon!) or a family vacation. Because this fabulous resort sprawls over 2,400 acres right on the Emerald Coast between Pensacola and Panama City, it's the perfect location. You can choose to never leave the safe, gated grounds with 30 lovely village neighborhoods or to explore the beautiful coast in this area – it's up to you. And if you are a fisherman, you are just a few minutes from Destin, the "world's luckiest fishing village".
How can you not want to stay at a resort that has the world's largest fishing lure. No kidding.
You might find it very easy to never leave, since the resort has more than seven miles of sugar-white sand beach and bayfront property, four championship golf courses, 15 world-class tennis courts, 19 swimming pools, a 98-slip marina, marina dockage facilities, water sports, children's programs, a fitness center and spa, 65,000 square feet of meeting space for weddings, family reunions, corporate meetings, retreats and more, and the village complete with shopping, restaurants, ice skating, zip lining, and vibrant nightlife.
If all that sounds a little overwhelming, relax. Lounging on the almost unbelievably white sand of the beach at Sandestin all day is perfectly acceptable behavior. If you don't want to bestir yourself to do more than grab a cold drink or a sandwich, that's just fine. There will be people all around you doing the same thing. I may be one of them.
We walked to the 28-acre Village of Baytowne Wharf every night for dinner and were amazed at the wide variety of activities for families. Kids were zip lining, climbing elaborate climbing structures (while safely belted in) and we saw one small and delighted boy who was bouncing waaaaay up in the air from an inflated surface with the gentle help of an attendant who belted him in, then tossed him as high as he wanted to go. I could only imagine my 5-year old grandson and how much he would love this. I was truly amazed at the variety of activities available for kids – they even have a kids club called ClubKZ.
One of the activities we enjoyed the most, aside from the lounging in beach chairs in a coma-like state only achieved by the ennui of a day of sun and sand, was bicycling. Sandestin provides free bikes for a limited amount of time to anyone who wants them (just one of their many amenities) and our two bikes were right outside the front door whenever we felt like riding. Which was pretty often. This lovely, shaded resort with hardly any hills was the perfect place for those of us who had not ridden a bike in mumblemumblemumble years. There was a small amount of time where there was some doubt about whether I could remember how to ride but guess what! It's true what they say – you never forget how to ride a bike. We saw kid bikes as well with training wheels – what a great activity for a family.
You might think this is just a summer destination, but you would be wrong. There are activities going on here all year long and I can't imagine anything nicer than strolling on this beach while the snow is flying back home. Let someone else shovel snow while you are riding bikes, eating fabulous meals, playing tennis and letting someone else pamper you in the wonderful spa. In fact, I think a spa vacation with girlfriends sounds like the perfect vacation here for me! Although a romantic getaway with my husband sounds good as well. Or a family vacation. Or maybe…
Hmmm…sounds like I might be spending a lot of time at Sandestin.
And you should too.
In fact.
You should make a reservation right now.
Full disclosure: Sandestin Golf and Beach Resort provided us with accommodations,  but as always, I will share my honest opinion about any travel experiences I have.