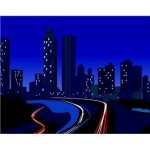 Unlike many of our trips where we arrive travel worn, exhausted and ready to fall into the closest bed, we arrived in Vancouver on a cruise ship with the city as our last port and strolled off casually into a typically gorgeous Vancouver day. I had been to Vancouver before but only long enough to take a taxi from the cruise port to the airport – just long enough to think "Wow, what a beautiful city – I need to come back here." So here I was. With a few days to get to know this city with its gorgeous skyline,  beautiful harbor and access to incredible wilderness areas.
I have become a fan of staying in a boutique hotel or a bed and breakfast instead of a chain hotel when my husband and I are traveling. They seem to have so much more character, are more relaxing, often have local, knowledgeable people who can direct us to the best things to see and do in the area – and they often include a wonderful breakfast.
Since, as you know, our travels are planned around getting fed in the best possible way.
Luckily, I was able to arrange a stay at the Manor Guest House Bed and Breakfast. I was thrilled with the idea of a bed and breakfast because, well, breakfast, but also had some concerns about location. We had stayed in a fabulous B & B in Seattle but I had not realized how far away it was from town and we spent way too much of our trip on buses and taxis getting to and from where we wanted to be. But the lovely folks at the Manor Guest House assured me they were in a very convenient location and they were correct. We easily walked a block to catch a bus at the corner or a couple more blocks for the SkyTrain. No problem at all.
When we arrived, they greeted us and directed us to the house next door, where we were staying in the Penthouse Suite. The Penthouse Suite is not quite as grandiose as the name conjures up, but was a quite lovely attic bedroom with our own private bath. Because it was an attic room, it had slanted ceilings and we prepared ourselves for some head-knocking the entire time we stayed there. Surprisingly, after only one or two knocks, we began to automatically lean to one side as we neared the bed. And we decided we kind of liked the slanted ceilings. They gave the place character. The bed was one of the most comfortable we have slept in and the cool Vancouver evenings resulted in us getting some much-needed sleep after our noisy Disney Wonder suite.
We also had access to a complete kitchen just down the stairs where we stashed our drinks and snacks in the fridge. We could actually have cooked there if we were not been so enamored with eating fabulous meals out all the time. And there is the fact that one of us likes a break from cooking all the time at home. We won't mention who that might be.
The other house, right next door, where we sauntered every morning, was where they served breakfast – and wonderful breakfasts they were! They had a lovely little buffet area with fresh fruit and granola, a main breakfast dish like pancakes, or they would gladly make you anything else you wanted. Located in a lovely and quiet neighborhood with beautifully kept lawns and gardens, it was truly a pleasure to come back from our travels every day to the Manor Guest House and relax in our comfortable suite.
Once we had unpacked and settled in, it was still early morning so we set out to explore Vancouver. We walked to the SkyTrain station where we proceeded to show ourselves as ignorant boobs who took forever to figure out the ticket machines but we finally managed to actually purchase tickets and get ourselves on a train to downtown. The SkyTrain is a great way to get around Vancouver – immaculately clean and very, very fast. Just pay attention to which exit you go out of from the station or could be completely lost.
As inveterate and unashamed tourists, we love a Hop On, Hop Off tour, so we decided on the Vancouver Hop-On, Hop-Off Big Bus. We spent the next three days hopping on and off the bus at the different stops, seeing what we wanted to see. The first day, we prowled around the harbor area, scarfing down fish and chips at a little pub on the water (Mahony and Sons – go there! No, really!!), then we grabbed one of the free Grouse Mountain trolleys which stop right in front of the incredibly beautiful Vancouver Convention Centre.
Grouse Mountain was absolutely gorgeous. We took the tram up to the top of the mountain where there is a ski lodge and we were astonished to see deep snow – in May! Actually, we weren't incredibly astonished (that's just a little poetic license) because there were skiers on the tram with us, so we figured there must be some snow. But wow – snow in May! Can you tell I am a delicate Southern flower who lives where we do not get snow in May?
We didn't have a lot of leisure time since we wanted to catch the last trolley back to town, but we would love to come back sometime and hike around the mountain. However, we did manage to catch some fabulous views of Vancouver.
It was getting late and we were getting tired, so we decided to head back to our dollhouse attic bedroom. Old pros at the SkyTrain by now, we grabbed one and headed home. Not in the mood for a fancy dinner, we happened upon a mall that was on the way back to the Manor Guest House – only about two blocks away. It had a nice little food court so we had a really exotic travelers meal of burgers and fries at some fast food restaurant. Then we went back to our room, fell in bed and let the cool, slightly damp Vancouver breeze flowing in our window lull us to sleep.
We needed a rest.
We still planned to see Stanley Park, the Vancouver Aquarium, Granville Island, and take a Harbor dinner cruise.
Stay tuned.
Full disclosure: Tourism Vancouver provided us with an attractions pass and the Manor Guest House provided us with accommodations,  but as always, I will share my honest opinion about any travel experiences I have.