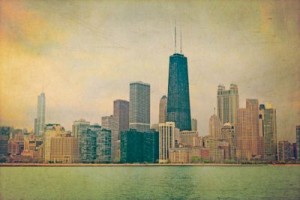 First, I should tell you that spring in Chicago is actually a misnomer because it's still astonishingly cold, especially if you are attempting a stroll by the lake.
There is no strolling in March in Chicago by the lake; rather you will find yourself scampering along, attempting to shield your face from the cheek-numbing wind as your mind fills with thoughts of a roaring fire, hot chocolate, and fur throws piled high on your body.
So yeah.
No spring clothes quite yet.
However, Chicago is equally charming in all seasons (as long as you have your long underwear packed) and spring is no exception. We were in town for the Women in Travel Summit where I was scheduled to speak and the summit just happened to take place over the St. Patrick's Day weekend celebration in Chicago. In case you have never been to Chicago during the St. Patrick's Day celebration, you should plan a trip immediately because the city turns into one huge, very green, very happy, very inebriated party.
You all.
They even dye their river green.
Because Chicago residents are hardy and don't mind a little icy wind in their face, there were even kayakers and paddleboards on the river.
There is a mammoth sized parade and the streets and bridges are literally packed with people from all over the world. We stayed at the Embassy Suites Lakefront and were amazed at how many people were there at the beginning of the weekend and how quiet it became when we left on Monday. Our stay at the hotel was just as wonderful as we expected after staying at the Embassy Suites Downtown in St. Louis but this location had a few extra perks that we really appreciated.
I had researched the hotel and determined that the absolute perfect room for us would be a corner suite on the 17th floor. These suites were supposedly bigger, quieter, and there are free vending machines for the 17th floor.
Wait. What?
Yes. Free vending machines. Filled with drinks and snacks and OMG I must stay on the 17th floor.
So we arrived at the beautiful lobby of the hotel to check in at the desk and I was all geared up to present my compelling argument for why we needed desperately needed a corner suite on the 17th floor and…that's exactly where they had placed us.
How fortuitous.
They were quite sweet and friendly and gave us our keys, information about the hotel, and a code for the vending machines. Which, I have to say, we took full advantage of. When we left, they probably heaved a sigh of relief that whoever was in that suite had finally stopped using the code to access the vending machines.
Aside from the amazing free vending machines, the Embassy Suites Lakefront is also amazing in every other way. Our corner suite was indeed larger that the others but the others are all equally lovely because who does not like a completely separate living room with a hideaway bed, bedroom, and a nice dining area and kitchenette complete with a sink, fridge, and microwave? This arrangement is especially great for families and there were plenty of them taking advantage of these spiffy suites on this holiday weekend.
This hotel has a beautiful, open atrium effect which can be a little dizzying when you look down but really creates an illusion of space and size that adds to the ambience.
One of the best things about staying here, quite aside from the vending machines and our fabulous suite, is that Embassy Suites offers a complimentary full, hot breakfast which includes an omelet bar – one of our most favorite things in the world. I had to get up every morning and leave for the conference before Tom woke up (another great feature of having a suite) so I had my omelet, then a couple of hours later, he had his.
Perfect.
The hotel also has a pool and fitness center and is the ideal location for walking around Chicago. It's just a very short walk to Navy Pier although the wind will freeze your butt off so dress warmly. There is also a Walgreens close by, an AMC theater and bowling alley next door, and a Whole Foods being built across the street. Of course, parking is kind of expensive but that's the case anywhere in Chicago and at least it's very convenient although be sure to notice which floor you parked on and how to get back to the hotel from the parking garage elevator or you may end up wandering around aimlessly until you use the built-in intercom to get help.
Not that this happened to me. I'm just saying.
Aside from completely enjoying our stay at the hotel, we had one goal we had aspired to every time we visited Chicago and that was to try an authentic Chicago deep dish pizza. And did we ever.
Giordano's Pizza has been proclaimed as Chicago's Best Pizza by a number of reputable sources and we are here to add ourselves to that list. In 1974, Efren and Joseph Boglio moved to Chicago from Italy and were frustrated not to find authentic deep dish, stuffed pizza. So they opened the first Giordano's. This double-crusted, ricotta stuffed concoction is precisely what we wanted to taste. Determining that the Lake Street location was the closest to our hotel, we headed out into the icy evening bundled up to the eyes.
The place was packed so we were thankful they were expecting us and had kindly saved us a small table by a window. Our waitress was chatty and perfectly happy to suggest what we should order. She strongly suggested we try the fried ravioli while we waited for our pizza and we were happy to oblige. They were amazingly wonderful. They actually have tons of other items on their menus, including salads, sandwiches, and desserts so we will have to go back and work our way through the menu.
Then the pizza. We honestly didn't know exactly what to expect – some sort of thick crust, right? Uh. No. This is actually pizza pie with tons of tomato sauce and cheese. It has to be served just the right way and our waitress placed it on our table with a flourish, then cut and served it to us.
We were fans with our first cheesy bite.
Because there is no way the two of us could have eaten that entire pizza (I don't think 4-6 people could have eaten that pizza), it was lucky we were heading home the next day. We had her box up the rest and we had it for dinner the next night at home.
It was just as good.
So. Go to Chicago. Stay at the Embassy Suites Lakefront. Eat at Giordano's.
You will not be sorry.
Full disclosure: Our stay was provided by Embassy Suites Lakefront and our meal by Giordano's but as always, we will share my honest opinions about any travel experiences we have.
Pin It