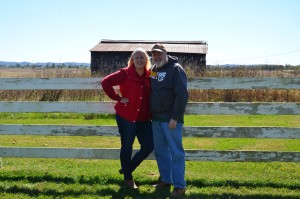 When I am traveling, I often feel like I am in the middle of a movie and I can't possibly really be on the Eiffel Tower/climbing a waterfall in Jamaica/lounging on a beach in the Dominican Republic/hiking through a rainforest in Mexico.
And this is why I travel – and why I write about it. That moment of unreality, of awe, of complete wonder at the experience of being in another place.
For twenty years, I worked as a library media specialist in an elementary school, then in January, 2009 I began designing and maintaining a travel blog for a large travel agency. In the spring of 2009, I retired to become a full-time travel writer and, for over two years, I traveled and posted regularly on the blog, also writing travel articles for magazines and newspapers.
Then, in one of those incredible twists of fate, the travel agency was purchased by a larger agency, and the travel blog was swallowed up in the process. Although overwhelming at first, this allowed me to set up my own travel blog where I can write about my travels and show off my other travel writing as well.
I love travel and have been traveling my whole life since my dad was in the Marine Corps and took us all around the world. Since I became a travel writer, I have been to Mexico, Canada, the Dominican Republic, Ireland, Montreal, the Netherlands, Germany, and France. I've also been all over the United States and would love to visit even more. Tom got started traveling a little later as his family was not that into traveling, but he is all about seeing the world with me now.
We have been married for over 30 years and traveling together works well as I do the writing and Tom takes the pictures as he is a wonderful photographer. Any photos you see on the blog were probably taken by him. We have two grown children and a wonderful grandson. We have been truly blessed with our family. Tom is semi-retired and enjoys pretty much anything techie. He also loves loud rock music (why we have our own separate work areas!) and is very active, riding his recumbent bike 4-6 miles every day. It took him a little longer to fall in love with travel but he is pretty much ready to see the world with me now.
We write and photograph for a variety of venues, both print and online, all of which you can view on our published page. In addition, I have recently written an ebook which includes Tom's photos. It's a guidebook about Savannah and Tybee Island, Georgia which you can buy here. We appreciate your support – please keep reading and following us on social media. We still have a lot of world to see and write about!
Contact me at janross53@gmail.com