We write articles and place photographs in a variety of magazines, newspapers, web sites and blogs. These are the most current articles, either in .pdf form or online. I can also provide you with more information and details about the publications, upon request. Just contact me at: janross53@gmail.com. You can also access all our published materials prior to 2014 HERE.
I have published an ebook travel guide about Savannah and Tybee Island which you can access on Amazon. Pirates, Pralines, and Spanish Moss: a Travel Guide to Savannah and Tybee Island, Georgia
I have done some radio interviews about travel; here's a link to some interviews about an AmaWaterways river cruise in Europe.
Most recently published materials: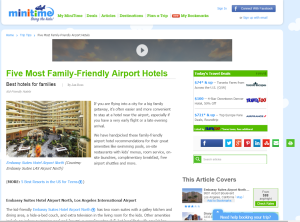 Minitime.com, Five Most Family-Friendly Airport Hotels, November 11, 2015 (get a .pdf version HERE)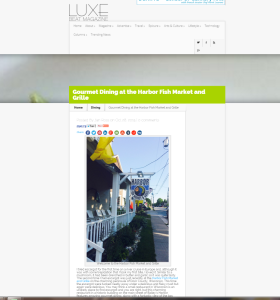 Luxe Beat Magazine, Gourmet Dining at the Harbor Fish Market and Grille, October 31, 2015 (get a .pdf version HERE)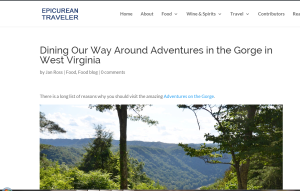 Epicurean Traveler, October 25, 2015: Dining Our Way Around Adventures on the Gorge in West Virginia (get a .pdf version HERE)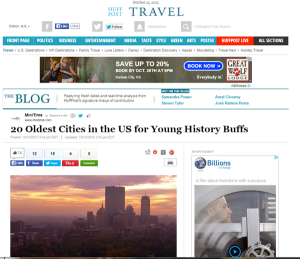 Huffington Post, October 15, 2015: 20 Oldest Cities in the U.S. for Young History Buffs (get a .pdf version HERE)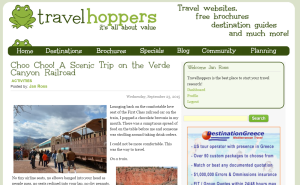 Travelhoppers, September 23, 2015: Choo Choo! A Scenic Trip on the Verde Canyon Railroad (get a .pdf version HERE)
Regular Magazine Travel Column
"Living Well 50+" Magazine, July/August 2015: Cruising on the Rhone River in France with Viking River Cruises
"Living Well 50+" Magazine, May/June, 2015: Wonderful Wilderness Wildlilfe Week
"Living Well 50+" Magazine, March/April 2015: Maumee Bay State Park Lodge
"Living Well 50+" Magazine, January/February 2015: Oregon Bound: Cruising the Columbia and Snake Rivers in Style
"Living Well 50+" Magazine, Fall 2014: Summer in Door County
"Living Well 50+ Magazine", July/August, 2014: Here's Your Key to a Great Getaway (Sarasota/Siesta Key)
"Living Well 50+ Magazine", May/June, 2014: Wild Dunes Resort
"Living Well 50+ Magazine",  March/April 2014: Surprising Silver Dollar City
"Living Well 50+" Magazine January/February 2014: Mackinac Island
Other Magazines:
Luxe Beat Magazine
Luxe Beat Magazine, June 16, 2017 Kringle Capitol of the World: Racine, Wisconsin (get a .pdf version HERE)
Luxe Beat Magazine, June 13, 2017 Indianapolis, Indiana: A Luxury Getaway to the Crossroads of America (get a .pdf version HERE)
Luxe Beat Magazine, October 14, 2015: Culinary and Wine Tasting Getaway to the Gervasi Vineyard (get a .pdf version HERE)
Luxe Beat Magazine, October 13, 2015: Going Green in the Emerald City (get a .pdf version HERE)
Luxe Beat Magazine, June 28, 2015: A Luxury Weekend in Newport, Rhode Island (get a .pdf version HERE)
Luxe Beat Magazine, June 23, 2015: Savannah, Georgia: The Hostess City of the South (get a .pdf version HERE)
Luxe Beat Magazine, June 21, 2015: Charming St. Simons Island, Georgia (get a .pdf version HERE)
Luxe Beat Magazine, June 13, 2015: Cannon Beach, Oregon: Exploring the Northwest Coast (get a .pdf version HERE)
Luxe Beat Magazine, May 26, 2015: Cruising the Islands of New England with Blount Small Ship Adventures (get a .pdf  version HERE) (This article was also in the print edition of the magazine HERE)
Luxe Beat Magazine, May 24, 2015: Barnsley Gardens Resort (get a .pdf version HERE)
Luxe Beat Magazine, May 6, 2015: Sampling Our Way Through Portland, Oregon's Food Carts (get a .pdf version HERE)
Luxe Beat Magazine, April 27, 2014: Carson Ridge Luxury Cabins, Carson, Washington (get a .pdf version HERE) (This article was also in the print edition of the magazine HERE)
Luxe Beat Magazine, April 15, 2015: Amazing Cheeses: Reypenaer Cheese Tasting Class (get a .pdf version HERE)
Luxe Beat Magazine, April 4, 2015: Chasing Lewis and Clark with Un-Cruise Adventures (get a .pdf version HERE) (This article was also in the print edition of the magazine HERE.)
Long Weekends Magazine
"Long Weekends" Magazine, Fall/Winter, 2015: Backbeat Tours in Memphis
"Long Weekends" Magazine, Spring/Summer 2015: The Fontanel Mansion in Nashville, Tennessee
"Long Weekends" Magazine, Spring/Summer 2015: The Great American Dollhouse Museum in Danville, Kentucky
"Long Weekends" Magazine, Fall, 2014: Cumberland Falls
"Long Weekends" Magazine, Fall, 2014: Keeneland
"Long Weekends" Magazine, Fall, 2014: Shaker Village
Health and Wellness Magazine
"Health and Wellness" Magazine, April 2014: Cataract Surgery Via Medical Tourism
"Health and Wellness" Magazine, May 2014, Preeclampsia – Still Deadly for Women
Web Sites:
Europe Up Close, March 13, 2015: Chocoholics Unite in Cologne, Germany (get a .pdf version HERE)
My Itchy Travel Feet:
My Itchy Travel Feet, July 21, 2015: Visiting Lyon, The Capital of Lights (get a .pdf version HERE)
My Itchy Travel Feet, June 23, 2015: Exploring the French Medieval Village of Perouges (get a .pdf version HERE)
My Itchy Travel Feet: June 2, 2015: A Weekend in Charming Avignon (get a .pdf version HERE)
Minitime.com:
Minitime.com, Five Most Family-Friendly Airport Hotels, November 11, 2015 (get a .pdf version HERE)
Minitime.com, October 26, 2015: Let These Children's Books Inspire Your Next Family Vacation (get a .pdf version HERE)
Minitime.com, October 20, 2015: A Multi-Generational Family Trip to Cincinnati (get a .pdf version HERE)
Minitime.com, October 13, 2015: Five Family-Friendly Places for Kids Who Love Horses (get a .pdf version HERE)
Minitime.com, October 1, 2015: 20 Oldest Cities in the U.S. for Young History Buffs (get a .pdf version HERE)
Minitime.com, September 23, Visiting Charming Avignon with Kids (get a .pdf version HERE)
Minitime.com, August 10: Five Great Northern Resorts for Families this Fall (get a .pdf version HERE)
Minitime.com, July, 2015: Five Great Southern Resorts for Families this Summer (get a .pdf version HERE)
Minitime.com, July 13, 2015: The Nolitan Hotel, New York City (get a .pdf version HERE)
Minitime.com, May, 2015: Multi-generational Learning Vacations for Summer (get a .pdf version HERE)
Minitime.com, May, 2015: Tips for Planning a Great Trip with Your Grandchildren (get a .pdf version HERE)
Epicurean Traveler:
Epicurean Traveler, October 6, 2015: Kringle, the Official State Pastry of Wisconsin (get a .pdf version HERE)
Epicurean Traveler, October 25, 2015: Dining Our Way Around Adventures on the Gorge in West Virginia (get a .pdf version HERE)
Epicurean Traveler, August 9, 2015: Go Locally Sourced at The Cookery in Door County, Wisconsin (get a .pdf version HERE)
Epicurean Traveler, July 26, ,2015: Savor the Delectable Local Fare at Harbor Fish Market and Grille in Door County, Wisconsin (get .pdf version HERE)
Epicurean Traveler, June 13, 2015: Dining Our Way Around Savannah, Georgia (get a .pdf version HERE)
Epicurean Traveler, April 29, 2015: Why Stay at a Bed and Breakfast? (get a .pdf version HERE)
Epicurean Traveler, April 21, 2015: A Foodie's Introduction to Portland, Maine with Maine Foodie Tours (get a .pdf version HERE)
Epicurean Traveler, April 14, 2015: Experience a Gondola Cruise in America: La Gondola in Providence, Rhode Island (get a .pdf version HERE)
Epicurean Traveler, April 7, 2015: Dining Our Way Around the Emerald Coast of Florida (get a .pdf version HERE)
Epicurean Traveler, March 23: Dining Our Way Around Beautiful St. Simons Island, Georgia (get a .pdf version HERE)
Epicurean Traveler, March 19, 2015: It's Not Too Late for a Michigan Ski Getaway Weekend! (get a .pdf version HERE)
Epicurean Traveler, March 9, 2015: L'Ecole de Maison Cooking School at the Osthoff Resort (get a .pdf version HERE)
Epicurean Traveler, March 2, 2015: Culinary Getaway to the Gervasi Vineyard (get a .pdf version HERE)
Epicurean Traveler, February 20, 2015: Cheese Tasting at the Reypenaer Tasting Room in Amsterdam (get a .pdf version HERE)
Epicurean Traveler, February, 2015: Savoring the Amazing Offerings with Portland Food Carts (get a .pdf version HERE)
Travelhoppers
Travelhoppers, August 18, 2015: 10 Ways to Make Coming Home from a Trip More Pleasant (get a .pdf version HERE)
Travelhoppers, July 15, 2015: Shrimping on the Lady Jane (get a .pdf version HERE)
Travelhoppers, June 3, 2015, Wilderness Wildlife Week, (get a .pdf version HERE)
Travelhoppers, May 7, 2015: Five Fabulous Bed and Breakfast Locations to Visit for Mother's Day (get a .pdf version HERE)
Travelhoppers, April 8, 2015: How to Not Break the Bank on Your Next Cruise (get a .pdf version HERE)
Travelhoppers, February 19, 2015: Getaway to "The Land of the Sky" – Asheville, North Carolina (get a .pdf version HERE)
Travelhoppers, January 22, 2015: Getaway to Music City, Nashville, Tennessee (get a .pdf version HERE)
Travelhoppers, January 6, 2015: Stop, Drop, and Roll – Not a Fire Alarm but the Perfect Way to Pack (get a .pdf version HERE)
GirlsGetaway.com
Girlsgetaway.com, August 19, 2015: Girlfriends Getaway to Marvelous Maryland  (get a .pdf version HERE)
Girlsgetaway.com, January 23, 2015: Open the Door to the Perfect Girlfriends Getaway in Door County, Wisconsin (get a .pdf version HERE)
Girlsgetaway.com, October 2, 2014: Beach House Bliss: Girlfriends Getaway to Gulf Shores, Alabama (get a .pdf version HERE)
Girlsgetaway.com, October 1, 2014: New England Girlfriends Getaway (get a .pdf version HERE)
Girlsgetaway.com, June 10, 2014: Girlfriends Getaway to the Emerald Coast (get a .pdf version HERE)
Girlsgetaway.com, May 5, 2014: Girlfriends Getaway to St. Louis, Missouri (get a .pdf version HERE
Travel

Generation
Travel Generation, September 2, 2014: Small Ship Cruising Versus Large Ship Cruising (get a .pdf version HERE)
Travel Generation, August 18, 2014: The Best Kept Secret in Florida – Amelia Island (get a .pdf version HERE)
Travel Generation, August 4, 2014: How to Choose the Perfect Stateroom for Your Next Cruise (get a .pdf version HERE)
Travel Generation, July 31, 2014: The Five W's of a Perfect Beach Vacation (get a .pdf version HERE)
Travel Generation, July 17, 2014: Top Ten Amenities for the Perfect Hotel Stay (get a .pdf version HERE)
Travel Generation, June 30, 2014: Why Choose a Bed and Breakfast Location? (get a .pdf copy HERE)
Travel Generation, June 23, 2014: How to Cruise as Cheaply as Possible (get a .pdf version HERE)
Travel Generation, June 16, 2014: Girlfriends Getaway to Hilton Head Island (get a .pdf version HERE)
Travel Generation, May 29, 2014: How to Travel Stress Free (get a .pdf version HERE)
Travel Generation, April 30, 2014: Five Best Beach Getaways for Mother's Day (get a .pdf version HERE)
Travel Generation, May 19, 2014: The Gateway to the West: St. Louis (get a .pdf version HERE)
Travel Generation, April 14, 2014: The Gorgeous Gulf Coast of Florida (get a .pdf version HERE)
Travel Generation, February 24, 2014: Skiing and Dog Sledding and Snowshoeing, Oh My!  (get a .pdf version HERE)
Travel Generation, January 17, 2014: Girlfriends Getaway to Asheville, North Carolina (get a .pdf version HERE)

Contributed to:
Berkley and Beyond, March, 2015: Castle Hotels
Our Oyster, January 26, 2015: The World's Most Epic Road Trips
Santa Fe Travelers, June 9, 2014: Food Tours: A Great Way to Explore City Dining
Treepot Travels, April 27, 2014: Outdoor Activities, some ideas to get you going
More Time to Travel, April 25, 2014: Great Markets Travel Bloggers Love To Visit