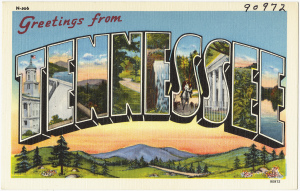 Pigeon Forge, Tennessee is tucked away at the base of the Great Smoky Mountains National Park, one of the most visited national parks in the United States, and is a great place for a family getaway with tons of activities for all ages. We were in town to check out Wilderness Wildlife Week, an annual event which brings together fans of nature with an astonishing variety of presenters, hikes, and bus tours of the area.
We really enjoyed our visit but what amazed us about this event is that every single activity from entrance to the displays in the beautiful LeConte Center to all the presentations, hikes, and tours are totally free to anyone who would like to attend. Professional writers, park rangers, musicians and storytellers, wildlife experts, and others all provide their expertise for free to rooms full of fascinated spectators. The LeConte Center is truly one of nicest venues for an event we have ever experienced – they even have roaring fireplaces and comfortable furniture in which to relax! There were lots of families there and they offer plenty of great activities for kids.
But before we headed to the LeConte Center to experience all the offerings, we checked into our amazing accommodations. I wrote all about our fabulous cabin with Eagles Ridge Resort HERE and can't say enough about how  it was the perfect place to stay during our visit. There is nothing like a full kitchen to save money on eating out and it was so nice to return to our little home away from home every night and enjoy the fireplace in our pajamas!
We enjoyed attending a variety of different events and presentations at Wilderness Wildlife Week, but two were especially memorable. The first was a bus tour of the Great Smoky Mountains National Park especially for those interested in photographing the area. Encompassing over 800 square miles, the Great Smoky Mountains National Park is huge and filled with incredible scenery and an amazing variety of wildlife. One of the most popular ways to see the park is driving around the scenic byways where you might be lucky enough to see deer grazing or bears gamboling about. Since our drive was during the winter, the large population of black bears in the area was tucked away for their winter naps, but we saw plenty of deer.
We took the Cades Cove photo bus tour and it was the perfect way to see the park in the winter. Be aware that the park will close some roads if it is snowy or icy and plan accordingly. Our guide was very knowledgeable about the area and completely amenable to changing the itinerary when most of the group was not interested in stopping for lunch but wanted to continue the tour. We really enjoyed seeing wildlife, the amazing mountain scenery, and beautiful waterfalls in the park. There were dozens of bus tours and hikes offered during the week and all were free; you just need to sign up for whichever one you want.
We were actually unsure what to expect on our second tour. We had attended a session put on by the American Eagle Foundation at the LeConte Center and were fascinated with the variety of birds of prey they showed and talked about. So, when a tour of their nearby facility was offered, we immediately signed up. Tours are not normally available to the public so this was a special opportunity to see the birds and learn about the rehabilitation the facility offers.  All the birds at the facility have been deemed not releasable either because of injury or because they have imprinted on humans.
It was amazing to see the magnificent eagles, the fierce hawks, and the other birds. Trained to perch on the thick birding gloves the volunteers wear, the birds swiveled their heads, eyeing their human audience and not at all intimidated by us. The resident biologist talked about the birds and explained about how they came to the facility, their eating habits, and other fascinating bits of information. They also flew some of the birds in short flights from one volunteer to another and, even though they were short flights, they were still amazing.
Although you can't tour the facility except in a special situation like this, you can see some of the eagles at the Dollywood park where they offer their Wings of America show in an open-air theater from early April through late October. You can get an up close look at eagles, hawks, falcons, owls and vultures and they will fly some of the birds for you.
In between the sessions at Wilderness Wildlife Week, we of course managed to make time for some great local dining. The Johnson family in Pigeon Forge owns several restaurants and we would like to make time on future visits to eat at every single one because we had dinner at the Alamo steakhouse twice and both meals were wonderful. Fried shrimp, salmon, and steak are all delicious but the highlight of one of our meals was one of the desserts which was pretty incomparable. Called the Alamo Chocolate Burrito, it was basically a flour tortilla wrapped around a Hershey bar and deep fried. It was amazing!
We also recommend any of the restaurants and shops at The Old Mill. Located only one block off the busy main street of Pigeon Forge, the centerpiece of Old Mill Square is actually an original grist mill built in 1830 which still produces about half a ton of flour, cornmeal, grits, pancake mix, and hushpuppy mix which is sold in the shops in the square and also around town. The Old Mill Restaurant and the Pottery House Café both use some of the mill's output to make fresh bread, cornbread, biscuits, and more so they are great places to eat. I especially recommend their corn chowder which was so good, I bought a bag to take home and make myself. We actually made this just the other night and it was just as good as I remembered!
One of the highlights of a visit to Pigeon Forge is the many factory outlet malls in town. They have a fairly new Tanger outlet where I whiled away a pleasant afternoon in the dozens of stores they have to offer.
Pigeon Forge has a lot to offer and we barely experienced a fraction of the many offerings. It's a great location for families with a huge variety of lodging options, great restaurants, and plenty of activities. If you want to put Wilderness Wildlife Week on your calendar, it will be offered in the spring next year instead of winter which will make a nice change as the area will be gorgeous that time of year. The dates are May 11 – 18 in 2016 so plan to go as you will enjoy it just as much as we did.
Full disclosure: Our visit was provided by My Pigeon Forge, but as always, I will share my honest opinion about any travel experiences I have.
To find the best deals on hotels, check out Yonderbound HERE.
Pin It