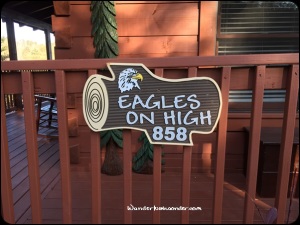 Although I am the ultimate beach fan, Tom is a big fan of cabins so I try to compromise sometimes and find him a mountain cabin. This is a pretty easy proposition in Pigeon Forge, Tennessee where I think the cabins must outnumber the residents of this mountain town located near the entrance to the Great Smoky Mountains.
We were heading to Pigeon Forge to check out Wilderness Wildlife Week, a wonderful, completely free event, which offers a variety of classes, exhibits, and outings for anyone interested in the outdoors. It was the perfect cabin opportunity and, luckily, Eagles Ridge Resort had the perfect cabin for us. In fact, it seems like they have the perfect cabin for everyone! One bedroom to nine bedrooms, some pet friendly, most with internet access, and every single one beautifully designed, decorated, and located in gorgeous surroundings.
Because some of our family members were going to join us, we asked for a three bedroom cabin and they arranged a stay at Eagles on High which we loved so much, we truly hated to leave when our stay was over.
When we first pulled up to the cabin, we loved the way this two-level, three bedroom, three bathroom cabin was situated on the mountain with a view of the town and mountains in the distance.
You can't really appreciate how large and roomy this cabin is until you see it from the rear, as we did when driving back from town.
We loved every single, tiny detail about this cabin and appreciated the care the owners had taken in decorating it. We have stayed in a lot of rental properties and we really enjoy comfortable furniture. This cabin had two couches and two very nice recliners in the living room – so wonderful! We actually had room to spread out and watch television with everyone being comfortable. With a great flat screen television and a cozy fireplace, we were in heaven!
We also enjoyed the nice dining room with a great view and the large kitchen which came complete with anything we might need. We made several meals there and never once were we looking for something we needed and they did not provide.
The three bedrooms were equally wonderful. On the main level, there is a large master bedroom with a great bed complete with rustic posters and a large, adjoining bathroom.
Downstairs, there are two bedrooms which could also easily be considered master bedrooms. One is very large with a nice sitting area and bathroom the other has a great Jacuzzi tub in the room, along with a third bathroom.
The downstairs area not only has two fabulous bedrooms, it is complete with a separate game room which has a pool table, television with DVD player, a futon for relaxing, and a really unique game multi-cade table with 60 games installed on it.
Right outside the game room on the lower covered deck is a huge hot tub for relaxing and enjoying the scenery.
The upper level deck is furnished with rocking chairs, a patio set and picnic table, and a gas grill.
This cabin was so perfect for our family that I can't think of one single thing I would add – except possibly the option to stay longer! If you are planning a trip to Pigeon Forge and you are a cabin lover, check out Eagles Ridge Resort – I promise you won't be sorry!
Full disclosure: Our stay was provided by Eagles Ridge Resort, but as always, I will share my honest opinion about any travel experiences I have.
To find the best deals on hotels, check out Yonderbound HERE.
Pin It