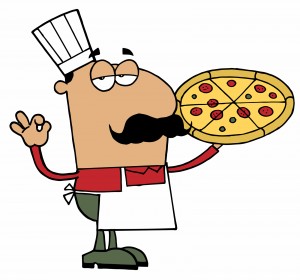 Hosted Activity
So.
We love pizza.
We love food.
We love foodie tours.
When an opportunity came along to go on a pizza tour in Chicago with Chicago Pizza Tours last summer, we immediately began salivating.
What could go wrong?
Well.
Nothing with the tour itself. It was perfect in every way and we enjoyed every single, scrumptious bite.
However.
Let me set the scene in Chicago for you. The Blackhawks had just won the Stanley Cup. And Chicago went insane.
In all honesty, we were pretty oblivious to the whole situation. Tom is a hockey lover and I'm sure he had some idea that the Blackhawks had won but neither of us had a clue what this meant. So when we planned our pizza tour and the entire city planned a parade at the same time, it caused a little problem for us. Luckily, we were staying at the Hyatt McCormick Place and they had a very good idea what we were in for and offered us the hotel car to get us to the tour. Our driver knew exactly where we needed to go to begin the tour – Pizano's Pizza and Pasta downtown on Madison Street.
 However, Blackhawks fans were literally everywhere clogging up the streets and those they had not taken over, were closed for the parade. It was pandemonium downtown.
Finally, we told him to just let us out and we made our way on foot to the restaurant where the rest of the tour group had gathered. We were just in time to meet everyone, grab a hot slice of pizza, and enjoy it to the last cheesy bite.
 After we had all devoured our sample slices, we headed down the road a bit to the van that was waiting to take us to the rest of our stops.
Chicago Pizza Tours actually offers several different tours and we chose the Original Chicago Pizza Tour – Bus guided tour covering 4 pizzerias over the course of 3 – 3.5 hours.  You will visit the inside of kitchens; we'll serve as your backstage pass at several of the restaurants. Our guides will help educate you on ingredients, ovens, and the physics of what makes the pizzas you sample so special. Whether a visitor or local, get on Dough Force One and explore pizza in the neighborhoods, because Magnificent Pizza spans more than a mile!
It was the perfect choice. In all honesty, I'm not sure what order we visited these restaurants because we were overwhelmed with the sight, smell, and taste of all the delicious offerings, but here's where we went on our tour. Probably the restaurant with the most unusual name. Pequod's Pizza had some truly luscious offerings. Known for their "carmelized" crusts, Pequod's is a local pizza place with only two locations but tons of rabid fans.
 You may become one of those same rabid fans after you taste their rich, delicious pizza.
Another stop was Pizzeria Da Nella. A very popular place because of the fresh offerings prepared every day in their kitchen, their pizza was wonderful.
 They are famous for their Margherita pizza and it was fresh, light, and truly different and delicious.
Our last stop was at Coalfire Pizza, where they make pizzas in a hot, coal-fired oven. They make a traditional Neapolitan style pizza with an American spin. It has a thin crust that is slightly charred and bubbly from their 800 degree oven fueled by clean burning coal.
 Putting together our pizzas.
 And the finished product.
We staggered out of the last pizza place, full as ticks of the delicious, cheesy goodness of pizza. It was a great introduction to a number of completely different kinds of pizza available in the Chicago area. You should absolutely check out one of the tours. And if you are not quite convinced by these photos, check out this video. Then buy your tickets online immediately!
Full disclosure: Our tour was provided by Chicago Pizza Tours but as always, we will share my honest opinions about any travel experiences we have.
Pin It