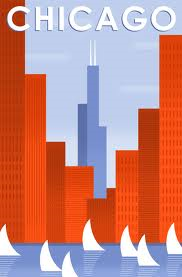 Hosted Accommodations
Even though Chicago is only about a six hour drive from us, we just discovered this fabulous place in the last year. We were headed to Door County, Wisconsin for a press trip and, just to make the drive a little more relaxing, we decided to stop somewhere, anywhere, oh what about Chicago?
One of the best travel decisions we have ever made.
We had no idea Chicago was such a great place to visit. Totally walkable – a big plus for us – with plenty of things to do see and do and absolutely great food – another big plus. This was also the first time we had ever seen one of the Great Lakes and we stood like a couple of stunned school kids and just kept saying "it's so big" and "you can't even see the other side" and we still say that whenever we talk about it. Not only was the lake absolutely astonishing, it also had huge chunks of ice in it and this was equally amazing for us.
We have been to Chicago twice now, in the winter and summer, and it's incredibly different in those two seasons. But we like both for different reasons. When we returned last summer for our cruise of Lake Michigan with Blount Small Ship Adventures, we decided to arrive a few days early and spend some time really seeing the Windy City. We had a great time and discovered that Chicago has some of the best pizza in the world and that they are also rabid ice hockey fans when we found ourselves in the middle of a city-wide parade after the Blackhawks won the Stanley Cup. And we also discovered one of the nicest, most luxurious, and friendliest hotel we have ever stayed in.
The Hyatt McCormick Place is conveniently located within an easy walk of Lake Michigan and Soldier Field in an urban neighborhood of shops, restaurants, and townhomes. The hotel is the fourth largest Hyatt in the world, the fourth largest hotel in Chicago, and is often used for convention businesses, as the McCormick Convention Center is located just an enclosed skybridge away. In fact, I went into a bit of a time warp when I realized the annual national library association was having their conference at the hotel when we visited; after years of attending and presenting at those conferences, it was strange to just ignore all the workshops and head out for a day of fun!
We checked in at one of the many desks located in the modern, huge and beautiful lobby. Wood paneled and with plenty of comfortable leather seating areas, the lobby was a great introduction to the hotel. The hotel has recently gone through a multi-million dollar expansion and it's obvious everywhere, from the beautiful rooms to the meeting space and public areas like the lobby. The hotel has a new tower with guest rooms so you have to be sure to get in the correct elevator to get to your floor. We headed up with our usual collection of suitcases, bags of snacks, computer bags, and cooler and stepped into our fabulous Skyline Suite.
We love having a suite in a hotel, especially one that has a separate living room because it's just so nice to have that extra space when you are spending several days there. Our suite had a large living room with huge windows overlooking the city and Lake Michigan with Navy Pier in the distance. We were surprised one night when hundreds of sailboats clustered on the lake and then, when fireworks began at Navy Pier, we understood the appeal. What a great way to view fireworks!
After we settled in our suite, we set out to explore the hotel. We checked out the large, indoor, heated pool with the outdoor sundeck and the 24 hour Hyatt Stayfit gym with plenty of state of the art fitness equipment and a sauna. One of the things we found the most impressive was a desk area with a computer that listed all the flights and flight times for O'Hare Airport. What a convenience for travelers – and one we have never seen at any other hotel.
After being suitably amazed at the hotel, we set out on a walking tour of the neighborhood and found that the lake was just a couple of blocks away. There is a lakeside jogging path and bicycling trails where we strolled along and saw plenty of people enjoying the beautiful park area beside the lake, next to Shore Drive. We spent the next few days walking all over Chicago but you can easily drive – just have the valet bring your car to the front door of the hotel. Or you can check at the front desk for bus schedules because the city buses will also take you all over the city and this is a great idea because parking is difficult and expensive in the city.
We had taken plenty of great photos but Tom really wanted to get up higher and get some shots of the city and the rooftop where the Hyatt McCormick Place is joining the legion of hotels establishing healthy and growing "green" roofs. The staff of the hotel, even though it's not a common request by travel writers and not something they would offer to other guests, obligingly took us up to the roof to get some photos. In the process, we met several of the hotel's staff and could not get over how genuinely friendly everyone was and how concerned they were that we were comfortable and having a good time.
No, seriously.
Let me give you an example of just how nice they truly were. When Paul Daly, the General Manager, discovered we were taking a local pizza tour and would be in the middle of the Stanley Cup parade traffic, he immediately offered to provide us with a car from the hotel free of charge. We were appreciative but didn't realize what a great idea this was until we were in the middle of the snarled parade traffic in a comfortable car with a driver who knew his way around town and got us as close as possible to the restaurant where the tour began.
Thanks, Paul.
It had been a long day and we were ready for a nice, relaxing dinner. No problem. The Hyatt has several restaurant choices but we had a perfectly lovely meal at Shor.This contemporary Chicago grill is located right off the lobby area and offers everything from  fresh salads to steaks, chops, poultry, and pasta. I couldn't decide between steak and seafood so had both!
Then we shared a large bowl of macaroni and cheese.
Everything was absolutely delicious. After dinner, we went up to our suite where we enjoyed our view a little longer before falling into our comfortable king size bed for a great night's sleep.
The perfect end to a perfect day at this wonderful hotel.
Full disclosure: The Hyatt Regency McCormick Place provided us with our stay,  but as always, I will share my honest opinion about any travel experiences I have.
Pin It