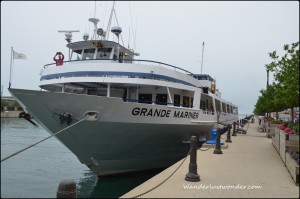 Mother Nature can be a real pain when you are trying to take a vacation.
We have experienced jellyfish and seaweed in the water on beach vacations, our GPA has punked out on us, and we have been stranded at O'Hare for hours, waiting out a snowstorm.
But we have never had weather directly impact our trip to the extent that it was drastically changed.
Until now.
We boarded our lovely cruise ship, the Grande Mariner from Blount Small Ship Adventures, at Navy Pier in Chicago in high spirits. We had spent several days in Chicago already and were ready to cruise out on the huge lake which spread to the horizon, unimaginably immense and unbelievably serene in the afternoon sun. We had never seen one of the Great Lakes until we visited Chicago in February and were fascinated with the idea of cruising on this magnificent body of water.
We strolled around the ship, exploring the comfortable lounge with plenty of cushy chairs and a bar area where passengers could store their own bottle of liquor and Blount would happily provide mixers for them – something we had never experienced on a cruise and a very nice plus for passengers. There were also soft drink dispensers which we were open for passengers to access any time – an unusual and very nice amenity on a cruise!
We went up on the top deck where we found a large expanse of open deck with plenty of lounge chairs to enjoy the beautiful, warm days. It was cool and foggy our first day in port, but we sat up there while cruising one day and managed to get a sunburn.
We checked out the large dining room with tables and comfortable chairs, ready to be set for dinner that night.
Then we spent some time unpacking in our small but nicely appointed stateroom. We were thrilled to have a large window and were interested to see the bathroom configuration which divided the sink and toilet into one small room and the shower into its own small room. We became experts that week at taking showers which would conserve the four gallons of hot water allotted for a shower. Get wet, turn off water, shampoo, rinse off, turn off water, lather up, rinse off – done! It wasn't difficult at all once you got used to it.
We strolled around Navy Pier, then headed back to the ship for dinner and to meet some of our fellow passengers. Everyone was very friendly and we spent the week getting to know a wide variety of passengers from all over the United States and Canada. We relaxed in the lounge before dinner, carefree and happy. We were all in a good mood, ready to leave Navy Pier at 9:00 that night.
But then the captain stood up at the front of the room, in front of a weather map of the lake projected onto a white board, and made the first of what would prove to be several announcements that week which contained bad news.
Even though the weather in Chicago was lovely, Lake Michigan, like any huge body of water, had quite different weather brewing out in the middle. Rain and wind were causing huge waves up to nine feet which the Captain explained would be well over the windows of our bottom deck and would cause unbelievable turbulence to our ship. We would not be leaving Navy Pier at 9:00 that night. In fact, we would not be leaving Navy Pier until probably midnight the following night, which would be Sunday.
Well.
That was not very pleasant news but we could manage one more day in Chicago. We were berthed right at Navy Pier where there was plenty of shopping, restaurants, and other activities, and we were within walking distance of everything Chicago had to offer. No problem. Since we had already spent time in Chicago, we decided to go to the movies on Sunday. There was a move theatre an easy 20 minute stroll away and we whiled away the afternoon watching "World War Z", then napping, and finally enjoying another lovely meal in the dining room.
A one day delay on our cruise? No problem!
Then, after dessert on Sunday night, the captain again took up the microphone to make an announcement. Everyone groaned at the thought that we would be delayed further but no one was expecting what he would say next. Not only were we not leaving at midnight, we were not leaving the next day and we would probably not leave until Tuesday night. The weather was not clearing and he would not put us in danger and extreme discomfort by taking us out onto the lake.
You can imagine our dismay. We had just heard that we would not be visiting the first three ports on our itinerary – Holland, Michigan; Beaver Island, Michigan; and Sault St. Marie, Michigan. Everyone on the ship had plans, of course, but we had made arrangements with the Convention and Visitors Bureaus in each of those ports and had planned tours, meals, activities to write about – all of which would now have to be cancelled.
With visions of our extreme bout of seasickness on our last cruise in our head, we had absolutely no problem with the captain declaring the lake was just too rough to venture out on but we, like all the rest of the passengers, were disappointed.
Blount Small Ship Adventures sprang into action to try to make our wait at Navy Pier as painless as possible. Lorraine, the cruise director on the ship, spent hours and many phone calls making arrangements for activities in Chicago on Monday – all of which were offered to the passengers at no charge. On Monday morning, many of the passengers left for an architectural cruise on the Chicago River. Since we had just taken the same cruise a couple of days previously, we slept in and lounged around the ship, reading and taking advantage of the free wi-fi on the ship.
In the afternoon, most of us took a sailing cruise on the lake on a tall ship which embarked from Navy Pier and provided a beautiful, scenic view of the city.
Blount also decided that, since we were missing so many ports, they would bus us to Milwaukee which was supposed to be one of our ports on Tuesday.
Well aware that we had made our own plans for Milwaukee with the Milwaukee Convention and Visitors Bureau, Blount kindly made a special effort and arranged a van for us and three others who had also made alternate plans. The other passengers set out on a large bus for the excursions that had been arranged for them.
After a full day in Milwaukee, we were all understandably nervous when the captain again took up the microphone after dinner to give us an update. But this time, finally, we had good news. We would be cruising out of Navy Pier late that Tuesday evening, would spent all day Wednesday cruising, and arrive at Mackinaw Island early Thursday morning, where we would enjoy the Fourth of July including a fireworks display. Late Thursday night we would head back to Chicago, cruising all day Friday and arriving back at Navy Pier early on Saturday morning to disembark and head home. Because Navy Pier was setting of fireworks Tuesday night, we would actually see two fireworks displays – one right before we began our cruise.
We were not happy that we would miss visiting Sturgeon Bay in Door County but everyone onboard realized the crew was only doing what they knew was best to keep all their passengers safe. Even though we did not get the cruise we were expecting, we learned that Blount Small Ship Adventures is a very professional organization which did everything within their power to give us the best cruise experience they could.
Mackinac Island ended up being the only port, other than Milwaukee, that we visited on this cruise and I'll write more about that later. Suffice it to say that it was a quaint, charming island that we can't wait to visit again.
We would not hesitate to cruise with them again – and you should not either! They offer a wide variety of cruises on an incredibly diverse number of bodies of water. Just keep in mind that weather delays are possible anytime you plan to embark on a body of water but Blount Small Ship Adventures will do their best to make your cruise the best experience they possibly can.
And their best was pretty darn spectacular.
Pin It