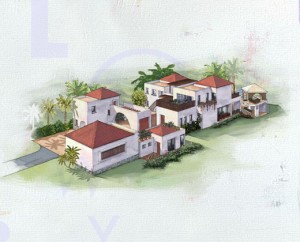 Hosted Accommodations
In spite of the fact that a frog gave me my exercise before bed at the Bay Point Wyndham Resort in Panama City Beach, I am still a huge fan of this place. I actually stayed here last year on a girlfriends getaway and adored everything about the property from the friendly and courteous employees to the absolutely fabulous pools to the fact that they offer a free shuttle out to Shell Island.
Last year, we stayed in two adjoining lanai rooms and I could have happily spent days at a time lounging on that lanai overlooking a lovely, sparkling pool and the idyllic bay with the ceiling fan lazily turning. Aaaahhh.
While I was there, I had a tour of the property, noticed that they had these great one and two bedroom villas overlooking the golf course and tucked that information away for future reference. After my daughter and I decided to take a beach vacation with our seven year old grandson who, when I mentioned I had been to the beach with some friends turned to me and said in a horrified voice "You went without me"!, I realized the villas would work great.
Obviously, I had to get that boy back to the beach.
The resort kindly offered up a two bedroom villa for our getaway and we hit the road for Panama City Beach.
I truly can't say enough wonderful things about this resort.
They went above and beyond on this visit to make sure a travel writer and her family would have a wonderful time.
When we arrived in our perfectly lovely little villa, we had a beach bag waiting for us, full of goodies. I often have goodie bags waiting for me but this one also thoughtfully included a plastic beach bucket and shovel for my grandson, which he used the entire time we were at the beach.
After we finished upending the bag on the couch and counting all our loot, we took a good look around our villa and were just thrilled. It was the perfect place for a family. It had a very nice parlor/living room area with a sleeper couch, comfy chair and ottoman, a nice flat screen television, and French doors out to a small patio with furniture. There were two bedrooms and two full baths – but the best part was that we had a nice little kitchenette. A wet bar, mini fridge, microwave and counter space to fix a little snack really made this a home away from home.
The very first thing we did the next morning after a quick breakfast in our little kitchenette, was head out to the dock to hop on the Bay Point Lady shuttle for a trip out to Shell Island. The resort offers this shuttle completely free of charge and it's a great outing for a family. Shell Island is an absolutely gorgeous state park island which has been preserved in its natural state so the sugar white sand beaches are completely immaculate. Just pick up your free tickets at the front desk so they will have an idea about how many people will be on the shuttle.
It takes about 20 minutes to ride from the dock at the resort out to the island and you often see wild dolphins in the water. I didn't honestly realize the island had so much to offer until I did some research because we just normally loll on the beach during our visits. But there are two fishing piers, a jetty and boat ramp, along with two nature trails that wind through the island and provide great spots for bird watching.
There is even a picnic pavilion and full-facility camp sites and a concession stand with snacks, souvenirs and fishing needs – although all of this must be on the other side of the island because we never saw anything but white sand, sea oats and green water. I suggest you bring your own food, drinks, chairs and plenty of sunscreen and plan to spend the day as it is just truly beautiful there.
After a long day at the beach, we were ready for a nice dinner and the Bay Point Wyndham will not disappoint you with their meal choices. I have eaten at the Kingfish Restaurant several times now and have yet to be disappointed. They have an amazing breakfast buffet and great meals for lunch and dinner as well. I had a wonderful grouper sandwich with sweet potato fries, which tasted great after our day in the sun!
We also managed to grab a bite at Lime's Bayside Bar and Grill which is located at the end of the dock with a great view of the bay and the resort.  A huge storm was brewing which we could see boiling the clouds over the nearby city so I sent my daughter and grandson back to the villa, then got our dinners to go. I got my dinners just as the skies opened up with a drenching deluge. All the guests huddled under the roof and waited it out, then I headed back to our villa while it was still sprinkling. The next thing I knew, an employee of the resort pulled up in a golf cart and whisked me away to our villa in no time. So nice!
The next day, it was time to relax by one of the many beautiful pools at the resort and fit in our scheduled spa experiences. The huge pool by the spa is my favorite but our grandson actually liked some of the smaller pools better, so we checked them all out while we were there.
I have visited the Serenity Spa at the resort twice now and had great professional massages. The spa is a wonderful, relaxing place where I could cheerfully spend days at a time. There is nothing like just wandering in from the pool area in your bathing suit, getting a great massage, and then wandering back out to your lounge chair for a nap.
Fabulous in every way.
One of the nicest things about this resort although it is hard to choose is the fact that it is just such a beautiful location. The landscaping, fountains, buildings, the unique view of the bay, all combine to create an idyllic location that is perfect for just about any getaway.
Including one for a little boy who just wants to spend time at the beach.
Full disclosure: Our stay was provided by The Bay Point Wyndham Resort, but as always, I will share my honest opinion about any travel experiences I have.
Pin It