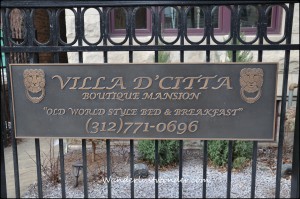 We were in a quandary.
We were on our first trip to Chicago and we really needed to get up, to get going, to see the city.
However.
We didn't want to leave Villa D'Citta.
In fact.
We had decided we might move in and stay.
Forever.
We have stayed in numerous Bed and Breakfast locations over our years of travel but never, never have we stayed in a place like this. I knew the location was going to be pretty darn nice after checking out the photos on the web site and I was pretty excited about staying in the completely fabulous Tuscan Suite but you all.
I had no idea.
We drove past the Villa first, then called to get directions on how to access the garage which is located in the back off an alley, and I suspect was probably the carriage house when the house was built as a family "cottage" back in 1887. So we got our first view of this lovely Chicago Greystone as we drove past. It was at this point, when we saw the lovely edifice in the middle of the Lincoln Park neighborhood, that we began to appreciate the fact that we were in for a truly luxurious stay.
We parked in the garage, grabbed our suitcases and walked through the outside grotto where there is a winding metal staircase up to a large, outside hot tub and they have cookouts in the summer.
We had every intention of spending some time lounging in the hot tub but our schedule was pretty full and we never made it out there. Maybe next time.
We came in through the back door which leads into a lovely and very comfortable lounge area with a fireplace which adjoins the dining area and the large kitchen. It was very warm, welcoming and a first hint about how beautifully furnished and decorated the entire house is.
Our hostess, Cathy, absolutely could not have been nicer. Not only was she friendly and approachable, she was so professional and concerned that everything be perfect for her guests that, when I mentioned that the beside lamp in our suite was not bright enough to read by, we returned after a day out to find  a new lamp in our room.
Now, that is service.
We loaded our suitcases into the elevator, then walked up the stairs to meet it on the next floor where the Grand Tuscan suite is located. We stepped in and, jaded travelers that we are, found ourselves completely overwhelmed with the fabulousness of this suite.
Now, we have stayed in some nice suites. Some very nice suites. We had a chandelier in our bathroom once.  But this suite. This suite beat them all. The Grand Tuscan Suite is over 1,000 square feet which, incidentally, is the size of our first house. No lie. It has a huge bedroom with the biggest, most luxurious bed I have ever seen, big screen tv, sitting area, fireplace, French doors out to a tiny but perfect terrace and lovely hardwood floors.
The fireplace was especially wonderful after coming in from a cold February day in Chicago. There is no better feeling in the world than warming your bare toes in front of a fire.
Then there is the bathroom which has twin sinks, a marble soaking tub and a full steam shower. There is a sink in the shower. A sink. In the shower. When you have a sink in your shower, you have truly arrived.
There is also another, small bedroom with two twin beds which would be perfect for kids or extra friends on a girlfriends getaway. We used it for our luggage. When you have a separate room for your luggage, you also have truly arrived.
After we had marveled over our wonderful suite for a while, we managed to force ourselves to leave and we toured the rest of the house. Furnished in an exquisite Italian style, it's obvious care has been taken over choosing each piece of furniture and art object. The front door exits onto the street where you can stroll around the neighborhood, finding plenty of local restaurants and shops.
We didn't end up worrying at all about area restaurants because we had every single meal at Villa D'Citta. Not only is a full, hot and delicious breakfast served every morning, the kitchen is kept stocked for guests and you are free to help yourself. The fridge is full of cold tea and lemonade, as well as the makings for paninis, pizzas, and waffles. A panini maker, pizza oven, and waffle maker are just part of the incredible service here. You are also free to use the kitchen to prepare meals or to store takeout in the fridge.
Fresh fruit and freshly baked cookies were available every day but the best time in the kitchen was when Cathy, an excellent gourmet cook in addition to being our delightful hostess, whipped up breakfast every morning.
The Villa has plenty of other rooms and suites available and, honestly, I thought the prices were incredibly reasonable considering the luxury of your stay and the fact that you can eat most meals there. It is also available for private events and I think it would be a wonderful location for wedding showers or pretty much any other event.
The only tiny problem with staying at Villa D'Citta is that you are never going to want to leave.
If you can overlook that, I highly recommend you arrange a stay.
You will be so glad you did.
Full disclosure: Villa D'Citta provided us with accommodations,  but as always, I will share my honest opinion about any travel experiences I have.
Pin It