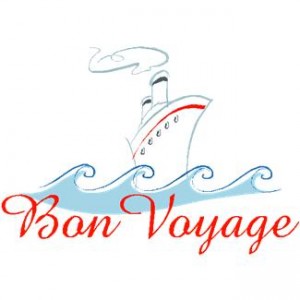 So, I already told you all about our travel year in this post and how it's going to be completely fabulous in every way because we have two cruises booked and possibly a third and, for two cruise aficionados, this is our idea of heaven.
Yes, we are lucky.
So very, very lucky.
When we originally started planning our many travel adventures for 2013, we decided we would at least attempt to live within our travel budget which is made up of money earned from freelancing so not much and this meant cruising was probably out of the question because flying anywhere to embark just gets darn expensive.
Of course, we then immediately planned a yacht cruise from Seattle for which we had to scrape up airfare but seriously.
How could we not?
But then we got a little more practical and I started checking to see if there were any cruises that were embarking from someplace driveable for us and who knew?
There are actually cruises of the Great Lakes.
Which are driveable for us.
Specifically, Lake Michigan.
Specifically the quite wonderful company Blount Cruises which offers several cruises in that area including the Magical Lake Michigan cruise which we will be taking. They also offer tons of other cruises in the United State and the Caribbean but this one leaves from Chicago which works perfectly as we can drive there in just a few hours.
And we just spent a few days in Chicago where the wind off Lake Michigan just about stripped the flesh from our bones so it might be nice to see the city without having to put on several layers of clothes and snow boots. So, June should be quite lovely.
Not only that, this cruise goes to several really interesting destinations including Mackinac Island where we will see the Grand Hotel which of course everyone who has seen Somewhere in Time and wept copiously as a result wants to see. And if you haven't seen that movie? You should see it immediately. It's on Netflix, so go right now.
Honestly, what did we do before Netflix? Remember when, if you missed a TV show, oops, too bad. With DVR's, the Internet and Netflix we never have to miss another show. Although there are some that should be missed. Namely, any show with "wives" or "bachelor" in the title.
And we are going back to Door County, Wisconsin as one of the ports – which we just visited and adored, and Holland, Michigan which looks lovely and…and … well. Just look.
Fabulous, am I right? As I said in the other article, we discovered our love for small ship cruising when we went on a river cruise in Europe so we are very excited about experiencing small ship cruising with Blount.
With only about 100 people, comfy cabins, plenty of room to relax and meet new people, the lovely Grande Mariner ship on this cruise sounds perfect for us. We love the fact that we can easily get on and off the ship without being tendered or waiting in line with hundreds of other people. We love the freedom to go where the big ships can't.
We love the fact that the food will be wonderful, healthy, from local ingredients and regional specialities, and individually served with care and pride. We love the fact that everything is included in the price – except shore excursions – and we don't have to budget money for extras like meals. We love the fact that we can bring our own wine or alcohol onboard with no problems – in fact, they will store it for us and even provide mixers.
And we especially love the fact that Blount Small Ship Adventures is a family owned business, still owned by the Blount Family who are very proud of their innovative cruises.
Personal, friendly, comfortable and unique – what a great combination for a cruise! We can't wait to step aboard in June.
We promise to tell you all about it.
Because I feel fairly confident that's it's going to be fabulous in every way.
Full disclosure: Our cruise is provided by Blount Small Ship Adventures, but as always, I will share my honest opinion about any travel experiences I have.
Pin It