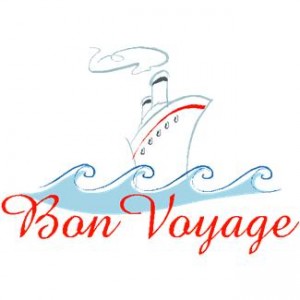 I know you are going to feel so sorry for me when I tell you that we had to pass up an offer for a press trip cruise to Alaska this summer.
So sorry because we had to pass it up for the simple reason that we are going to be on another cruise just a week before that.
So basically we couldn't go on a completely fabulous cruise because we had just been on a completely fabulous cruise. Not only that, we will have been on another completely fabulous cruise just two months previously.
And now you are playing the world's smallest violin for us.
In a series of coincidences, two people who completely and absolutely adore cruising in every form will go on two press trip cruises in the space of 4 months and I have high hopes that we can reschedule the Alaska cruise so, in essence, we will go on three cruises in one year and ZOMG are we the luckiest people ever?
Why, yes. Yes, we are.
However, as those of you who are fellow travel writers/travel photographers know, it's not all completely fabulous experiences when you go on a press trip because you have to actually earn the trip by publicizing it in as many outlets as possible.
However.
There is a lot of the completely fabulous about it as well.
For example, the fact that we are going on two absolutely incomparable cruises. The first is in April with Un-Cruise Adventures from Seattle up into British Colmbia and some places which, frankly, I have never heard of and am absolutely thrilled to be visiting. We were immediately intrigued to be working with them because we had just adored our small ship river cruise in Europe two years ago. We had gone into small ship cruising hesitantly, unsure about whether we would like it after the many mega ships we had been on but we loved everything about the experience.
So we were all about small ship cruising. Then we discovered that we would not, technically be on a small ship but on a yacht.
Yes, I said it.
A yacht called the Safari Quest which will have only about 20 people onboard and includes literally everything – food, alcohol, shore excursions. Which, seriously? Is like taking a cruise with a bunch of friends. Our river cruise had roughly 100 people on it so apparently we are going smaller and smaller.
Next, we will be embarking in a rowboat.
Not only are we not technically going on a small ship, we are also not technically going on a cruise but instead it is designated a Luxury Adventure which is pretty much the designation I would like to use for every future trip I plan.
A walk through the city? No, my dear it's a Luxury Adventure.
Dinner and the theater? Please. It's a Luxury Adventure.
My life could easily become one long and lovely Luxury Adventure and I would not complain one iota.
Although we loved our Alaskan cruises in mega ships, one of the things we were really disappointed about was the fact that we saw hardly any wildlife. That will not be a problem with this cruise, where the yacht can get in every close and take an opportunity to slow down and watch wildlife since the schedule is relaxed. This itinerary is new so there is no video yet but here's some other itineraries and adventures that will give you an idea.
Not only are we totally and completely jazzed about the yacht (just how many times can I say yacht in this article – answer, as many times as humanly possible) we are also very excited about the itinerary.
We have been to Seattle and Victoria several times but the other locations? Not only have we never been there, I honestly have never heard of most of them.
Nanaimo? Maybe I better figure out how to pronounce that before we arrive.
I wouldn't want to appear uncultured.
After all.
We ARE going to be on a yacht. (got it in one more time.)
Full disclosure: Our cruise will be provided by Un-Cruise Adventures but as always, I will share my honest opinion about any travel experiences I have.
Pin It