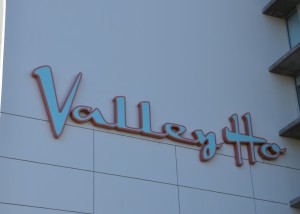 We stepped into the lobby of the Hotel Valley Ho with trepidation. A hotel that was cool back in 1956? Just how cool was it going to be today?
Answer?
Pretty darn cool.
As soon as we heard the 50's and 60's music in the lobby, we knew we were going to love it there. And we did.
The Hotel Valley Ho is the epitome of chic after an expansive and beautifully designed renovation. Planned to update but maintain the mid-century theme, the renovation was perfect.
It's interesting to compare the photos of the hotel on display which depict the way it looked back in the 50's with the current hotel and see just how closely they matched the decor and yet managed to make it comfortable and elegant. The modern lobby with comfortable, kitschy furniture is a great place to relax in front of the cozy fireplace on those cool Arizona evenings.
You will find all kinds of interesting touches all through the hotel.
The hotel is in a perfect location in downtown Scottsdale, just a short walk from Old Scottsdale with plenty of shops, restaurants and art galleries. Be sure to check out Arizona Food Tours for a great walking tour of the area – we loved it. Although you may find it hard to leave this wonderful hotel!
Our room was not quite ready, so we stored our suitcases and went to Zuzu's for lunch. We strolled out to the patio, surrounded by gorgeous flowers, overlooking the sparkling water of the pool and had delicious salads and sandwiches. We liked Zuzu's so much, we went back later for dinner and I had tomato soup with tiny square of grilled cheese sandwich in it. How fabulous is that?
We loved the lobby area but were still unsure about our room. A cabana room? What did that mean exactly?
It meant a completely fabulous room, roomy and filled with sunlight that was just a few steps from the pool. We had a great patio with comfy, cushioned furniture where I lounged for the better part of an afternoon. It was wonderful.
The cabana room is just one of the choices; they have a variety of accommodations in the hotel itself and in the new Tower, sort of an elite, exclusive hotel within the hotel. There are one and two bedroom suites in the Tower and they have some lovely views. We did a site visit of the entire hotel and saw some really gorgeous rooms and suites.
The hotel grounds are truly beautiful with emerald green lawns and beautiful trees, the local cactus and flowers growing everywhere.
The pool is centrally located and has some very nice private cabanas available. These would be especially great in the hot Arizona summers.
There's also a great spa and fitness area. So, whether you are having a spa experience, enjoying your fabulous room, strolling around enjoying the interesting decor, having a lovely meal at Zuzu's or just relaxing by the pool, you will enjoy your stay at the Hotel Valley Ho. I know we did!
Here's a video to give you an idea of what the hotel is like.

Full disclosure: Our stay was provided by The Hotel Valley Ho, but as always, I will share my honest opinion about any travel experiences I have.
Pin It