OK, we were on our way to lovely little Helen, Georgia for a press getaway.
But Tom was not happy with our plans and was convinced that our GPS was taking us in the wrong direction.
We had, as usual, followed the directions of our GPS but it kept forcing us make turns that just didn't seem right. Finally, we made a left turn that seemed to make us turn directly away from the park and Tom exclaimed that the GPS could not be right, this was taking us away from where we needed to be! I agreed and made an attempt to calm him down. Let's give it a little longer, I said. Just a little longer and see if we don't begin to see signs indicating that we were going the right way. I was somewhat in agreement with him since our GPS had taken us to some weird and off the wall locations just recently but I thought we would give it a little longer.
We tooled along the picturesque route with a rough creek tumbling along beside us and, all of a sudden there was a sign for Helen. We both heaved sighs of relief – we were actually heading in the right direction. Pretty soon, we pulled out of the thick forest and turned into the charming town of Helen. Now we just had to find the Visitor's Center and meet up with our contact person, Jerry Brown, the Executive Director of the Alpine/Helen White County CVB who was going to introduce us to this charming small town. The Visitor's Center was easy to find and we turned into the spacious parking lot and went inside to find Jerry, who ended up being a nice, friendly person who loved his little town. We had managed to arranged a visit on a weekend that he would be out of town but, knowing he would be gone, he had carefully arranged a visit that would include everything we wanted to see and do.
Jerry was very friendly, told us all about his town and when we confessed that we were not sure how to get to the Unicoi Adventure Lodge because it didn't seem to want come up on our GPS, he immediately offered to lead us out to where we needed to check in. After showing us around and giving us a little tour of the Visitor's Center, he proceeded to lead us right to where we were going to spend the next couple of days. He came into the office with us and introduced us to the people who worked there and got us all checked in and situated. He insisted on leading us right to our gorgeous accommodations for the next few days and helped us carry in our luggage.
I was expecting log cabins but these were modern and beautifully decorated.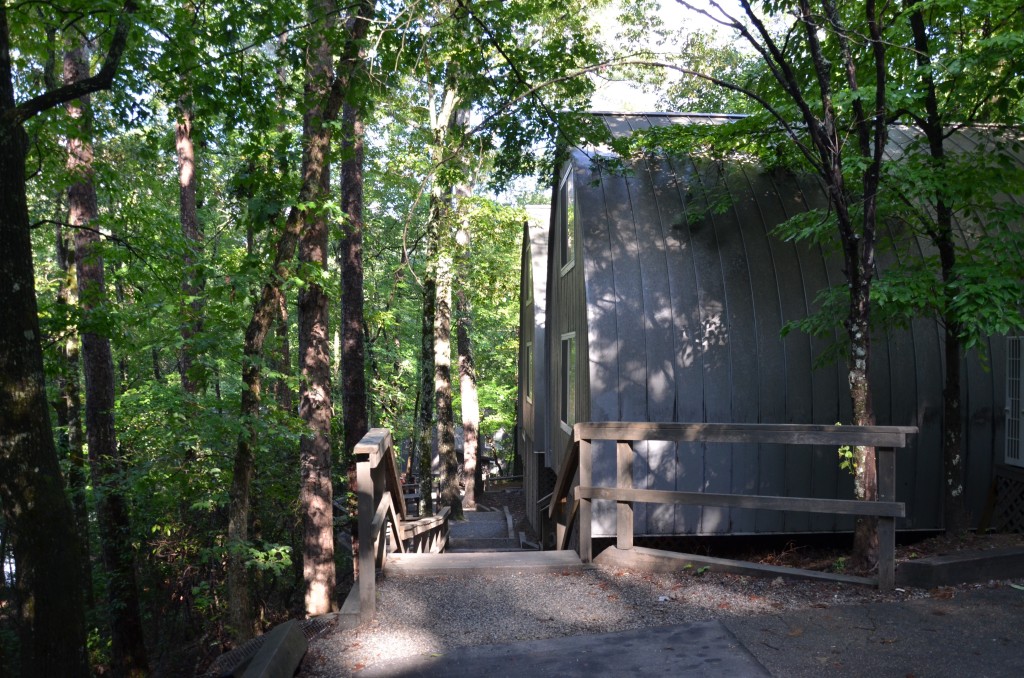 The description of the cabins on their web site was perfect.
A range of size, style and location make the cabins at Unicoi State Park and Lodge a natural favorite for outdoor enthusiasts and travelers alike.  Each cabin is unique with easy access to the parks most beautiful hiking trails, trophy trout streams, and Unicoi Lake.  We offer 1-, 2- and 3-bedroom cabins.  We offer ADA accessible cabins as well as pet-friendly cabins; there are restrictions for overnight canine guests.
Enjoy nature's solitude at our tucked away 2-bedroom, 2-bath Smith Creek Cabins.  With a full kitchen, wood-burning fireplace, central heating and air, along with easy access to trout streams and nearby Anna Ruby Falls property, the Smith Creek Cabins offer the best opportunities for quiet mornings watching deer and wild turkey.  It is the perfect place to get away from it all and tune back into nature.
Unique in every way and our most requested cabins, the Barrel Cabins at Unicoi State Park and Lodge offer guests comfort and quirkiness with their unusual designs and shapes.  Perched on the hillsides and nestled into the forest, our Barrel Cabins range from a 1-bedroom, 1-bath with a sleeper sofa to our 2-bedroom, 1-bath with King and or Queen accommodations.  Located near Unicoi Lake with easy access to all the great recreation activities including hiking trails, biking trails, and beach access, these cabins are the ultimate experience at Unicoi State Park and Lodge and so much fun!
Need some extra space?  Reserve one of our 3-bedroom, 2-bath Deluxe Cabins with two king bedrooms, one queen bedroom, a sleeper sofa, full kitchen, cable TV, fireplace and more.  Our Deluxe Cabins are perfect for family and friends and have easy access to Unicoi Lake and trails.
A path led from the parking lot to the front doors of the cabins and, after grabbing our suitcases and other supplies, we headed down to our cabin.
 Path to the front doors of the cabins.
The cabins were all lined up by the path with plenty of picnic tables for eating outside.
There were also plenty of trash cans with lids that sealed, to keep out prowling animals.
Juggling our suitcases and boxes of food and  other supplies, we made our way to the front door of our cabin, unlocked the door and made it into our home for the next few days.
We were amazed at the size and layout of the cabins. A big living room,  kitchen and a bathroom took up the first floor and two bedrooms spread out upstairs. Lots of room! There was a great back porch with a view of the beautiful forest.
We said goodbye to Jerry and thanked him for all his help, then collapsed in our lovely little  home for the  next few days. We had dinner ahead of us but could relax for a little while in our own private little cabin for the afternoon. We unpacked a little, then took a quick nap before we explored the area and then found a great restaurant for dinner. Every place we ate during our stay in Helen was wonderful! It was so nice to come back to our cozy cabin and relax for the evening, then get a good night's sleep for the next exciting day!