I have stayed at a lot of hotels. Pretty fabulous places all over the world with great amenities, amazing views, fabulous food, and awesome rooms.
But the Gaylord Opryland Resort and Convention Center is still one of my very favorite places to stay.
With 9 acres of lush gardens, trees, and a charming, shallow river inside the hotel, it's truly one of the most unique places I have ever stayed. I have visited this location several times on girlfriend getaways, and visits to the city of Nashville and loved every minute. So when I headed south this summer with our daughter and nine-year old grandson, I decided to make a stop in Nashville on the way to the beach so they could experience this fabulous place for themselves and see if it was just as wonderful for a family getaway.
And it is.
It's an amazing location for a family. Not only is the resort located in Nashville, where there are tons of things for families to enjoy, the resort itself is an attraction that you might never want to leave.
I didn't tell our nine-year old grandson anything about the hotel as I wanted him to be surprised by the whole inside and his reaction was definitely worth it. I have never been to a hotel that is so amazing on the inside. You can quite literally wander around for hours (and you might do so unintentionally if you are direction-impaired as I am) enjoying the lush foliage and dozens of scenic waterfalls and pools, the many different restaurants, and the darling shops.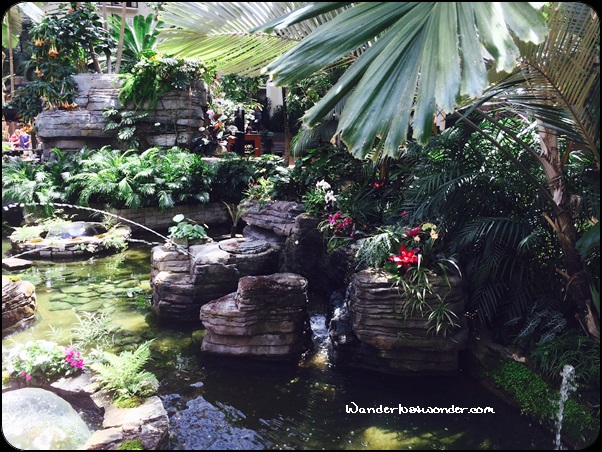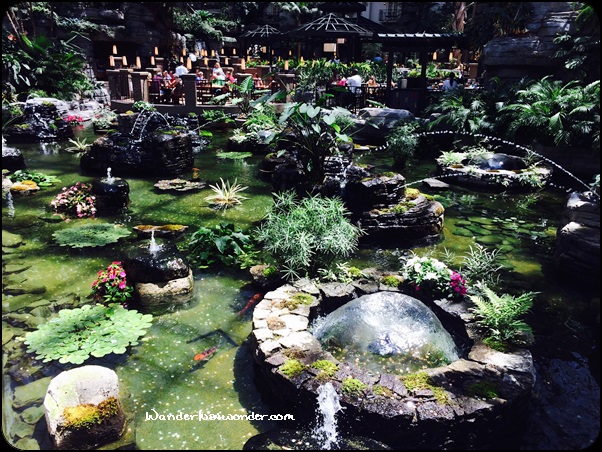 Then, just when you think you have seen it all, you look up to the huge atrium top where the sun is shining in and are awed yet again.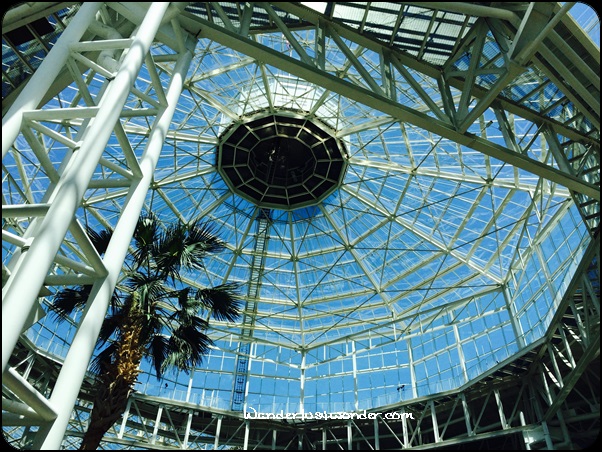 The last time we were at the hotel on a girlfriends getaway, on our way to the beach, we stayed in a Deluxe Parlor Room that was perfect for the three of us with a completely separate living room that included a hide-a-bed couch, a dining area, a small kitchen, two bathrooms, and an amazing view.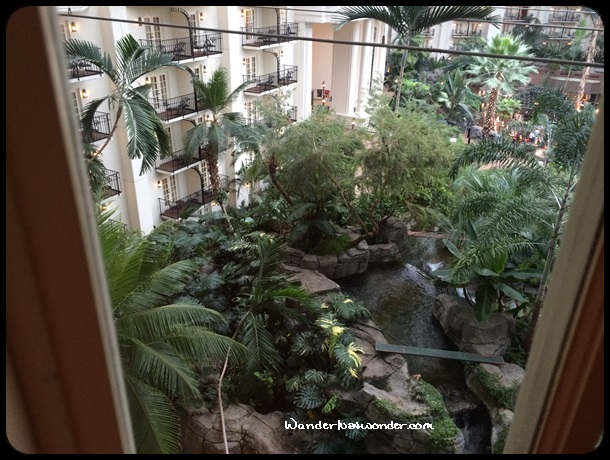 Of course, I had completely forgotten the room number, so I was surprised when we were shown to the exact same suite! Maybe they reserve this one for travel writers but, whatever, we were thrilled with our roomy suite. It was perfect for us as I took the very comfy couch bed and our daughter and grandson took the living room. With two bathrooms, there was no need to wake anyone in the night by slipping to the bathroom.
After we checked in, and oohed and aahed over our lovely suite and the amazing interior of the hotel, we headed to the Cascades American Cafe, one of many dining options at the hotel, for a bite of lunch. The Cafe served modern versions of classic American dishes in a fabulous setting which overlooks the beautiful waterfalls and foliage. It's very nice but casual so you don't have to dress up at all. There were a lot of choices for lunch, as you can see on their menu here.
I'm unfortunately going to have to recommend that you do not order the Vegetable Summer Roll. Maybe I should have asked for a description, because instead of the crispy egg rolls I was expecting, they were cold and wrapped in what could have passed for wet paper towels. Our waiter, however could not have been more accommodating, quickly whisked them away, and presented me with an awesome Crab Bisque which wiped all memories of the unfortunate summer rolls away. Creamy, hot, and delicious, it was more like what I expected.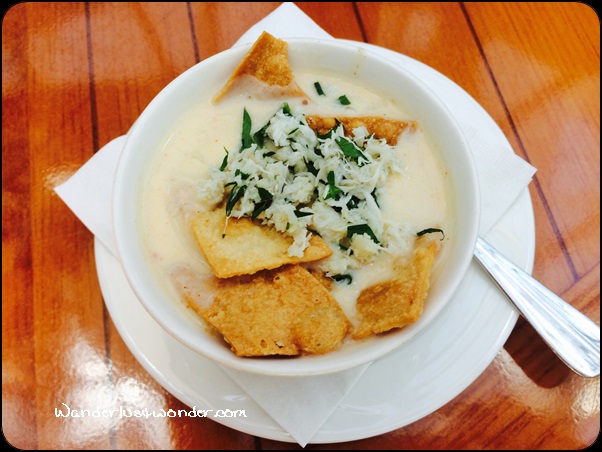 Then, I had a quite lovely grilled cheese sandwich called The Ultimate Grilled Cheese which had cheddar, American, and bacon on sourdough bread and was delicious in every way.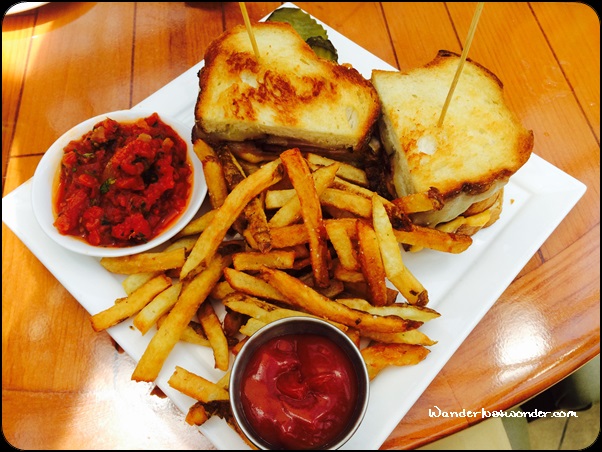 Our daughter and grandson were pretty excited about the Lavender Lemonade was really unique and refreshing as well. I had the Raspberry Lime Cooler which has raspberries, lime, and ginger beer. It was fizzy, sweet and delicious!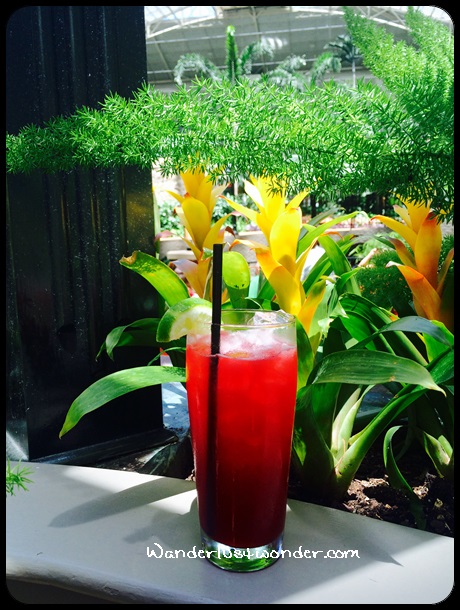 Lunch was great but one of the things our daughter and I was the most excited about was our facials which were scheduled at the amazing Relache Spa, located in the resort. I have been to spas at dozens of fabulous locations, but this spa is truly one of my favorites. It's expansive and beautiful with everything you need to totally relax, including a steam room, sauna, very nice tea/relaxation area, and treatment rooms. The spa is also just a few steps away from the fitness center, and the indoor and outdoor pools.
You could spend an entire day here getting your hair done, your nails fixed, getting a massage, and a facial – in fact, that sounds like my idea of heaven!
I have had a fantastic massage here, and the last time we were here, my sister-in-law and I had the best pedicures of our lives. I am so not kidding. This was massaging, and hot towels, and paraffin, and heated neck wraps, and more  massaging, and drinks, and it was honestly the best spa experience I have ever had.
The one treatment I had not experienced was a facial and it was also a heavenly experience. I love this spa and would love to spend the afternoon there at this very moment.
Or any moment, actually.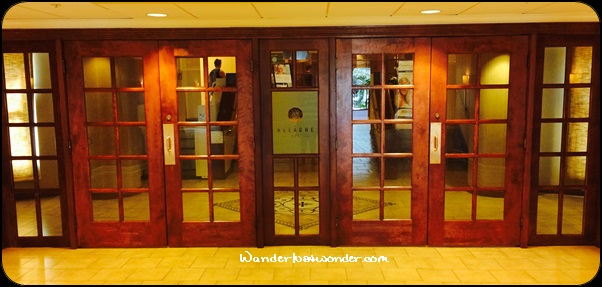 In the afternoon, we wandered around the resort, checking out all the shopping areas, restaurants, and just enjoying all the beautiful foliage and flowers. I can't imagine how many gardeners they must employ and how much time it takes to maintain it all. The shopping and restaurant areas are equally charming.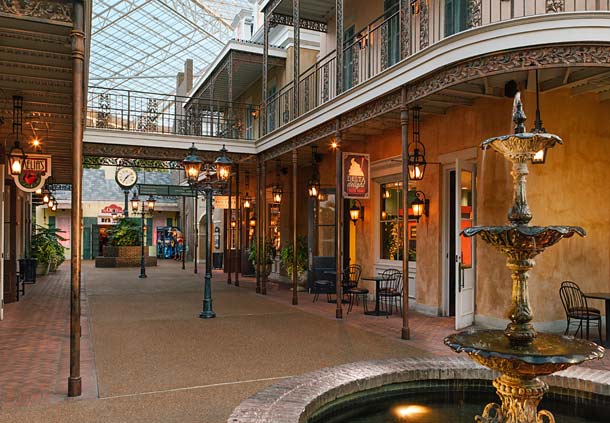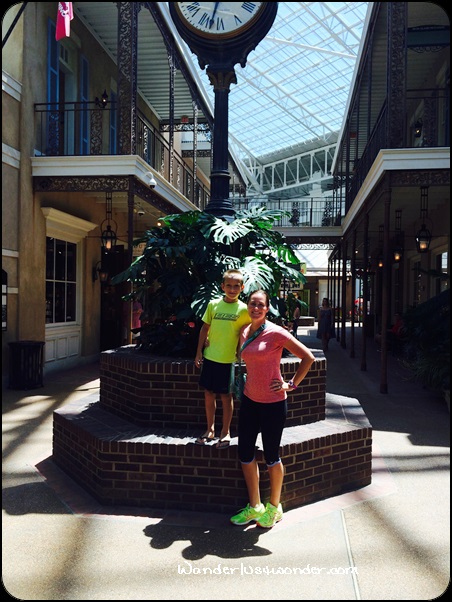 After we spent some time relaxing in our beautiful suite, we headed down for a riverboat cruise before dinner. Yes, this resort offers riverboat cruises. Yes, they are inside the resort.
The small, flat-bottom boats cruise around the river and are a great introduction to the resort as it helps you understand how this huge place is laid out. Not only that, it's fun!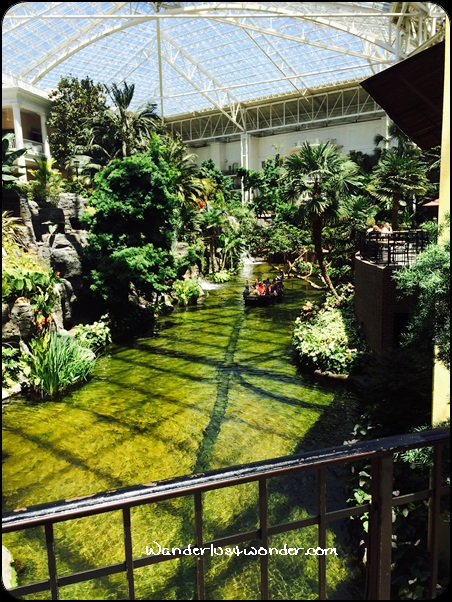 After our cruise, we headed to the Solario Cantina for a Mexican dinner. One great thing about the resort is you can pretty much find any dining experience here – Mexican, Italian, burgers, steaks, you name it. The Solario Cantina is located in the Garden Conservatory Atrium and is easy to find once you know your way around, which takes a little while! They have great Mexican food, although some can be a little spicy so be sure to ask your server. They also have great margaritas and more than 100 different tequila flavors.
Of course, we had to try a margarita, which was wonderful!
Then, we shared some Queso Dip which is one of our favorites and it was perfect. Not too spicy.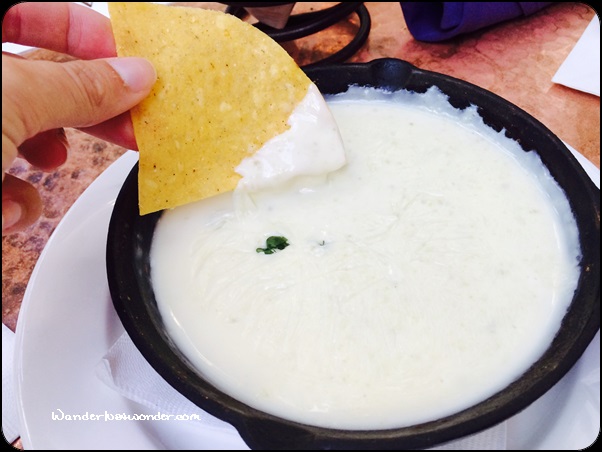 You can see all the menu choices here but I decided to go with the Tostados and Tacos and try three different options – pork, chicken, and fish. All were equally scrumptious and I particularly like the white Mexican cheese they use which has a creamy texture and distinctive flavor.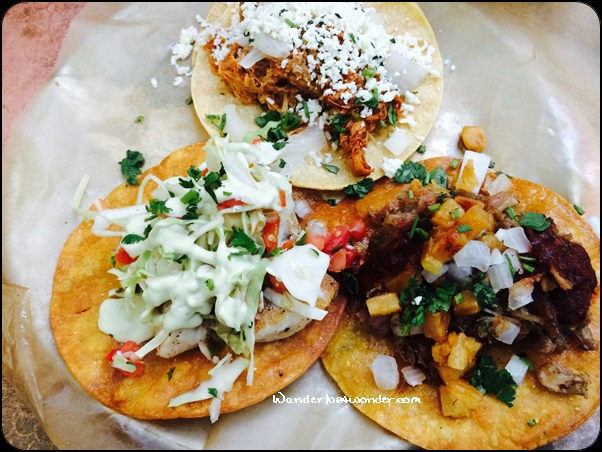 Our grandson went with the Fajita, which he normally loves but it was way too spicy for him. Remember to ask about the spiciness level in the dish before you order, especially for kids. Our server was very sweet and just took it away, then brought him another option with which he was very happy.
After dinner, I was anxious for them to see the amazing Fountain Show in the Delta Atrium and we just made it in time. It's a show of color, lights, and water accompanied by music and is really impressive. You can check out this video to get an idea about what it is like.

After a great night's sleep in our beautiful suite, we were ready to head for the beach but were so sad to leave my favorite resort – and now one of our daughter and grandson's favorites as well!
Full disclosure: Our stay was provided by The Gaylord Opryland Resort and Convention Center , but as always, I will share my honest opinion about any travel experiences I have.
Pin It