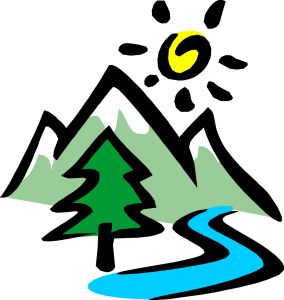 Hosted Accommodations
We had been to Dahlonega, Georgia before; in fact, that's how we learned to actually pronounce the name of this charming town because, until right before we arrived and made complete fools of ourselves, we were pronouncing it like Talladega. Luckily, we figured out before we arrived that it's actually pronounced duh-lon-uh-guh with an emphasis on the second syllable.
When Tom and I were there a couple of years ago, we learned a little about the gold mining history of the town, just enough to learn that gold was actually discovered here first, not in California(!), and that we needed to return with our grandson, who would love the old gold mines and panning for gold.
It's truly a delightful place, with a lovely downtown area, lots of interesting little shops, and fabulous restaurants.
This past summer, I managed to return with our grandson and our grown daughter, and were thrilled that they loved this wonderful mountain town as much as we did. We had a great time in Dahlonega, but what I really want to tell you about in this article is the beautiful and amazing Forrest Hills Mountain Resort & Conference Center.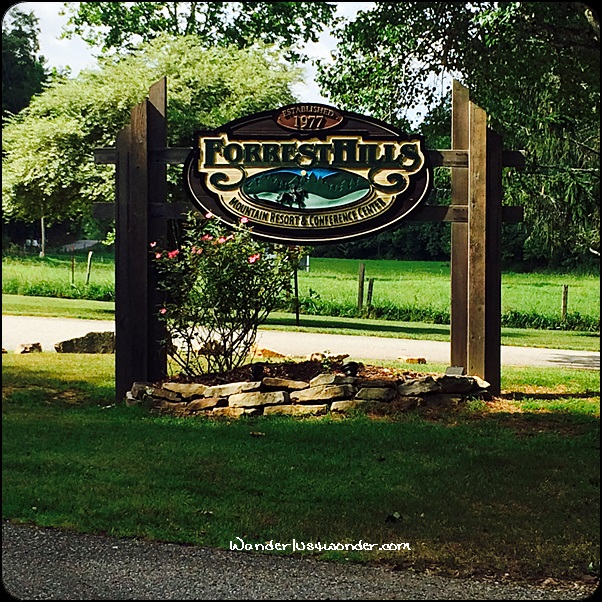 We weren't sure what to expect when we stopped in Dahlonega on our way back from a beach trip. We vaguely knew the Forrest Hills Mountain Resort had some cabins but that was about the extent of our knowledge. We soon learned that it's much, much more than that, and is an absolutely amazing place, perfect for groups of any size.
The Resort is comprised of over 100 rooms in a variety of accommodations, including 32 private cabins, each with a hot tub and fireplace; 12 luxury bi-level suites with steam sauna and other amenities; and a private hotel with 4, 8, 12, and 16 room units. In addition, they have a restaurant which offers guests a complimentary, full, hot breakfast buffet, day spa, horseback riding, meeting facilities, an outdoor pool, two sand volleyball courts, two miles of walking trails, group lodges, a gift shop, outdoor wedding gardens with a gazebo, a darling wedding chapel, and four reception rooms. Just a short drive away is the lovely town of Dahlonega, beautiful waterfalls and hiking trails, and three golf courses.
Very popular for weddings, the  resort features an outdoor wedding pavilion and "Chapel in the Woods", and has an on-site wedding coordinator. The wedding couple can choose a fairy tale wedding package which includes a chapel or outdoor gazebo wedding, horse-drawn carriage ride, reception, hot tub cabin for their honeymoon, candlelight dinner, spa treatment, and more.
Who could have dreamed that this amazing resort on a gorgeous 140-acre chunk of forest, surrounded by the beautiful Blue Ridge Mountains, would come about when two teenagers were plunked down in the forest with no water or electricity by their father and told to build some cabins? Way back in 1977, Frank Kraft bought the land from a friend who was selling it, and he had a vision of creating a resort where people could relax and forget about the outside world.
17-year-old David and 19-year-old Denise shared their dad's vision and both picked up their high school and college diplomas, respectively, and headed to the wilds of Georgia. Neither of the young people knew a thing about building a log cabin but somehow they managed, and then built five others, all from scratch, all without using any electricity. Their dad flew up every couple of weeks to check on them and give them tips, although the most building experience he had was one architecture class. Water was hauled from a nearby creek where they also bathed, drinking water came from an old well, and they mostly ate raw food.
They managed to survive one of Georgia's coldest winters and modified building plans as they went along to accommodate the fact that they were learning as they went. From that very basic beginning, a beautiful resort has emerged; one that has a 60% return guest rate which is very high but not surprising after you have been there.
Michele, who is the youngest sibling, manages the public relations and marketing for the resort so it's truly a family location, with all the sibling's children working there as well. The resort is really a beautiful place with the cabins, woods, and beautiful, native flowers and trees everywhere.
One of the best things about the resort is the food. The policy is to prepare everything from scratch, using local farm-raised, organic food as much as possible and the guests really appreciate the care that is taken. Michele is the one who started featuring weddings at the resort and they now do complete wedding packages for up to 200 people and they host over 125 weddings a year.
We drove into the resort and were immediately impressed with the beautiful grounds, the pool, and the charming cabins. We checked in and were directed to our cabin which was just a short drive from the office. We fell in love with it before we even went inside.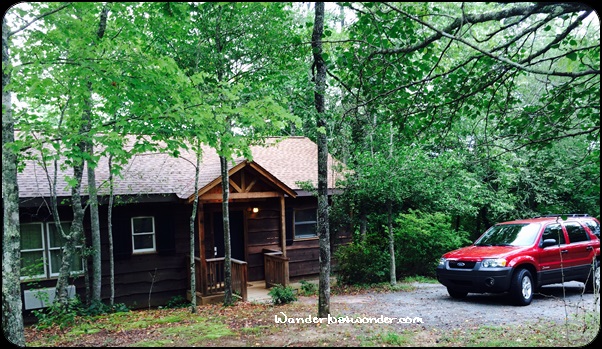 But when we went outside, we were even more impressed. Complete with a kitchen, dining area, living room, bedroom, and a huge Jacuzzi tub, it was perfect for the three of us.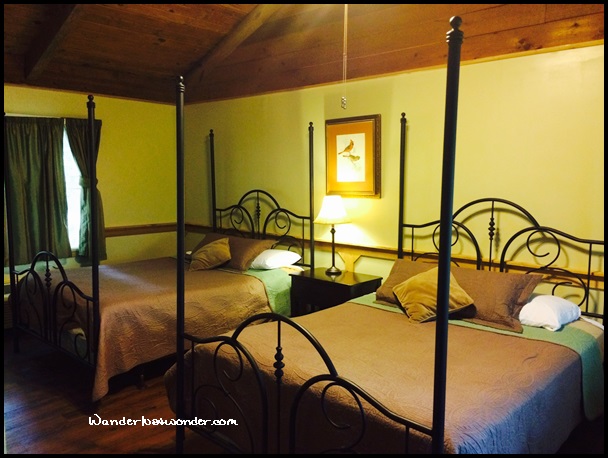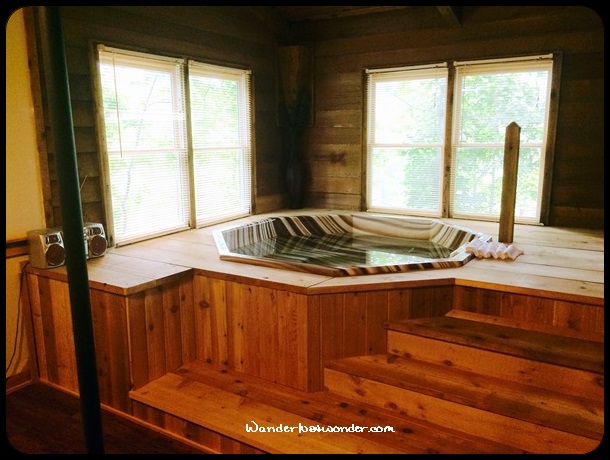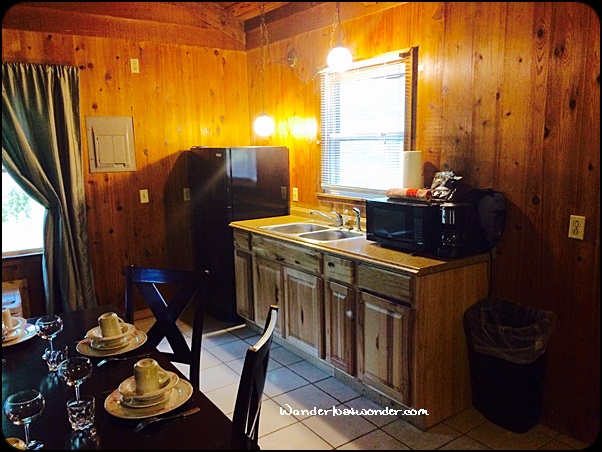 One of my pet peeves with rental properties is that they often don't have a nicely furnished living room, and rarely enough room for the number of people who are in the property. This was so not a problem at Forrest Hills Resort. We had a really nice, big living room with a flat screen television and a huge, comfy couch that had plenty of room for the three of us. We loved it and spent every evening there relaxing and watching television.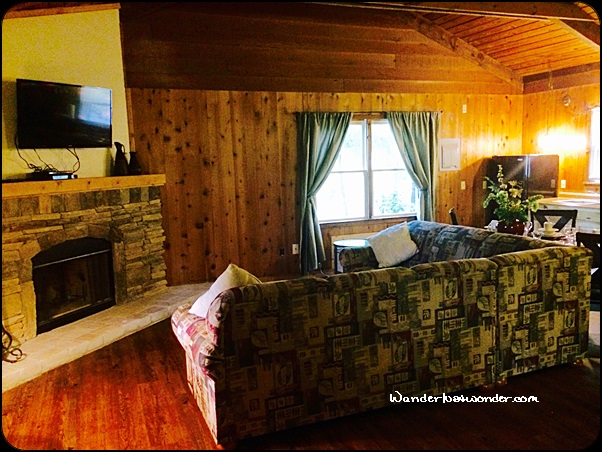 We also had a really nice little back porch with a rustic porch swing that I would have used a lot more if we had not been so busy during our visit.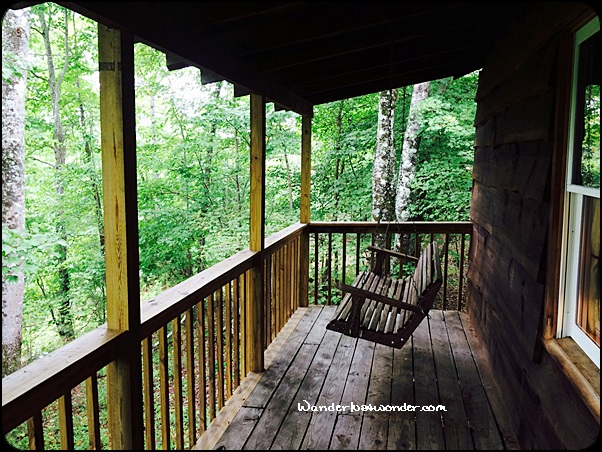 We arrived late in the afternoon, so just relaxed that evening and fixed an easy dinner in our kitchen, but the next morning we were introduced to the food at the resort when we partook of the quite lovely hot breakfast buffet, which is complimentary for all guests.
Breakfast is served every morning in the Hideway Dining Room which is yet another of the lovely buildings at the resort.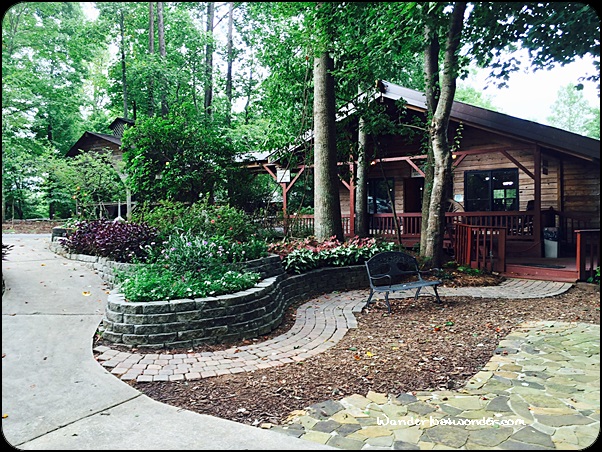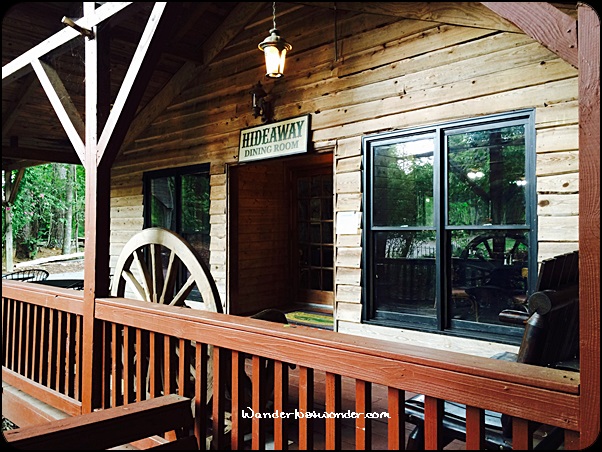 Inside, the dining room is beautifully decorated with white lights, and greenery, and is such a nice place to start your day.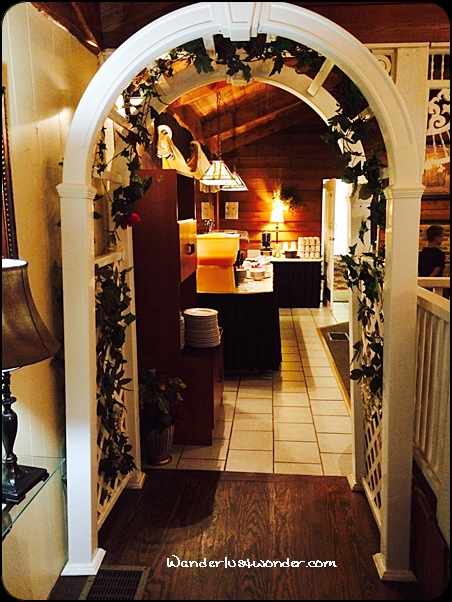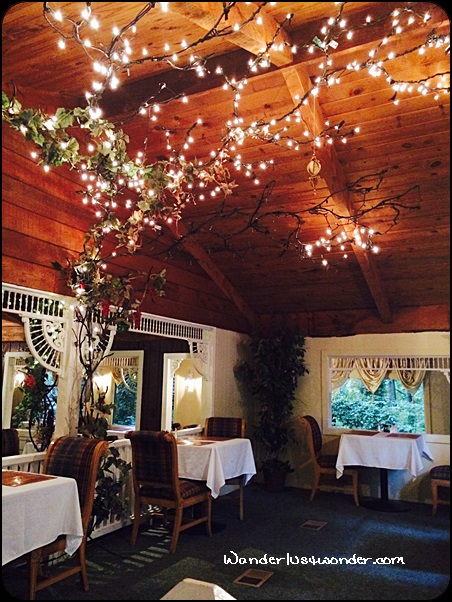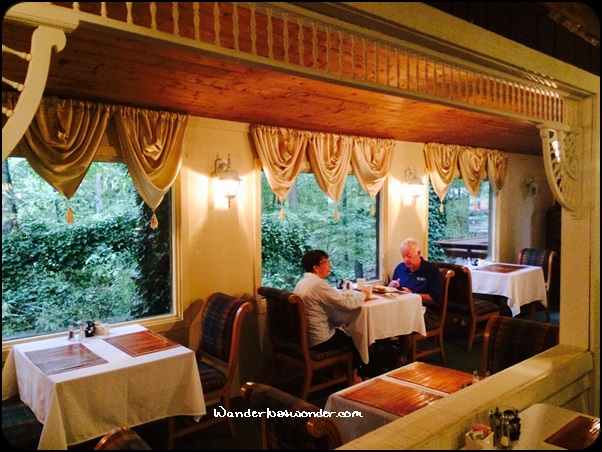 The buffet was beautifully and appetizingly arranged, and the food was fresh, hot, and plentiful.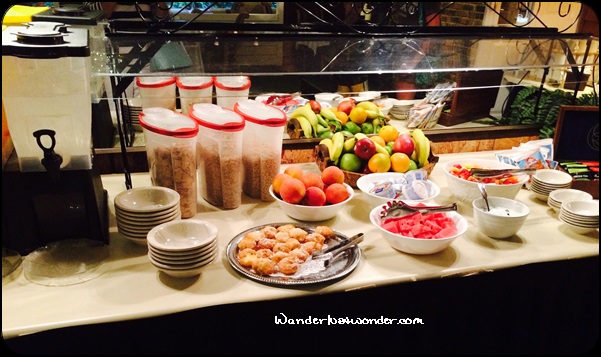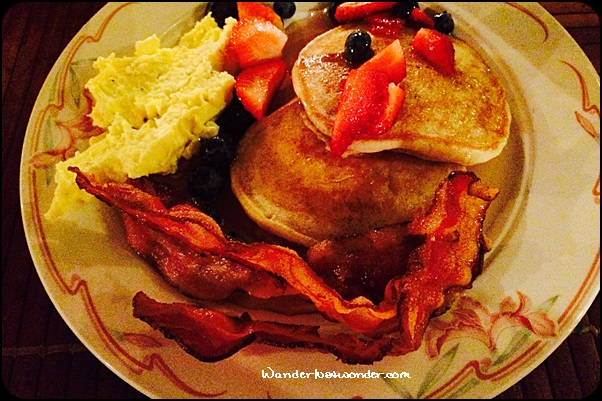 After breakfast, we spent time in Dahlonega, grabbed a bit of lunch, and returned to the resort because another thing our grandson was excited about, in addition to gold mining, was horseback riding.
The Gold City Corral & Carriage Company, which is right on the property, features guided trail rides, hand-led pony rides for little kids, Chuck Wagon Dinners, and hay rides. The resort was kind enough to book our grandson and daughter on one of the one hour trail rides.
Our daughter is an experienced rider but our grandson had only experienced pony rides up to this point so this was quite a thrill for him.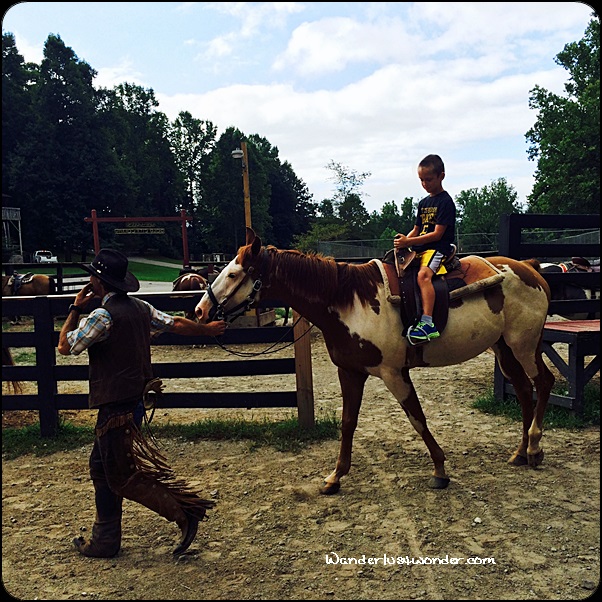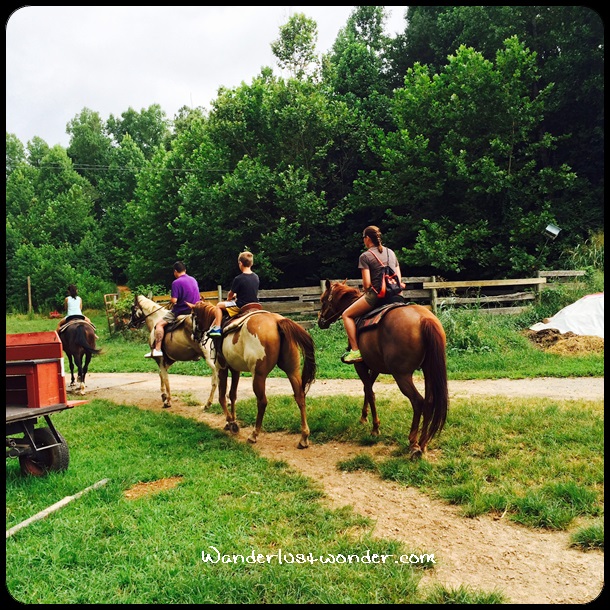 While they were on their trail ride, I had a tour of the property with Michele which made me appreciate the resort even more. I had no idea it was so expansive and some of the other cabins and lodges are really luxurious. It's truly a place for any size group but would be especially great for family reunions and weddings.
We really loved every single thing about staying at Forrest Hills Resort. The only problem came when it was time to leave – we didn't want to go! Well, anytime I feel that way, I start making plans for our next visit and this was definitely the case with Dahlonega.
Full disclosure: Our stay was provided by Forrest Hills Resort , but as always, I will share my honest opinion about any travel experiences I have.
Pin It