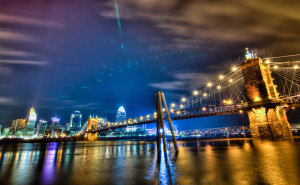 The "Queen City" of Ohio is a beautiful location on the banks of the Ohio River with a wide variety of family-friendly attractions – from a zoo to an amazing aquarium to a major league baseball park and a football stadiums – that everyone, including the grandparents, will enjoy.
Check out these great spots on your next family visit to Cincinnati.
BB Riverboats. The best way to see Cincinnati with kids is on one of the riverboats that cruise along the charming Cincinnati riverfront area as your whole family learns the history of these river towns and the impact the river had on their development. The riverboats are large and comfortable, with plenty of seating for grandparents, snacks available for purchases and no worries about seasickness! Plan for a lunch, dinner or just sightseeing cruise, or go on one of the special themes cruises available like a pirate cruise! These are perfect multi-generational experiences as they are enjoyable for all ages.
Read the rest of this article on Minitime.com HERE.