Hosted Accommodations
We were not actually supposed to stay at Sterling Shores this summer.
I had arranged a stay at another Sterling Resorts property to visit and write about it as a family friendly destination, but plans changed and we were informed we would now be at Sterling Shores.
This was absolutely no problem.
I had visited Sterling Shores last winter on a girlfriends getaway and loved everything about it. The only problem was that it was too cold when we visited in February to really enjoy the beach and the pools – so this time we would be able to experience both!
The previous trip had been with girlfriends, but this beach trip was all about this boy. This perfect, darling boy. Our grandson.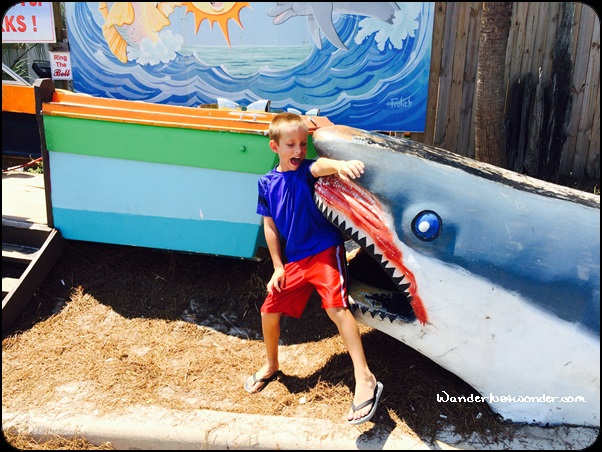 The past few years, I have taken our grown daughter and grandson on summer vacations to a variety of destinations. It's a great time to spend time and bond with both of them, and we have a wonderful time together. We were all excited to head to Destin as we love the beach.
We pulled up to beautiful Sterling Shores and they were both very impressed. It really is a pretty location, and extremely well-maintained.
We checked in at the office, grabbed a luggage cart, loaded up all our stuff, and headed up to the condo. Located within a very short walk of the beach, the condos have amazing views, especially those that are on the higher floors as we were on this trip.
On our first visit, we overlooked the pool and had a nice view of the beach but I figured the higher floors probably had a better view.
I was right. We were not overlooking the pool this time but had quite a spectacular view of the Gulf from our wide and comfortable verandah.
Here's a shot which shows some of the other verandahs; you can see what a great view they have.
We were in a very nice three bedroom, two bath condo which was very nicely furnished and comfortable.
"The 3 bedroom, 2 bathroom "Islamorada" unit spans 1,693 sq ft of living space and features a king bed, a queen bed, two twin beds, and a queen sofa bed in the living room. This allows for eight guests to be accommodated and a private, furnished balcony offers outstanding views of the gulf. All condominiums have fully equipped kitchens, linens/towels, starter kits of coffee and toiletries, clock radio, iron, dish soap, laundry detergent, and washer/dryer. Enjoy complimentary high-speed internet access, jetted tubs, TV with premium cable channels, and DVD player."
The master bedroom, where I settled, was really nice with access to the verandah.
One of my favorite places was my completely fabulous bathroom where I lounged in the tub several times!
The living room was furnished with comfortable furniture, and we enjoyed relaxing there every evening.
One of the things I love about Sterling Shores is the fact that they have free DVD rentals in the office lobby. You get a rental card and use it to access DVD's from a machine. One suggestion – make sure your DVD player and DVD's work before you plan an evening of movie watching. We had some issues with our DVD's on two separate nights and, since the office was closed, there was nothing we could do. Not a huge issue, but just check yours to be sure.
One other option for movie viewing at this resort is one of the most unique amenities I have ever seen – they actually have a small movie theater! Movie times are showings are posted and you can just stroll down to the theater – how cool is that?
The pools at this resort are also pretty fabulous. Not only do they have a very nice pool just steps from the building which is gorgeous, they have another, smaller pool right by the beach.
We loved the pool and spent a lot of time there, enjoying the cool, clear water.
The smaller pool is right by the Gulf with an amazing view. This smaller pool is perfect for small children but also a great place to hang out after you have lounged on the beach for a while. There is even a canteen where you can buy drinks and snacks.
Sterling Shores is not actually right on the sands of the Gulf, but it's a very short walk out to the beach across  a road with minimal traffic. Just head out of your condo, across the wooden walkway, and you are there!
We spent more time on the beach this trip than any other time and it's partly because the beach was so beautiful and accessible, and partly because our daughter and grandson discovered boogie boarding.
We loved every minute of our days on the beach and loved getting up to see it was going to be another beautiful day at Sterling Shores!
Aside from the beach, and the great accommodations, and the pools, another nice thing about Sterling Shores is the easy accessibility to restaurants, shopping, and grocery stores. There is a Wal-Mart right down the road, and we enjoyed two dinners at The Back Porch which is literally right behind the condos. You can easily walk there – and the food is great!
Every day was better than the last at Sterling Shores and we enjoyed them all the way to sunset.
If your family is heading to Destin, make your reservations now for Sterling Shores. You will be glad you did!
Full disclosure: Our stay was provided by Sterling Resorts but as always, I will share my honest opinion about any experience I have.
Pin It