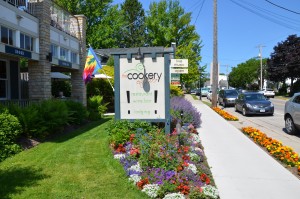 Beautiful Door County, Wisconsin, located on a peninsula of land which extends into clear and gorgeous Lake Michigan on one side and several lovely bays on the other, has plenty of great dining choices.
Locally caught whitefish, along with fried cheese curds, and the delicious local cherries are special favorites and you can find them in most of the local restaurants. But for one of the best gourmet dining experiences in the area, stop inThe Cookery.
Located in the charming coastal town of Fish Creek, one of many delightful villages which dot the Cape Cod-like area of Door County, The Cookery not only provides one of the best dining choices in the area, this family owned and family run restaurant prides itself on using locally sourced products as much as possible on their menu.
Back in May of 1977, Dick and Carole Skare honeymooned in Door County and proceeded to fall in love with the place, as many visitors do. But they were unique as they were aspiring restaurateurs who met a local shopkeeper named Hazel Elliot. Hazel realized she had future Door County residents and took the time to show them a small, twenty seat restaurant in downtown Fish Creek, right on the main street overlooking the bay.
Just two months later, The Cookery opened for business.
Read the rest of this article on Epicurean Traveler HERE.
Pin It