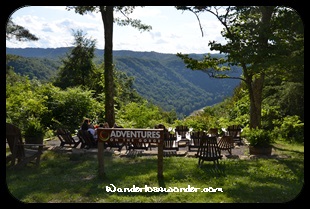 We just spent an amazing few days at the gorgeous Adventures on the Gorge, located in the New River Gorge, West Virginia. With no idea this hidden treasure even existed, we were thrilled to enjoy the amazing location, great food, wonderful accommodations, and some truly heart-stopping adventures.
I'll be writing in more detail about our stay but I wanted to share my advice about white water rafting which was the most terrifying and thrilling activity in which we have ever participated. We loved every second until we were tossed in the water and, in hindsight, that wasn't even so bad and just lasted a few seconds before we were pulled back on the boat.
So, here.
My advice to you for your first white water rafting experience.
You're welcome.
1. Pee before you leave. It's a good idea to hit the bathroom before you leave because there will certainly not be any opportunity to go while you are rafting. Even though you may be scared enough to pee, and you will be soaked enough that nobody would notice a little pee, it's not actually a situation conducive to letting it rip as you will be paddling frantically in between wiping river water off your face while yelling in terror/excitement/fear/exhilaration.
2. Wedge your foot as far as possible under the area in front of you as possible. They will tell you to stick your foot in there but, trust me, you want it rammed in there just as far as possible. When your raft tips or flies in the air (and it will do both), that foot and your balance will be the only thing holding you in there.
3. Plan on getting wet. I was naively strapping on my watch that morning when Tom gently suggested that might not be the best idea. I had some illusion that we would be lightly splashed but, in reality, you will be completely  and totally drenched from head to toe.
4. Get a chum for your sunglasses and don't wear anything you would not like to see drift down to the river bottom, never to be seen again. Luckily, our friend insisted we needed chums because our sunglasses would have said so long, sucka because…
5. You will fall in the river. This is not a given as our raft was the only one to rudely and unceremoniously dump its occupants in the wild water, but you should assume it will happen. Don't panic, shriek, and flail about as some of us did (um. Me) but relax and your life jacket will pop you right up to the surface in a matter of seconds.
6. Listen to your guide. Those laid-back guys who exude a surfer vibe are actually professional and experienced rafters who invariably know exactly which way to go through each set of Rapids. When they tell you to paddle hard, you bet your ass you better paddle hard or that water will take control of the raft.
7. Synchronize your paddling. It's not going to do any good to paddle your ass off if everyone is out of rhythm, it will just cause your raft to turn, head the wrong way, or flip. Watch the shoulders and paddle of the person in front of you and stay in rhythm.
8. Don't be afraid. Even though your first Rapids will make you seriously wish you had taken my advice and peed, you will make it through and you will not only be fine, you will join the badassery club comprised of those who have white water rafted. The worst that will happen is that you will end up in the water so just refer to #5.
9. There is no crying in baseball or whitewater rafting. Get tough because even if your raft tips and you take a swim, you have to get back in the raft and finish paddling. You can't give up, you can't walk back, and nobody wants to hear you whining.
10. After your whitewater rafting trip, have an adult beverage and salute the fact that you didn't die.
Now, start planning your next raft trip because you know you want to do it again.
As soon as possible. 
And in case you are not sure, here's a video about Adventures on the Gorge which features our first white water rafting trip.
Full disclosure: Our experience was provided by the Adventures on the Gorge , but as always, I will share my honest opinion about any travel experiences I have.
Pin It