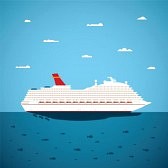 We simply couldn't believe it. How was it possible that we would now have experienced two cruises that never actually cruised?
Two years ago we had stayed docked in Navy Pier in Chicago for an entire week because the weather on Lake Michigan was deemed too bad to make our scheduled cruise. Now, here we were in beautiful Avignon, France reading an email from Viking River Cruises telling us the Rhone River was too high for the cruise to begin. We had big plans for enjoying our fabulous verandah suite as we cruised along on our Portraits of Southern France cruise.
Instead, we were instructed to check in at the Hotel Novotel Avignon Centre where we would stay for two nights and wait for plans for the rest of the week. River cruising is unique in Europe because the cruise ships have to pass under bridges and through locks where a few inches of extra water level can make all the difference.
We weren't angry or upset with Viking River Cruises; it certainly wasn't their fault that the weather was not cooperating. They were just as anxious to get their passengers on the Viking Delling and begin the cruise as we were to board and begin our cruise, and they were doing the best they could in a bad situation.
We spent the entire week with the Viking Delling crew and never changed our opinion; they indeed did the best they could. They planned virtually all of the experiences we would normally have had in France on our cruise with never a glitch, made sure everyone had a nice time, and dealt with several irate passengers in a calm and professional manner.
You can see how high the Rhone River is in this photo Tom took from the Pont d'Avignon, a famous bridge in Avignon.
We checked into the Hotel Novotel and were pleased – the hotel is very modern, our room was large and comfortable, and the Wi-Fi was some of the best we had while we were in Europe. The meals left something to be desired as they didn't seem very well prepared for a crowd the size of our cruise ship group but this certainly was not the fault of Viking.
The first night we met Mia, our Program Director, who was a cheerful and indefatigable leader during the entire trip. She announced that, since the Rhone was too high for the Delling to get to us from Vienne, we would be at the hotel for two nights, and hope to get on the ship soon. Passengers faced with this situation were given two options:
1. Assume the cruise was a  no-go, leave, and receive a refund for the cruise.
2. Stick with them, hope the river would lower, and they would get us to the scheduled destinations by motor coach.
A very few people took Viking up on the refund but most stayed hoping the river would go down and the cruise would resume at some point. Unfortunately, this proved to be a vain hope as the river levels never subsided enough to cruise the Delling to Avignon to pick us up.
However, after a lovely time in Avignon, Viking bussed us to Vienne where we finally boarded the magnificent Delling. From Vienne, we did the only cruising of the entire trip as we cruised to Lyon where we docked and stayed for the rest of the trip. We enjoyed the cruise ship, toured charming Lyon, and manage to get to almost all the destinations that were planned for the cruise.
This was our first experience with Viking River Cruises, and I'm sure they wish it had been a better one. However, they handled the situation with dignity and grace, and we were very pleased with our first experience – although it would have nice to enjoy our lovely verandah stateroom for longer than the short cruise from Vienne to Lyon!
After our return, we received a nice email offering us 50% off a future Viking cruise which I'm sure all the passengers received. It was a nice gesture, and I hope many of the passengers will give Viking another chance as they have dozens of other cruises to choose from.
We will certainly give them another chance and hope to have an actual cruise on our next trip!
Full disclosure: Our cruise was provided by Viking River Cruises, but as always, I will share my honest opinion about any travel experiences I have.
To find the best deals on hotels, check out Yonderbound HERE.
Pin It