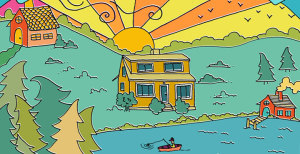 I'm just going to be totally honest; our expectations for a state park lodge were pretty low. In our experience, they are nice but not anything spectacular.
You all.
We could not have possibly been more wrong.
Maumee Bay State Park Lodge and Conference Center is absolutely amazing. Located in the tiny town of Oregon, Ohio, it's just about fifteen minutes away from Toledo but you would never know it is near a major city when you stay there. We were offered a three night stay on our way home from Michigan but had privately decided that we would probably stay one night to rest, then head home.
We stayed the entire time and were quite sad when we had to leave.
Our first clue that this was a place unlike any other park lodge we had visited was when we pulled up in front. What was this? A beautiful, modern, expansive building with big windows in the middle of gorgeous scenery? Was this actually a park lodge?
Yep. It certainly was.
Maumee Bay State Park Lodge is one of several park parks and resorts managed by Xanterra Parks and Resorts which is a hospitality company and the largest operator of park-based hotels, restaurants, and stores in the United States. They manage a lot of parks out west including the Grand Canyon and Yellowstone as well as several parks in Ohio, resorts, cruises, and tours.
I am here to tell you that these people know what they are doing. Every single thing about our stay from the accommodations to the service was immaculate.
We stepped into the large and beautiful lobby and were again impressed with how modern the building was compared to other park lodges. With two huge fireplaces, plenty of comfortable seating, and views of the park through the large windows, it was a wonderful entrance to the lodge. Those are actually log burning fireplaces and they will light them for you whenever you ask. People took advantage of this service daily during the cold January weekend we were there and my toes appreciated it.
We made our way up to our room and passed the indoor pool, game room, and indoor racquet ball courts on our way. The area was full of families that weekend and we were again amazed that this was a park lodge. Such incredible amenities were very unusual. Since we were there on a quiet winter weekend, we couldn't begin to appreciate what a fabulous place this would be in the summer. With an outdoor pool and hot tub, beaches, golf course, volleyball courts, miles of hiking trails, fishing, boating (there is a complete marina with paddle boats, etc.), bike rentals – families would never want to leave!
Our double Lakeview room was perfect for us and we loved the view of the frozen lake. They also have a variety of other accommodations including some loft rooms with bunk beds that would be great for families and many of the rooms have patios or balconies which overlook beautiful Lake Erie.
We had a great view of the lake from our room, although it was completely frozen over. However, some of the snow melted during our stay and we were able to see green grass and get a view of the melting lake.
After unpacking and relaxing in our room, we headed out to explore the rest of the property. There wasn't enough snow on the ground for cross-country skiing while we were there but the lodge has plenty of skis that you can borrow free of charge.
Before venturing out, we stopped for breakfast at the Waters Edge Restaurant in the lodge where we had several delicious meals, including a pizza we took back to our room. Omelets and blueberry pancakes for breakfast and a delicious sandwich were all highlights of our stay.
One of the most interesting things about this property is that it is a prime bird watching destination. In fact, May 8 – 17, 2015  is officially designated the "biggest week in american birding" and activities include tours of the nearby Magee Marsh and Ottawa National Wildlife Refuge. People travel from all over the world to visit the part and enjoy the spectacular birding opportunities.
We didn't see many birds or even deer, although they are supposed to be all over the property, but we enjoyed our scenic stroll along the boardwalk which winds through the marshlands.
 The boardwalk is a nice hike on a pretty day and the view of the lake, marsh and wetlands which welcome thousands of birds in the spring and summer is lovely.
We also wandered over to the beach and marina which will be packed with happy people in the summer. The only residents during our stay were geese who had taken over the beach.
We didn't intend to startle them but as we drew closer, some took to the sky.
After exploring the outdoors, we were curious to see the two and four bedroom cottages which are available on the property. They kindly gave us keys so we could check them out and we drove over to the cottages which would be just wonderful for families in the summer. With warm fireplaces, they would be fine and cozy in the other seasons as well. We were again surprised to see these charming cottages complete with flat screen televisions, hot tubs, comfortable furniture, and full kitchens.
 We were totally impressed with everything we saw at Maumee Bay State Park Lodge and Conference Center. We were honestly sorry to leave but have decided we simply must return when everything is not frozen over! And you should as well.
If you are not quite sure, check out this video – then make your plans!
Full disclosure: Our stay was provided by Maumee Bay State Park Lodge but as always, we will share our honest opinions about any travel experiences we have.
To book a hotel or read great reviews, check out Yonderbound.
Pin It