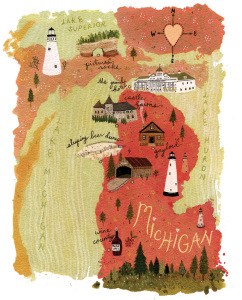 Hosted Accommodations
Spring may be rapidly approaching but, in Michigan, winter still  has a firm hold and this is perfect if you are not quite over your love of snow and related activities.
Like us.
Every trip we take to our new love, Michigan, we learn more about this amazing state, the scenic towns, and the wonderful resorts, hotels, and Bed and Breakfast locations you can find. It's hard to say which town has been our favorite but quaint little Petoskey is definitely a front-runner. Located on the shore of Lake Michigan's Little Traverse Bay in Michigan's Lower Peninsula, this location has been a favorite destination of travelers for over 100 years.
The town was blanketed in snow when we were there in February, hushed and quiet, and the bay which is reputed to be lovely in the summer was just a smooth part of a white and snowy expanse. But the interesting shops and restaurants, the friendly people, and the great location were all hints that this would be a great destination during any season.
We were in Petoskey to visit the Crooked River Lodge and check out some of the area restaurants. We really didn't know what to expect when we pulled into the parking lot of the Crooked River Lodge but our expectations were pretty high. We are big fans of the whole lodge concept and this location met every expectation – and then some. Located right on the beautiful Crooked River in Alanson near Petoskey which is apparently a very popular location in the summer months, the Lodge was immediately appealing with its rustic and charming appearance.
Crooked River Lodge is just one of several properties owned by Staffords Hospitality in the area which includes a hotel, bed and breakfast inn, and several restaurants. We were fortunate to pay a visit to the gracious Perry Hotel and the gorgeous Bay View Inn as well as dining at a couple of the restaurants which were such an amazing experience that they will have to be written about in a separate article. We were so smitten with the Bay View Inn that we plan to pay a visit there next winter and can't wait!
The story of Staffords Hospitality is fascinating and interwoven with the history of the area as the family has had such an impact and continues to do so. In the summer of 1960, Stafford Smith and his future wife, Janice were both working at the Bay View Inn as Assistant Manager and Dining Room Hostess, respectively. The two young people fell in love both with each other and with the charming town of Petoskey. It wasn't long before they purchased the Bay View Inn and, eventually the other properties over the next 50 years together.
Their most recent purchase was the Crooked River Lodge in 2011. The Lodge has 42 guest rooms and suites, most with a balcony overlooking the river and all complete with a hot buffet breakfast. An indoor pool and hot tub along with plenty of area activities make this a great family friendly destination – they even welcome the family dog in some rooms!
We already knew we would like the Lodge but, after entering the beautiful and comfortable lobby, we were sure of it!
In addition to the comfortable lobby area, there is a very nice recreation area overlooking the balcony.
We were already very impressed but when we saw our room, we even more impressed with this great location. I'm a big fan of a huge tub and Crooked River Lodge had me covered there.
The rooms are all nicely furnished with little lodge touches that make them special.
 We were honestly shocked to see a small but complete kitchen in our room – we even had a small range top. How great for families to be able to warm up soup on a cold winter day! With the fridge and microwave, families could really save money by having some meals in their room during a break from winter activities.
Most of the rooms have balconies and we had a nice, snowy view from ours.
We were surprised to see very nice small lobbies on each floor, in addition to the main lobby.
We were fortunate to be given a tour of the property because we were able to see of the beautiful suites they have as well. Not many hotels have two bedroom suites complete with a nice living room and kitchen! But they also have the River View Suite which sleeps up to 12 guests and would be perfect for a couple of families traveling together.
The indoor pool is made special by the waterfall and the nearby hot tub would be very welcome after a day of skiing!
Even the public bathrooms at the Lodge carry through the Northwest lodge theme with beautifully done murals painted on the walls.
A great amenity for families is to have breakfast included during your stay and Crooked River Lodge has a wonderful, hot breakfast buffet every morning. Complete with a hot casserole dish freshly prepared, they also have other options which include a make your own waffle station that was my first choice!
Although Crooked River Lodge does not offer downhill skiing, they are located only about 20 minutes from Boyne Highlands which offers plenty of runs for those so inclined. Then return to your comfy room at the Lodge and relax in your fabulous tub! Just because they don't have downhill skiing on the property doesn't mean that the Lodge doesn't have other winter activities because they have plenty. Snowmobiling is available and they also offer cross county skiing and snowshoeing along with the required equipment completely free of charge.
We are big fans of snowshoeing because it's easy for just about anyone to attempt and it's also a lot of fun. We especially enjoy it because snowshoeing is a quiet, unobtrusive way to view the snowy landscapes. The staff at the Lodge kindly  helped us pick out snowshoes and put them on as we are still far from expert in this area!
We headed out into the quiet winter day along the nature trail, the only sound the crunch of the snow as our snowshoes slipped along.
 We looked back to see the Lodge through the snow-covered trees.
The landscape around the Lodge is beautiful, especially the snowy banks of the Crooked River.
Finally, we headed back to the Lodge.
It was time to relax in our huge and lovely tub, put on our flannel pajamas and have a light dinner heated up in our very own kitchen. Bliss!
If you are still not sure about booking a stay at Crooked River Lodge, check out this video. Then make that call!
Full disclosure: Our stay was provided by Crooked River Lodge but as always, we will share our honest opinions about any travel experiences we have.
To book a hotel or read great reviews, check out Yonderbound.
Pin It