Press Trip
Although a good chunk of the United States has been moaning and complaining about all the snow this winter, we actually wanted more snow and headed to Michigan to find it.
We discovered the beautiful joy that is Michigan in the winter last year and considering my love for warm, tropical beaches, it's pretty ironic that I love it just as much as my husband.
We were invited to visit Boyne Highlands for a long weekend but Tom is not quite as enthusiastic a traveler as I am and we had just returned from a trip. But I was not about to miss another visit to Michigan and Boyne Highlands looked completely amazing – which turned out to be quite accurate.
As enthusiastic as I was about the trip, I wasn't enthused about driving all the way by myself so I invited my other favorite travel partner, my sister-in-law, who immediately agreed. Boyne Highlands kindly agreed to me bringing a guest, turned our press trip into a girlfriends getaway and even threw in a spa treatment. We decided we loved Boyne Highlands before we ever arrived.
And, once we arrived, the love was even more extensive.
Boyne Highlands is located in the gorgeous mountains near Harbor Springs, Michigan which is itself an amazing destination with plenty of little shops and restaurants right on the harbor which we will have to check out next time before we never managed to tear ourselves away from the resort. And why would we?
A gorgeous resort area with a wide choice of accommodations including townhouses, rental homes, cottages, hotel rooms, and rooms and suites in both the Heather Highlands Inn and the Main Lodge, this a great location for a girlfriends getaway, a romantic couples getaway, a family getaway, a larger group – or pretty much any group you can imagine!
We had a lovely room in the Main Lodge which was a great location with the Main Dining Room and Slopeside Lounge right in the same building so we didn't even have to brave the cold for a meal!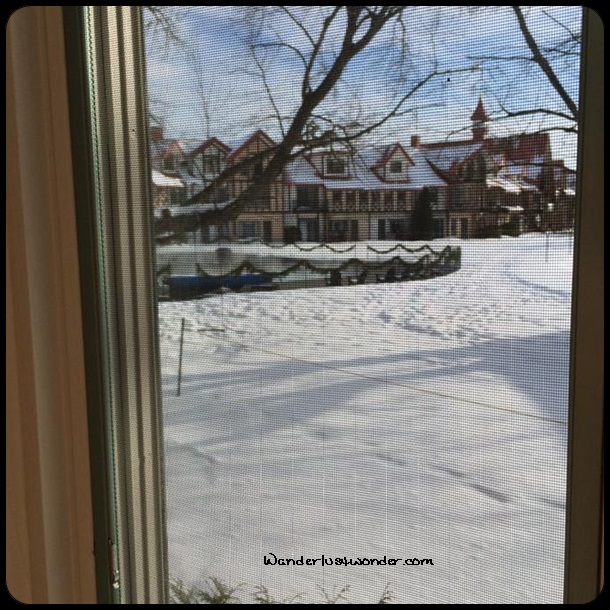 After a delicious reception the first night in the Slopeside Lounge with lovely appetizers and equally lovely representatives from the resort, we had a good night's sleep and hopped up the next morning, excited about breakfast. Anyone who travels with me knows that the culinary experiences are a big part of any travel and that I have been known to plan the next meal while eating the current one. We noticed some ice skaters on the pond in front of the lodge – what a beautiful image on a winter morning!
Breakfast ended up being a real highlight of our visit at the Main Dining Room has not only a hot buffet with fresh bread including some quite yummy scones of which we might have stolen a few on our last morning, but also a fresh waffle and omelet bar. Waffles one morning, omelets the other two. Perfect.
Ironically, since this is a major ski resort destination, neither of us was particularly interested in learning to ski. But that is truly not a problem at Boyne Highlands since they have so many other activities available. They had kindly booked us pedicures at the spa so we headed there mid-morning in between breakfast and lunch.
We killed what little time remained before lunch by letting our toes dry and relaxing in the quite lovely waiting room at the spa. Then, even though we were not remotely hungry, we headed for lunch at the Zoo Bar. Because really? Pass up a meal? Not gonna happen. I had what was truly the best grilled cheese sandwich I have ever eaten and some fries.
After someone else ordered hot chocolate and it looked scrumptious, I had to do the same. And am so glad I did because it was the perfect ski resort drink!
In the afternoon, we had one of the coolest experience of our trip when we went dog sledding. Tom and I have actually been dog sledding a couple of times before but my sister-in-law had never been and could not have been more thrilled. A group from Nature's Kennel dog sledding offers the rides which are either half hour or an hour and are really an exciting way to see the area. The dogs love to pull and some are even veterans of the famous Iditarod dog sledding race in Alaska. The drivers are very knowledgeable and friendly and we really enjoyed the narration by our young female driver.
The next day we spent the morning attempting to learn to cross country ski and the afternoon tubing, which was by far our favorite as it requires no talent at all to do! There's even a tow rope to pull you up, so all you do is fly down the hill.
In between our two activities, we fit in lunch (of course!) at the Cafeteria which was really an amazing dining experience. They offer everything from hot soup in a bread bowl to sandwiches to a full pasta bar to a full salad bar and pretty much anything else you can possibly imagine. We sampled a little bit of everything and highly recommend this place for a meal or snack.
In the afternoon, we decided it was time to check out the hot tub. Although we were both wondering how in the world getting in a hot tub in the freezing cold could possibly work out, we loved every second. The water is so hot that you don't even realize how cold it is outside. The pool is heated as well and there were plenty of families enjoying the warm water. It started snowing while we were in the hot tub and we decided we had truly died and gone to heaven!
We were all geared up for a great dining experience that evening. Boyne Highlands offers an amazing dinner called Aonach Mor Moonlight Dinner which consists of a horse drawn sleigh ride up to the top of the mountain where there is an incredible view of the area combined with a great dinner. I went so far as to get completely dressed and ready before I had to admit defeat; my upset tummy was just not up to the event and my sister-in-law did not want to go without me. After our fabulous lunch, it was not a problem to skip dinner but we both hated to miss this fabulous event – the culmination of our whole weekend!
Well, this just means that I will definitely have to return to Boyne Highlands in the future – not a problem as I loved everything about this place! Although the amazing dining experiences were a favorite, we loved all our activities as well. What a great place for a fabulous winter getaway!
The fun doesn't end at Boyne Highlands when winter is over, check out the great activities happening this spring as well.
Full disclosure: Our stay was provided by Boyne Highlands but as always, we will share our honest opinions about any travel experiences we have.
To book a hotel or read great reviews, check out Yonderbound.
Pin It