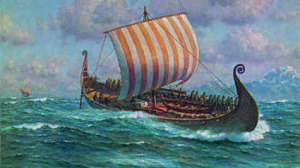 Somehow, in the course of becoming a travel writer and traveling the world, I have become a person who casually announces that we are going to France.
When I was a kid, our big vacations involved piling into a station wagon, the kids in the way back with no seat belts because seriously, who had heard of seat belts?, and heading to Pensacola, Florida to visit my grandmother. There wasn't much money for fancy vacations with four kids but we never knew any different and the white sands of the beautiful Gulf Coast were very satisfactory to us.
Years of family picnics on that sugar white sand made indelible memories, so much so that years later we took our children to the same location for vacations.
So, even though we have been steadily traveling to an astonishing variety of amazing places for the last few years, I have not yet become totally jaded.
So, yeah.
We are going to France!!
Strangely enough, we have actually been to France before. We were in Europe a couple of years ago and ended up in Paris for the last few days of our trip. People say things are surreal all the time but this was truly surreal. Were we actually climbing the Eiffel Tower? Eating French pastries in a sidewalk cafe? Cruising on the Seine? Yes, yes, and yes we actually were in Paris.
But Paris is all we have seen of France so we are pretty excited to be cruising with Viking Cruises on their Portraits of Southern France cruise in May. 8 days, 6 guided tours, one country. Oh, yes. We leave from Avignon and arrive in Chalon-Sur-Saone a week later and in the middle we will see castles and palaces and wineries and cathedrals and this is a run on sentence but oh the excitement!
To begin with, the extent of our knowledge of Viking came from watching their commercials prior to Downton Abbey. Like this one.
But once we began planning this cruise, we got pretty excited about the Viking Longships. We have been on several small ship cruises but these are something different, something completely new.
We will be on the Viking Delling and we simply can't wait to see our roomy veranda stateroom with an actual balcony (not a French balcony which is not really a balcony at all, just a glorified window), a 40″ flat panel television in our stateroom, the amazing Aquavit Terrace where they have outdoor dining, free WiFi throughout the ship, and well.
I could go on and on about our excitement but here. Here's a video about the longships.
We are so excited to be working with Viking for the first time because, not only are they dominating the river cruise market in Europe and even building more ships, they are also expanding into ocean cruising and river cruising in North America. In May, they will launch the Viking Star in Bergen, Norway which is the first of three ocean going vessels.
They have also recently announced plans to build six modified Viking Longships over the next three years, all built in U.S. shipyards and with U.S. crews. Plans are to launch two ships in late 2017 on the Mississippi River which will cruise from New Orleans to St. Louis or St. Paul, Minnesota. These ships will be bigger than the current longships and will host up to 300 passengers. More information about these ships, their timeline, itineraries, and ship design will be available later this year.
So many exciting possibilities in the next few years with Viking. But right now?
Right now I'm going to France.
And that's pretty damn exciting.
Full disclosure: Our cruise is provided by Viking Cruises but as always, we will share our honest opinions about any travel experiences we have.
Pin It