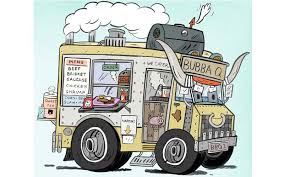 As huge fans of local foodie tours, we will often make a foodie tour of a city our first priority when visiting. It gives us a chance to sample some local restaurants and make a decision about whether we would like to return to enjoy a full meal. In this manner, we have explored Seattle, Scottsdale, San Francisco and lots of other locations.
But truly one of the most unique foodie tours was one we participated in just recently in Portland, Oregon. Long before food carts or trucks became a phenomenon spreading throughout most major cities, Portland started the incredibly popular craze that other cities are now trying to emulate. Always a place on the cutting edge of culinary daring, Portland is the perfect place to check out the food cart scene.
For the unitiated, food carts are basically just mobile kitchens from which food is served to pedestrians passing by. While food carts are technically mobile, those in Portland are set up into pods all over the city and are stationary. Food carts are amazingly versatile, offering an incredible array of goodies, and appealing to an astonishing variety of customers from businessmen on a lunch break to families of all ages to students.
Read the rest of this article on Epicurean Traveler HERE.
Pin It