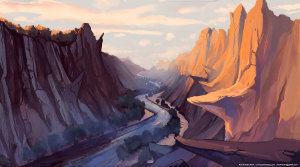 We had an absolutely amazing time on our Un-Cruise Adventures cruise of the Columbia and Snake Rivers in Oregon and Washington. Every single thing was perfect from our roomy cabin with an outside door to the spectacular food to the fascinating fellow passengers to the fact that we had a massage onboard included in the cruise rate.
That's right.
A massage for each guest.
Yes, you should immediately book this cruise. Because it was awesome.
And the massage is just one of the reasons for the love because the biggest reason as far as we are concerned was the amazing trip we took up Hell's Canyon on a jetboat. We really didn't know what to expect of this shore excursion that was listed on our itinerary (all shore excursions are included in your cruise rate. I know, right?) because we had never heard of Hell's Canyon or of jetboats. After experiencing it for ourselves, I have one thing to say.
We now know exactly where to go in the event of a zombie apocalypse.
Because this place is truly isolated. It is possible to get there over the mountains as Native Americans did for hundreds of years and there are a very few roads, but boat travel is the most common. And, as we all know, zombies can't swim.
But discount the possibility of running into any zombies and this is truly a paradise, albeit a paradise without any running water or electricity because it's just about impossible to get those out here. So those gorgeous cabins we saw? Yeah, they all have an outhouse.
We boarded our very comfortable jetboats in the morning and headed along the Snake River to Hell's Canyon which is a ten mile wide canyon straddling Oregon, Washington, and Idaho.
Hell's Canyon is part of the Hell's Canyon National Recreation Area and is the deepest gorge in North American with a depth of almost 8,000 feet. Carved by the rushing water of the Snake River, this canyon is not like others which were created by glaciers but instead was created by a massive flood burst thousands of years ago from Glacial Lake Bonneville in Utah.
For hundreds of years, the Nez Perce Indians told a legend about a huge flood which formed Hell's Canyon but it wasn't until fairly recently that geologists agreed that the unique formation of the canyon was not made by glaciers but by flooding. The flooding and erosion has created interesting rock formations in the canyon, including fascinating basalt designs.
Our jetboats zoomed past houses at the entrance to the canyon – probably the last ones to have indoor plumbing! And we saw a few traces of colorful fall leaves.
As we zoomed into the canyon, we left a plume of water shooting up behind us.
Here's a video I took to give you an idea what it was like – pretty exhilarating!
The scenery was absolutely amazing and like nothing we had ever seen before.
Our jetboat captain pointed out an extensive area of hundreds of acres where a wildfire had blazed. The black area was easily discernible.
We were not alone on the river; there were plenty of people camping and fishing as this is a popular recreation area.
But people are not the only visitors and inhabitants to this in accessible wilderness area. We saw plenty of wildlife as well.
After enjoying the scenery for a while, we stopped for lunch and a break.
It was interesting to see evidence of how settlers had lived here for years and farmers still manage to survive. A lush orchard grew at our lunch spot.
Our group enjoyed our scenic stop, some even wandering on the pretty beach nearby.
On our way back, we paused long enough to appreciate some Native American petroglyphs and marvel at the fact that they managed to live here for hundreds of years.
In fact, the trails that they used to travel down into the canyon are still visible. Thousands of years later.
It was truly one of the most amazing experiences of our cruise and one we will never forget. I wouldn't mind going back to spend time hiking, fishing, or strolling on one of the quiet beaches. I can be just as adventurous as the next person.
I just prefer indoor plumbing.
Full disclosure: Our cruise was provided by Un-Cruise Adventures but as always, we will share our honest opinions about any travel experiences we have.
Pin It