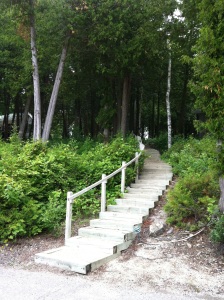 If you visited one of idyllic Door County's beaches every single day, it would take you nearly a month because since this lovely, scenic area of Wisconsin is located on a peninsula which juts out into Lake Michigan and there are plenty of beaches. This means, of course, that Door County is a great vacation for a girlfriends getaway if you enjoy beaching.
However, astonishing beautiful beaches are not the only thing this area often referred to as the Cape Cod of the Midwest has to offer. A myriad of comfortable rental homes and condos, along with hotels and resorts offer plenty of places to stay. We picked a cozy chalet at the Little Sister Resort, located right on Little Sister Bay, and it was the perfect choice.
The Little Sister Resort is tucked away in the woods and hidden from the road so look carefully for the sign leading to this charming location. After checking in at the office area which doubles as the dining room for the full, hot breakfast that is included with your rate for every member of your group (what a great amenity!), we drove a few yards back to our chalet which was perched on a hill overlooking the water.
Read the rest of this article on girlsgetaway.com HERE.