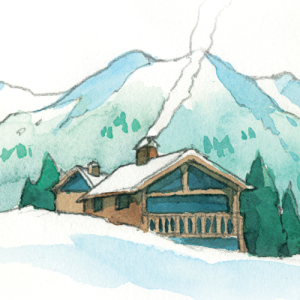 We don't actually have plans yet for New Year's Eve but if we could choose the absolutely perfect spot to spend it, that spot would be the beautiful Skamania Lodge in Washington State.
They are offering a special getaway deal that includes accommodations, a dinner credit, and you can even add on their New Year's Eve Ballroom Bash.
And I am here to tell you that you should definitely book this because the food.
Oh yes, the food is amazing.
When we took our epic Oregon trip in October, we took a little detour into Washington state to spend some time in the amazing Columbia River Gorge. While looking for some interesting, local places to have dinner, I stumbled on the web site for the Skamania Lodge and was so impressed with how beautiful it looked, I contacted them to see if they would be interested in hosting us for dinner one night and that's how we ended up having the best meal of our entire trip.
A traditionally charming Cascadian-style lodge tucked away in the beautiful Columbia River Gorge National Scenic Area, this location also offers modern technology and all the amenities and recreational choices you can imagine. Hiking, biking, whitewater rafting, fishing, or just relaxing in front of a warm fireplace or visiting the beautiful and relaxing Waterleaf Spa are all options at this fabulous place. They even have one of the finest meeting venues in the Pacific Northwest.
We took a tour of the lodge and were really impressed with how beautiful this place really is – the amazing views! –  the truly lovely accommodations, the challenging golf course, and the relaxing atmosphere everywhere. We were also extremely impressed with how nice and friendly everyone was; every single employee seemed to really enjoy working here.
They were perfectly lovely about arranging dinner for us one night but when I realized they had a spa I wondered if maybe, just possibly, we might make time for a spa visit as well? No problem. They asked if I would like a facial but I opted for one of the spa treatments and had a blueberry scrub which was amazing in every way. I was scrubbed, rubbed, and massaged until I was as relaxed as it is possible to be and ready for a long nap in front of a fireplace somewhere but it was time for dinner instead and who am I to pass up dinner.
Ever.
No problem, dinner sounded wonderful. We really had no idea what to expect for our dinner but it certainly was not a truly sumptuous, gourmet experience.
But that's what it is.
And it was fabulous.
We walked into the Cascade Dining Room and were immediately impressed with the amazing view of the Gorge from the windows.
We had just adjusted to dining with such an amazing view when we were surprised by Mark Henry, the Executive Chef, who sat down at our table and spent the rest of the evening entertaining us and providing us with what was, in all honesty, some of the best food we have ever tasted.
Mark was seriously concerned that we loved every single bite and this was not a problem at all as every single bite was wonderful. We never even saw a menu; Mark just proceeded to bring out item after item and each was better than the last. We were so busy devouring everything that I didn't get photos of every item, but I did the best I could without missing a single delicious moment.
Our first clue that this was not going to be just any ordinary dinner was our appetizer of some scallops. Now, Tom is actually the scallops fan and will order it at an opportunity but one bite of these made me an instant fan. Pan Seared Scallops seared with fennel, orange segments, Spanish olives and lemon butter – oh, yeah! We might possibly have had a minor fork skirmish over the last scallop.
Our main entrée was truly amazing. A New York strip steak sliced into buttery tender slices that quite literally melted in our mouths. Served on a wooden board with au juice to dip it in. Yes. It was just as heavenly as it looks.
We had some sides to mildly distract us from the steak fabulousness. One was some sort of fabulous potatoes which we managed to stuff in, in between bites of eye rollingly good steak.
We were quite literally stuffed at this point and had no business eating dessert but have you met me?
Mark had mentioned that they had a dessert which involved the ingredients for S'mores and I was sold and had to have some even though I technically did not have room in my tummy for it.
Like the trooper and food writing/eating expert that I am, I made room.
You're welcome.
The House Made S'mores come in a mason jar with graham crackers layered with dark chocolate ganache, chocolate cake, topped with roasted marshmallow.
Now just try to tell me you would not order that.
As we made our way out of Skamania Lodge with our tummies bulging, we appreciated the beautiful, star-filled night sky of the truly lovely Columbia River Gorge. We had enjoyed every instant of our time at Skamania Lodge and our only, tiny little problem was that we had to leave.
In a perfect world, we would have stayed in one of their Premier River Fireside Room where we would have lolled in front of the fireplace enjoying the view of the mountains until it was time for another meal.
In a perfect world.
Maybe next time.
If you are still not sure about this amazing place, check this video. Now make your reservations!
Full disclosure: Our dinner and spa visit was provided by Skamania Lodge but as always, we will share our honest opinions about any travel experiences we have
Pin It