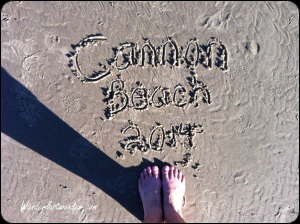 Hosted Accommodations
Staying at the Hallmark Resort in Cannon Beach was actually just an extremely happy accident.
Before our Un-Cruise Adventures cruise on the Columbia and Snake Rivers, we decided we should see a little bit of Oregon since we had never been there. Since I am the beach lover and Tom is the mountain lover, we compromised and went to both.
I knew absolutely nothing about the Oregon coast but didn't want to drive too far from Portland where the cruise was embarking so I narrowed it down to towns that were not too far from Portland. And then I just proceeded to contact several of them to see who would like to work with us on a press visit.  I had several replies but when I checked out the Hallmark Resort in Cannon Beach there was no question about where we would stay because it looked wonderful.
And it was.
In every single way.
After flying into Portland, we picked up our rental car and drove straight to the coast. It was a beautiful drive but nothing unusual that we hadn't seen in other states; mountains, pine trees, winding roads. Finally, we reached a point where our GPS told us we were only five minutes from the coast. Tom scoffed.
"There is no way we are that close to the beach. We are in the middle of the mountains. The GPS must be wrong".
Five minutes later, we were at the coast.
This was our first introduction to the idea that Oregon is not like anyplace else. In Oregon, the mountains go right to the shore. And then they continue into the water. This provided a stunningly beautiful coastline which kept us awed with its beauty right up until our last day at the coast.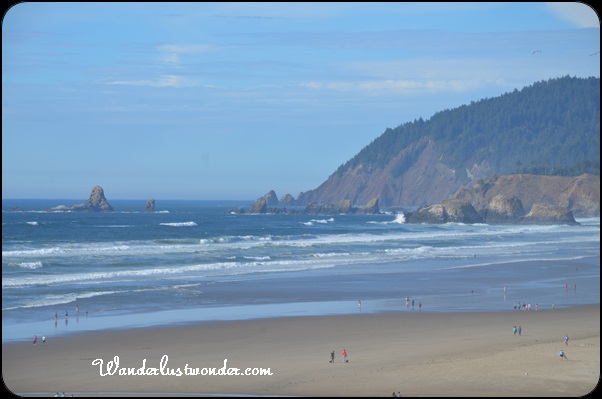 Hallmark Resort is located right in front of Haystack Rock which is an iconic tourist destination in Cannon Beach. We had a vague idea that Haystack Rock was some sort of boulder on the beach and this is accurate as far as it goes but, in reality, Haystack Rock is truly astonishing. It's actually a towering monolith which is home to all kinds of nesting birds and marine invertebrates like starfish all year long. Tidepools, which are created when the tide is low, are home to a variety of sealife.
Our first view of Haystack Rock was from the balcony of our lovely two bedroom, oceanfront suite where we could have cheerfully lived for a substantial amount of time. Complete with a nice living room with a fireplace, a full kitchen, two bedrooms and a bathroom, it was probably the most comfortable place we stayed during our entire time in Oregon. Hallmark Resort has 129 rooms, suites, and rental homes on the property so there is plenty of selection. There is also a spa, two indoor, salt water pools, a dry sauna, exercise room, and laundry services. We checked in at the front desk where the cheerful folks manning the desk told us everything we needed to know about the place, including the fact that they made fresh chocolate chip cookies every day at 4:00.
OK then. We will be there at 4:01.
In case you think I am kidding, have you ever met me?
The very first thing we noticed in our suite was that we were, quite literally, right in front of Haystack Rock. I don't think we could have possibly arranged a better view if we had spent a lot of time researching it. Notice the people in this photo and how tiny they look next to Haystack Rock.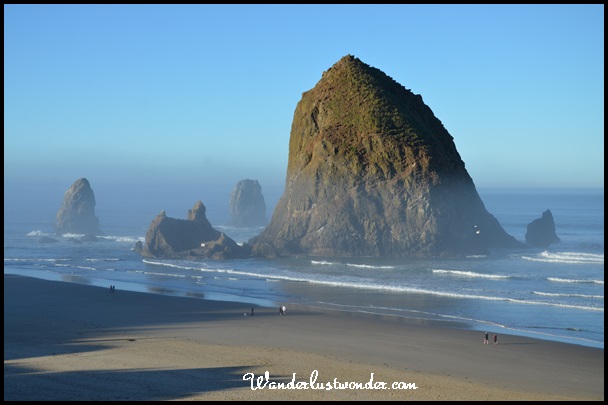 After unpacking a bit and relaxing on our balcony with a resident visitor, we headed down to the beach to check out Haystack Rock up close.
It was a pleasant, mild evening and we were joined on the beach by a wide variety of people and dogs, all enjoying the scenic setting. Dogs are welcome at the Hallmark Resort and there were plenty of them chasing balls and Frisbees and generally having a great time.
Families were everywhere and kids were having a ball digging in the sand and wading in the chilly water.
Once the tide had gone out, there were tidepools everywhere and they were literally full of sea creatures.
Finally, we drug ourselves away from the beach and back to our cozy suite, where we cleaned up, put on our pajamas, and heated up a quick dinner in our lovely kitchen. As it heated, we sat out on the patio and enjoyed the sunset at the Hallmark Resort in Cannon Beach, congratulating ourselves on choosing the absolutely perfect place to stay during our visit.
 If you are still not sure that this is the perfect place to say on the Oregon coast, check out this video. Then make your reservation.
Full disclosure: Our stay was provided by Hallmark Resort but as always, we will share our honest opinions about any travel experiences we have.
Pin It