My goal in life is to be half as cool as my mom is when I am 89. From her, I inherited my height, long legs, and great complexion.
Thanks, Mom.
She also taught me how to shop for bargains, how to dress nicely no matter what the occasion, and how to be a true lady of the south. Bless her heart. She also took our family to the beautiful Gulf Coast regularly so that when you say vacation, I say beach.
Born in Pensacola, a true Florida native, and a lover of the white sand beaches of the Gulf Coast, she announced a few months ago that she wanted to see the beach one last time.
And I, her travel writer daughter, decided to make that happen.
Luckily, I have worked with Sterling Resorts several times in the past and, when they heard that my mom wanted to visit the beach, they offered us a perfectly lovely, oceanfront condo at the Ocean Ritz Resort.
Located right on the beautiful Gulf Coast beach in Panama City Beach, this resort was the perfect place for our family. We had a four bedroom, four bath condo that was just gorgeous. Tom and I arrived before everyone else and were shown to lovely #901 where we spent the next few days.
When we mentioned that we were concerned about parking (one of the issues mentioned on Tripadvisor), the office manager arranged for us to have extra parking places for those in our group that couldn't walk far. So nice!
We were honestly a little concerned before we arrived about some of the comments on Tripadvisor but what you should do is just ignore those and be sure to book with Sterling Resorts – in fact, this is a good policy anytime you are looking for a rental property anyplace they have them to offer!
Because the Ocean Ritz Resort has condos owned by different individuals and rented by different agencies, you may not have the same wonderful experience we did unless you book with Sterling Resorts. Just take my word for it (after working with them several times now) and plan your vacation with Sterling Resorts.
The kitchen was the perfect size for us to fix breakfast and lunch most days and we had an ideal size dining room for the seven of us.
All four bedrooms had their own bathroom which was perfect for a group of adults. One bedroom had twin beds, so mom took that one and was very comfortable. Tom and I had one of the two master bedrooms and were surprised to find someone had some talent with making towel animals.
The living room was really comfortable with a couch, love seat, and a great flat screen television. All the bedrooms had flat screen televisions as well.

 We especially enjoyed the beautiful verandah on our condo. All the condos face the beach and all have verandahs; ours was very nicely furnished with a table and plenty of chairs.
We had truly amazing views of the gorgeous white sand and shifting blues and greens of the Gulf.
Can you blame me for just sitting on the verandah for hours?
We even enjoyed the verandah in the evening and spent most nights watching the sunsets, each more beautiful than the last.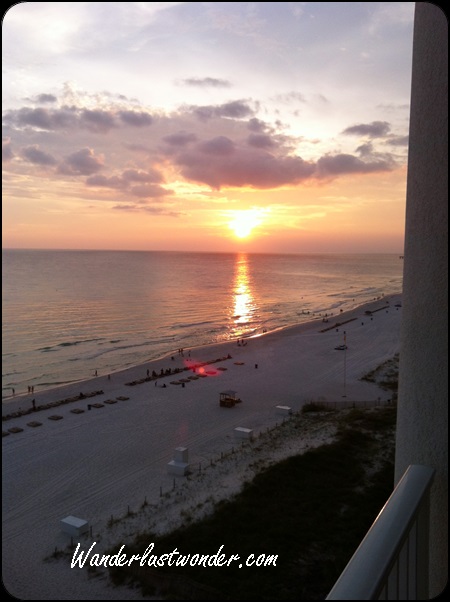 It was a long drive from Kentucky to the Gulf so mom spent most of the first day resting and reading in her room. Her love of books is another wonderful attribute she has handed down to all four of her children. We also have our own children and grandchildren who love to read so she has made an impact on three generations. Quite an accomplishment.
But by the second day she was done with resting and a little impatient that we were all being so lazy sitting on the verandah just enjoying the view.We heard a tapping on the sliding doors while we were sitting out there in our pajamas drinking coffee and turned to find that she was all suited up and ready to go to the pool.
 Actually getting down to the beach was just a little too much for her so we enjoyed the view, then relaxed by the pool and in the Jacuzzi.
We had a great time in Panama City Beach, relaxing, shopping, dining out, and just enjoying the amazing view. What made the trip really perfect was a really fabulous afternoon at the Bay Point Wyndham Golf Resort. I  have visited them several times; on a family getaway and girlfriends getaway and it's truly one of my favorite places.
With a variety of accommodations, great views of the bay, a shuttle to Shell Island, and wonderful pools, it's truly a great resort. When they found out that I wanted to give my mom a spa experience on her trip, they so very kindly offered an experience at the beautiful Serenity Spa.
We decided to make a girls day out of it and my sister and SIL went along. Everything was absolutely amazing – we had great facials and massages and then spent time just lolling around outside at the amazingly beautiful outside pool at the spa.
The entire afternoon was perfect in every way but I have to tell you one thing the spa staff did that was way over and above what they were required to do. It just happened to be my SIL's birthday and my sister and I got her a facial as a gift. When the wonderful, friendly person who was showing us around found out it was her birthday, she took my sister aside and asked if we would like her to bring a cake. So, while we had our treatments, she had the restaurant deliver a small, chocolate cake with ice cream and she presented it to my SIL on a tray.  So she had birthday cake and champagne. And was thrilled beyond measure. Just how nice is that?
I can't imagine that my mom could have found this trip to be any more perfect than it was. We had yet another great trip to the Gulf Coast of Florida to add to the many memories we have of one of our favorite places in the world. Mom is already talking about another trip next year.
You better believe I will make that happen.
Full disclosure: Our stay was provided by Sterling Resorts and our spa experience by the Bay Point Wyndham but as always, we will share our honest opinions about any travel experiences we have