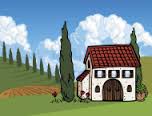 Before we booked our most recent beach house, I thought most rental companies were pretty much the same. Some not very organized or easy to reach like the one in Palm Springs who, when we stopped by to pick up our key, were nowhere to be found and had artfully hidden the key in a location where we thought we would never find it and have to stay in a hotel since they were impossible to reach.
Some quite nice like the one who made a concerted effort to locate extra parking for us close to our condo for some in our group who could not walk far.
And then there is Ocean Reef Resorts in Destin, Florida. Who are, without a doubt, the best and most professional vacation rental company we have ever worked with.
Because we were on a trip with my brother and sister-in-law, I had one kind of quirky desire in our beach rental. Although my SIL and I are beach lovers of the intensity that can only be described as MAXIMUM, my husband and brother? Not so much. In fact, they could have been perfectly happy in a house that was located pretty much anywhere – as long as they could lie on the couch, watch movies, and play video games. So I wanted two couches. One for each of our well-loved but pain in the ass couch potatoes.
Ocean Reef Resorts had kindly found us a perfectly lovely condo that was just a few feet from the beach with a quite lovely view. Sigh. Perfect for me and my SIL. Not so much for the guys. So I spent time looking through all their rentals trying to find a place that was equally lovely but had two couches. Found one. Reluctantly gave up on our quite fabulous oceanfront property and asked to switch to Tuscan Breeze.
No problem. Ocean Reef Resorts switched us quite happily.
Because we had to vacate our rental in Panama City Beach early in the day where we had just spent a few days with the rest of the family, we were stuck with a few hours to kill. Could we possibly, possibly check in early to Tuscan Breeze?
No problem. Ocean Reef Resorts let us check in early. They gave us a door code and we had no problems getting into our lovely home for the week. Then we just called when we were leaving, closed the door and left. No hassle checking in or out at all. We didn't even have to go to the office unless we had a problem and I feel sure they would have addressed said problem in record time.
This was the point when I began to suspect that we were not dealing with your average rental company.
But it wasn't until I actually visited their offices that I realized this is absolutely not your average rental company. They have some of the nicest offices I have ever seen with a completely local and friendly staff that can easily recommend restaurants, shopping, and activities since they live here and know the area. They have a very professionally done magazine, are working on an even better website, have a complete recording studio where they plan to make videos to post on their web site, and even have a realty office where they sell property.
I was super impressed with Ocean Reef Resorts but still just a teeny bit unhappy about giving up our beachfront property, even though it was completely my choice.
Until I actually saw Tuscan Breeze.
Located in beautiful Sandestin, one of my favorite places in the Destin area, Tuscan Breeze is tucked away in the Villa Lago neighborhood in a quiet area I had never noticed on any of many stays in Sandestin. When we pulled into the neighborhood, I began to forget about our beachfront property because this was pretty darn nice.
We passed a serene and beautiful lagoon as we drove into the neighborhood.
And then a small, private pool where a few people were enjoying the sun and water. The pool was actually just about a block from Tuscan Breeze and we enjoyed it several times, even taking our lunch up there to eat in the nice shaded area.
Then we pulled up in front of our house which has room for 2-3 cars. The small front porch welcomed us home.
Tuscan Breeze is a Mediterranean styled vacation home with stucco walls and a terracotta tiled roof that really gives the impression that you are in the heart of Italy. Although it is advertised as having three bedrooms, it actually has four since there is a bunk bed room that would be perfect for kids. Although the impression is that you are in an Italian Villa, the interior has everything you need as far as modern conveniences. Our guys were very happy with the two comfy couches in the living room and the big flat screen television. Luckily, there are also two cushy chairs for my SIL and I when we were finished with the beach every day. The furniture is arranged in a theater like setting which was perfect for us as we had come stocked with lots of movies to watch.
The open kitchen has stainless steel appliances and we stuffed the fridge with the makings for sandwiches, dip, fruit, and beer for the guys so they were perfectly content when we packed our beach bags and left every morning. Off the kitchen is a darling little patio which overlooks one of the scenic canals which feed the lagoon and add to the impression that you are in Italy.
After a discussion about who got the master bedroom – we insisted my brother and SIL take it as we often have sumptuous bedrooms when we travel – they decided they would rather not navigate the stairs so we ended up with the wonderful master bedroom upstairs and they took the quite nice downstairs bedroom with its own full bath.
The Master Bedroom Suite has a pretty magnificent barge like king sized bed that we enjoyed very much and a large screen television that I don't think we ever turned on but would be great for lolling in bed and watching television. All the other bedrooms are also supplied with flat screen televisions as well. There's also a  glass door in the master bedroom that leads out onto a little balcony that looks down upon the lagoon.
My favorite part of the master bedroom was the huge bathroom with a garden tub encased in marble (one of my very favorite things) and a glassed in shower so we could get ready at the same time. Yes, we did manage to drag the guys off their couches a couple of times to go out to dinner with the promise of fresh seafood.
One of those restaurants was Bud and Alley's Waterfront Restaurant in Seaside, just a short drive from Destin where we had some great seafood. Park across the street, then walk right past the pizza place which looks like the right Bud and Alley's but is not the one with seafood which we found out, to our chagrin.
Head back towards the water and you will find the restaurant which is small but has some of the friendliest staff and the best crab cakes we have ever eaten. Founded by two young surfers with a passion for serving classic Southern seafood and a focus on farm-to-table and sea-to-table items, Bud and Alley's is unique and delightful. We listened to our waiter's recommendations, which was a great idea. He suggested we start with the House Made Smoked Tuna Dip which we did and which we enjoyed tremendously.
We were geared up for some sort of seafood and he said their most popular item was their crab cakes. In fact, there were pretty darn famous for them. And rightly so. I'm pretty pick about my crab cakes and don't like when they have too much filler. These were magnificent.
So. Plan for Bud and Alley's in between relaxing on the beach and watching movies on your two couches.
One of the coolest things about Tuscan Breeze is the fact that it has its very own golf cart. We were really excited about the possibilities of having a golf cart to get to the beach and to the Village of Baytowne Wharf which has great restaurants and shops and is just a few blocks away. We did manage to take a couple of rides in it but decided it needed a new battery as it ran pretty slow as people strolling along were passing us with no problem. However, it did offer some photo opps.
 We enjoyed every single minute of our time at lovely Tuscan Breeze and our only problem was when we had to leave.
And the fact that the guys now expect two couches every time we go on a trip.
Full disclosure: Our stay was provided by the Ocean Reef Resorts but as always, we will share our honest opinions about any travel experiences we have
Pin It