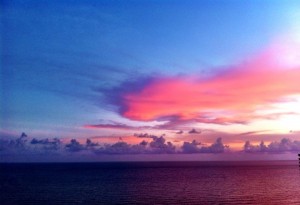 If your family is lucky enough to be one of those which has kids starting school after Labor Day, you still have time to plan a trip to the gorgeous Emerald Coast of Florida. And you should immediately do so. The pure sugar white sand and amazing Gulf of Mexico simply can't be missed. If your kids also have a fall break, plan your getaway for then as the area is still warm and beautiful and the prices will be even lower.
The first time we took our four year old son to the Emerald Coast years ago, he took one look at the white sand and asked eagerly if he could please, please play in the snow? True story. The soft white sand and the astonishing colors of the water which vary from the darkest aquamarine to the palest peridot will have you taking photograph after photograph.
There are plenty of accommodations in this area but we recently stayed in a lovely condo at the Azure Resort on Okaloosa Island in Fort Walton. With a variety of condos ranging from three to four bedrooms, many directly facing the pools and beach area, it's the perfect place for a family getaway. We were in unit 323 which is beautifully furnished with leather furniture and had a huge master bathroom with a great whirlpool tub. Floor to ceiling patio doors in every unit provide amazing views and access to large balconies furnished with chairs and tables to enjoy that view.
Read the rest of this article on Travelhoppers HERE.
Pin It