The ocean crashes against the soaring rocks with a thunderous roar, white spume splattering on the cliff as the angry waves reel back for another assault on land.
This is what Tom pictured for years as his first view of the ocean, until we got married, I introduced him to the world of travel, and he left our state for the very first time (!) and saw the Gulf of Mexico on our honeymoon. Although he was impressed with the beauty of the area and could not get over how salty the water was, this was not the beach he had envisioned for all those years.
Now, finally, after all these years, he is going to actually see the beach he has imagined.
In Oregon.
In just a couple of weeks.
Once again, we are heading out on another adventure with one of our favorite cruise lines, Un-Cruise Adventures.  Our first week in Oregon, we will be on our own and will spend a few days at the coast to see the aforementioned beach, a few days in the mountains in a luxury cabin, and a few days in the quirky city of Portland.
We are excited about our week exploring Oregon but we are far more excited about our cruise that will begin the next week.
We will board the S. S. Legacy for an amazing adventure on the Snake and Columbia Rivers. The Legacy was refurbished in 2013 and is designed to resemble an early turn-of-the-century coastal steamer which plied these waters more than a hundred years ago. Beautifully furnished with period décor and carved wooden cabinetry, the ship is complete with a full bar, dining room, saloon, hot tub, sauna, fitness equipment, yoga classes – and a massage is included for every guest!
This is my kind of travel.
The ship has four decks with plenty of opportunities to view the passing landscape and relaxing public spaces along with elevator access to three of the decks.  With 44 cabins including six cabin categories of varying sizes, the ship can accommodate any size group. All the cabins have flat screen TV/DVD players and an iPod docking station and we are looking forward to relaxing in our comfy cabin to watch a movie in the evening after a long day of cruising.
There are six cabin categories aboard the S.S. Legacy:  Master; Commander; Captain; Admiral; and Junior Commodore Suite, and Owner's Suite. Depending on the category, singles, doubles, triples, or quadruples can be accommodated.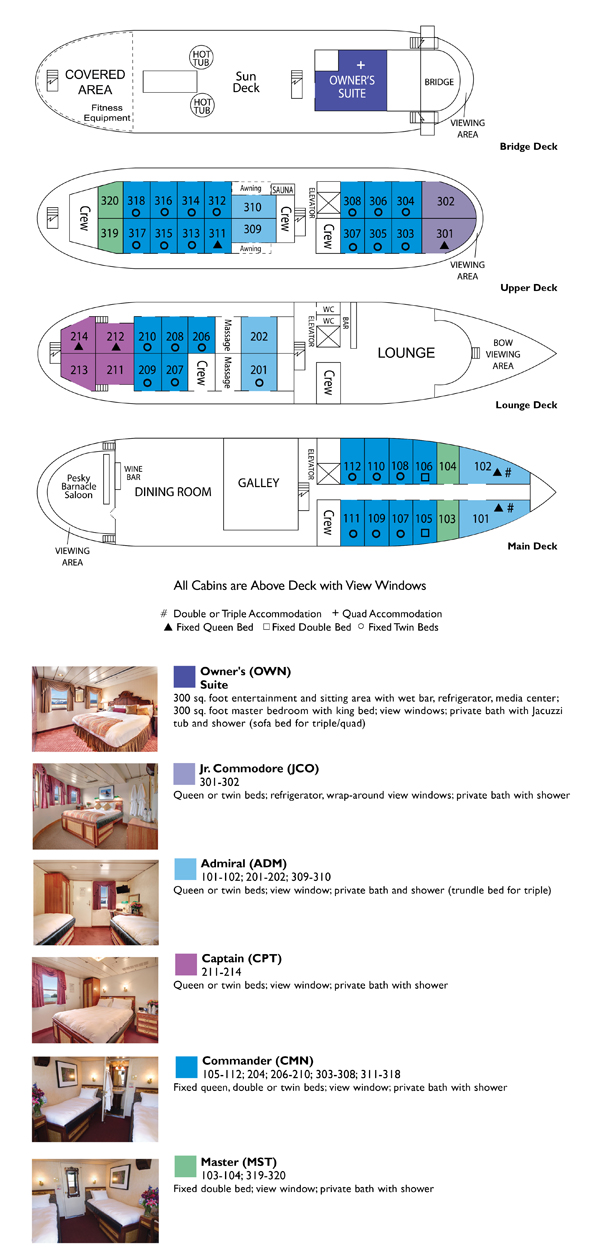 The Legacy of Discovery cruise  will embrace the spirit of the American West when intrepid pioneers headed west to settle an unspoiled wilderness with all the many dangers that involved. The cruise will introduce us to gorgeous natural vistas along with man-made achievements as we cruise nearly 1,000 miles along these rivers.
Along the way, historians, crew in period uniforms, guest speakers will bring the past to life by sharing stories and visits to the museums, historic forts, and local wineries on our route.
Even though there will be no ocean waves crashing as we ply the quiet rivers, we are still excited about our week on the S. S. Legacy. Actually, ocean waves crashing might possibly be a terrible idea for two travelers prone to seasickness. Quiet rivers will be just fine, thank you.
In fact, we really can't wait.
If you are still not sure about the fabulousness that is this cruise, check out this video. Then book yours!
Full disclosure: Our cruise is provided by Un-Cruise Adventures but as always, we will share our honest opinions about any travel experiences we have.
Pin It