Hosted Meal
When you travel to lovely little Door County, Wisconsin, you are going to have a lot of choices for places to eat.
Whitefish freshly caught in Lake Michigan along with fried cheese curds are the ubiquitous and delicious local specialties and you will find them everywhere.
But if you want to have a true gourmet dining experience, there is only one place you should add to the top of your list of dining choices.
Located in the charming coastal town of Fish Creek, one of many delightful villages which dot the Cape Cod-like peninsula of Door County, The Cookery is not only a fabulous gourmet dining experience but the family owned and family run restaurant prides itself on using locally sourced products.
In 1977, Dick and Carol Skare honeymooned in Door County and found quiet and quaint Fish Creek to be one of the friendliest places they had ever visited – so friendly, in fact that when Hazel Elliot, a local shopkeeper, found out they were interested in starting a restaurant, she arranged for them to visit a small restaurant in downtown Fish Creek. Two months later, they opened the door of The Cookery for their first customers. Determined to create a welcoming, casual environment where customers could enjoy American fare with a creative twist all prepared from start to finish in the restaurant kitchen, they have succeeded admirably.
In 2008, The Cookery became a Travel Green Wisconsin certified business. Travel Green Wisconsin is a voluntary program that reviews, certifies and recognizes tourism businesses and organizations that have made a commitment to reducing their environmental impact.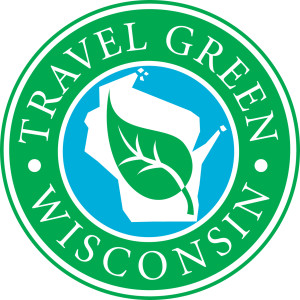 Over the years, the restaurant expanded and included lodging and a full line of custom-made jams and sauces. The Skares began a new chapter in their restaurant career when a tragic fire in 2008 caused the restaurant to close its door for the season. Working diligently with the help of their daughter, Courtney who had moved back to Fish Creek with her husband to help with the restaurant, they managed to reopen the restaurant in June, 2009. Expanded to include a second floor with a lovely water view and a wine bar, the Skares were happy to welcome back their youngest daughter Karen to also help with the business, especially in the kitchen and bakery. The wine bar offers a variety of wines, small plates and desserts and even has live music! Their goal is to incorporate fresh ingredients focusing on local products from Door County and to bring delicious, homemade food to their customers.
I am here to tell you that their food is indeed fresh, delicious and homemade. On a recent visit to Door County, we stopped at The Cookery for dinner and agreed that it was definitely the best meal we had during our entire stay.
It was tough to choose our meals from their extensive menu, but we persevered and made some great choices. First I had something called the "four berry baked brie". They had me at brie but it also included a house made four berry jam, and caramelized onions in puffed pastry. Uh, yes please! I was a little unsure about whether I would like the onions but, because they were caramelized, they were sweet and the berries were the perfect accompaniment.
I thought about the white fish chowder since they are so famous for it but I actually ordered a homemade soup that I don't see on the menu but it was wonderful!
I hesitated over ordering whitefish since the last time I had it, it seemed pretty bland. I'm sure The Cookery would have served a magnificent meal of it, but I played it safe and ordered the New York strip, which was cooked to perfection.
If you are Door County anytime, you must put The Cookery on your list of places not to miss. They don't take reservations but are happy to put your name on a waiting list if you just call when you are ready to come in. Check out the wine bar and the view, relax with a glass of vino, then head downstairs for one of the best meals you will ever have. Seriously.
If you are still unsure, watch this appetizing video. Now, head to The Cookery!
Full disclosure: Our meals were provided by The Cookery but as always, we will share my honest opinions about any travel experiences we have.
Pin It