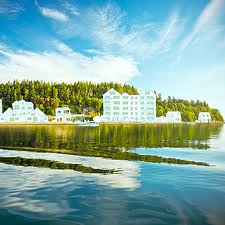 Hosted Accommodations
I could write a lot of different stories about the fabulous Blue Harbor Resort.
About the astonishingly beautiful resort itself, about the amazing locale, about the wonderful food and the perfectly beautiful accommodations, about the totally relaxing spa.
But this story is about him. This boy. This wonderful, sweet boy.
Our perfect grandson.
The reason for our trip and the one who appreciated this place more than any other. I was along on the trip, as was my daughter, but this place was all about him.
And who can blame him?
This place is amazing.
Take an astonishingly beautiful replica of a New England inn, plunk it down in the most unlikely place on the planet – Sheboygan, Wisconsin – add in a the fact that is it right on the shores of gorgeous Lake Michigan and you have me intrigued. Also add in the fact that the place has a complete indoor, 43,000 square foot water park and well.
How could you not go there with your grandson?
My perfectly lovely friend Laurie Hobbs – who in a quite wonderful twist of fate had taken over the PR for the resort just in time for our visit – took care of him just as she has taken care of me on many press trips. She supplied him with everything a kid could possibly want on a vacation including a Kids Club backpack with coupons for everything from ice cream to his very own stuffed animal. He enjoyed every single second of our visit but let me back up and tell you about this perfectly marvelous place.
Blue Harbor Resort is described as a "Classic Lakeside Resort and Spa" and your first view of this beautiful place will make you realize this is the perfect description.
With 182 suites and 64 lovely villas which range from two – four bedrooms, this is the perfect place for a family vacation. We walked into our loft suite and immediately headed to the balcony for a view of beautiful Lake Michigan. The loft suites would be great for families, although you should be aware that noise really carries from the loft and vice versa. When my daughter and grandson went to bed downstairs, I had to be very quiet up in the loft.
There are two beds downstairs in the loft suite and a nice living room with a fireplace which would be great in the winter. There is a full bath downstairs and a half bath upstairs which worked out perfectly for us.
We loved our home away from home but it was time to check out the prize of the resort as far as our grandson was concerned – the Breaker Bay Water Park. In a lovely gesture, Laurie had arranged for us to have one of their new private cabanas. We felt like royalty in our cabana, which had comfortable, cushioned furniture, a flat screen television, and a fridge fully stocked with bottled water. They even offer food delivery and spa service in the cabanas – maybe next time!
 The water park immediately became a great place to have fun. One area we didn't check out is their new miniature golf course located above the water park. Again, maybe next time!
While the young folks enjoyed all the amenities of the water park, I sauntered along to check out the rest of the resort property and was properly amazed at the beauty of this place.
Soon enough we were all ready to get cleaned up and head to dinner at the Latitude Restaurant. Located in the resort, this restaurant is really a beautiful place with huge windows overlooking the lake where sailboats skimmed the water, providing some entertainment during our meal. They actually offer sailboat rentals at the resort, as well as paddleboards, surf boards, and boogie boards. There is also plenty of room to eat outside on the deck overlooking the lake.
Everything on the menu looks delicious but I had a special pasta and salmon dish that was delightful.
After a great night's sleep, it was time to visit my favorite place at the Resort, the Reflections Spa. Voted one of the best boutique spas in Wisconsin by "Milwaukee Magazine", the spa is small but charmingly decorated in earth-tone colors and they offer an array of spa experiences including massages, facials, and manicures/pedicures. My massage was wonderful and sublimely relaxing after being on the road for a week.
Completely relaxed, I found the rest of the family and we decided to spend some time at the outdoor pool as it was a warm, sunny day. The pool had a nice view of the lake and was equipped with basketball hoops which provided hours of fun. I dozed on my lounge chair, content to just watch.
There were plenty of activities going on outside for kids, everything from face painting to temporary tattoos – which, of course, we had to have.
We were really sad to leave the Blue Harbor Resort on the last day and felt that our visit was much too short as the time just flew by. It's truly one of the most family friendly resorts I have ever visited and I highly recommend it for a vacation destination. We made some great memories as always on a family vacation and are thinking about going back in the winter – how great would an 84 degree water park feel on a cold winter day?
Still unsure? Check out this video, then make your reservations!
Full disclosure: Our stay was provided by the Blue Harbor Resort but as always, we will share our honest opinions about any travel experiences we have.
Pin It